Srijit Mukherji on 'Uma'
'The film remains possibly the most emotional film in my oeuvre, along with Hemlock Society'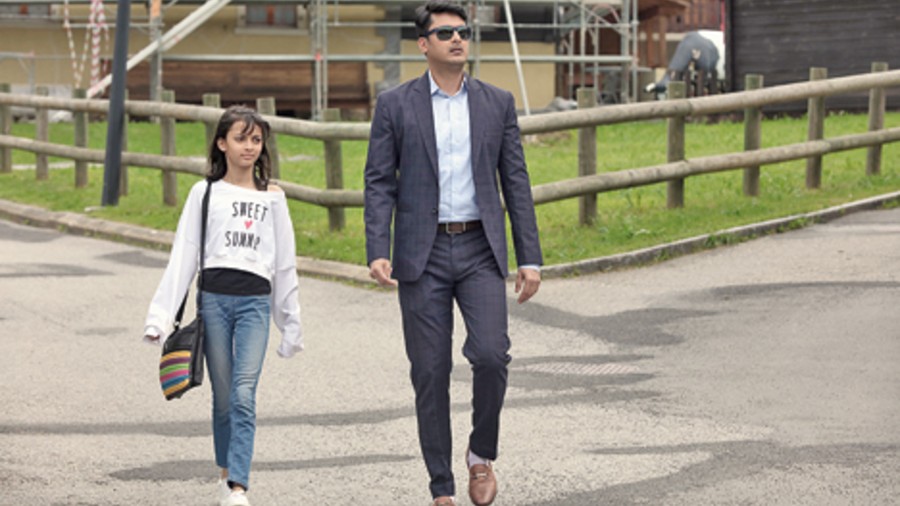 A moment from Uma
Sourced by the correspondent
---
Published 01.06.21, 02:42 AM
|
---
How do you look back at the film Uma after three years?
Uma remains possibly the most emotional film in my oeuvre, along with Hemlock Society... emotional in a very intimate, family kind of way. All films have their share of emotions, emotional turbulence, redemption, and what not. But Uma is especially emotional, given the father-daughter relationship, and now that I have Ayra (daughter) in my life, I look back at Uma with double the enthusiasm, double the fondness and double the nostalgia.
Uma also saw the coming back of your core audience — some had got a bit disillusioned after Yeti Obhijaan. Uma got a good amount of critical acclaim too. What are your thoughts on that coming back?
Yes, career-wise there was a mini-slump you could say, though Yeti Obhijaan managed to become a box-office blockbuster. It was critically panned... and Begum Jaan did not do well at the box office. While Zulfiqaar and Yeti... were box-office successes, they were critically not that well received, especially Yeti.... It was important for me to regroup and find my bearings again and go back to what I consider one of my strengths — that is storytelling at its purest and most emotional self. So that is how Uma got me back into the reckoning. Also, it got back my core audience. They wrote emotional reviews and posts and overwhelmed me with their love. That is very important for any film-maker... to have love from his or her core audience. And Uma did that for me. And that again, continued. 2018 was one of the best years of my career... actually 2018 and 2019... Uma, Ek Je Chhilo Raja, Shah Jahan Regency, Vinci Da and Gumnaami. All five were critically acclaimed. Four of the five films were box-office superhits... Shah Jahan Regency did very well on OTT. So it brought me back my core audience, my film festival laurels, my National Awards... Gumnaami got National Awards, Ek Je... got National Award, and it went to various film festivals, including Palm Springs, which is a great accomplishment for any film. Uma went to several festivals. Overall, Uma started off another purple patch, something which I had experienced in 2014 and 2015, and prior to that in 2010 and 2011. How was it like directing Jisshu Sengupta and his daughter Sara?
Apart from Autograph, Uma is the only film where I have kept the actor in mind while I have written a character. While writing Uma, I kept Sara in mind, since I have seen her grow up, so I knew her mannerisms, the way she spoke, I knew her strengths... I wanted her to behave exactly the way she is. I wrote it making it easier for her to slip into the character. Jisshu's role was comparatively difficult to play given the story and the character in the film is terminally ill. To play the father of the character is so difficult, which is why Jisshu's effort was quite superb.
How did you make the impossible happen by having Prosenjit, Dev, Mimi, Nusrat, along with the rest of the cast and so many other people all together for a song sequence? What was the shooting experience like on that day?
That day's shoot was one of the most memorable days in my life. That particular sequence demanded so many junior artistes and extras. And we had to be in the crowd. We requested Bumbada and Dev to have people from their fan clubs there. We knew that when we would be shooting with these stars, there'll naturally be a huge crowd. So we had to use that carefully and intelligently... so that they don't look into the camera, and act according to the sequence. It was an unforgettable experience. I had told them about the story, and they realised it was a humane story and it required their help. And they played themselves in the film. Someone pointed out that the sequence had perhaps the biggest ensemble of political personalities together in a frame for a film... Dev, Mimi (Chakraborty), Nusrat (Jahan), Srabanti, Sayantika (Banerjee), Rudranil (Ghosh) and Babul (Supriyo)... so seven political personalities. It was a historic shoot. 
What makes Anjan Dutt such a special actor?
Anjanda is special. I have never seen such an uninhibited actor, an actor who'd make your life miserable with questions but once he has clarified everything and knows what you want, after that he surrenders like nobody else. He is one of the most magnificent actors in the country... I think he is vastly underrated, underutilised. The kind of effort he puts into acting and the conscious effort to distinctly look, act and behave differently in every role is something we often discuss and take great pains to achieve. This kind of dedication and natural genius is very rare. He is of a rare breed. Among the present crop of actors I have worked with, I can say Anirban (Bhattacharya) is of the same ilk. I think both their common background of theatre gives them this grounding. Uma also marks my very special partnership/ relationship with Anirban. I think we have worked at a stretch for six films and a web series. The film begins in an unconventional way, almost from the middle of a dialogue exchange. The first word is 'tarpor', when Jisshu says, 'Tarpor aar ki, Durga kills Mahishashur.' Why begin the film like this?
I think it is a very fresh way of beginning a film. I always wanted to give it a slightly unconventional beginning. I thought of starting Uma in an intimate way as if we are the fly on the wall.
In hindsight, would you like to change anything about Uma?
Ummm, there were reservations from some quarters about three pandals being prepared in such a hurry... maybe that bit. But then again it's only the facade that was created... so these were all incomplete pandals... and Uma saw only the fronts of the big ones. These facades can actually be erected if people work in three shifts. I have seen such structures taking shape in sets, not taking a lot of time. But for the layman it might have come across as something that is implausible.
You had told us earlier that Uma may have emerged from parental ambitions coming in. Soon Mithila (wife) and daughter Ayra came into your life. How do you view this turn of events?
Ayra's presence has accentuated and amplified these feelings, emotions and difficulties of making such a film. 
Are you in a more happy, content space now? Will your scripts see a reflection of that?
Partially yes, but then again an artiste is never truly happy or content. While you might see a romantic comedy here and there, grimness and grittiness will also be there in my upcoming work... not the least because of the situation the entire world is going through... especially with the amount of work that I have done in the last few weeks... I have dealt with cases and more cases, deaths all around... friends, parents, relatives dying all around. You'll have happiness, lighter moments but there'll be grim, darker moments... both will find its space in my work.
Death is a recurrent theme in all your films. With Oti Uttam has that changed? Are you negotiating the truth in different ways now in your upcoming scripts?
Not really, death is looked at in a humorous manner in Oti Uttam, which we will understand when we watch the film. That leitmotif stays, it is just that it is dealt with differently. It is such a thought-provoking truth, inexhaustible source of ideas, conflicts and stories... very difficult to veer away from it.
Are you planning Hemlock Society Part Two?
I have had some discussions with Param (Parambrata Chattopadhyay) on this. Some basic preliminary ideas we have discussed... what could be Hemlock's sequel. A lot of people have been clamouring for a Hemlock sequel. Nothing concrete as of now... there are some preliminary ideas that we have kind of earmarked.