Soumitra Chatterjee and Dev on their film Sanjhbati
They also talk about the creative process and forming emotional bonds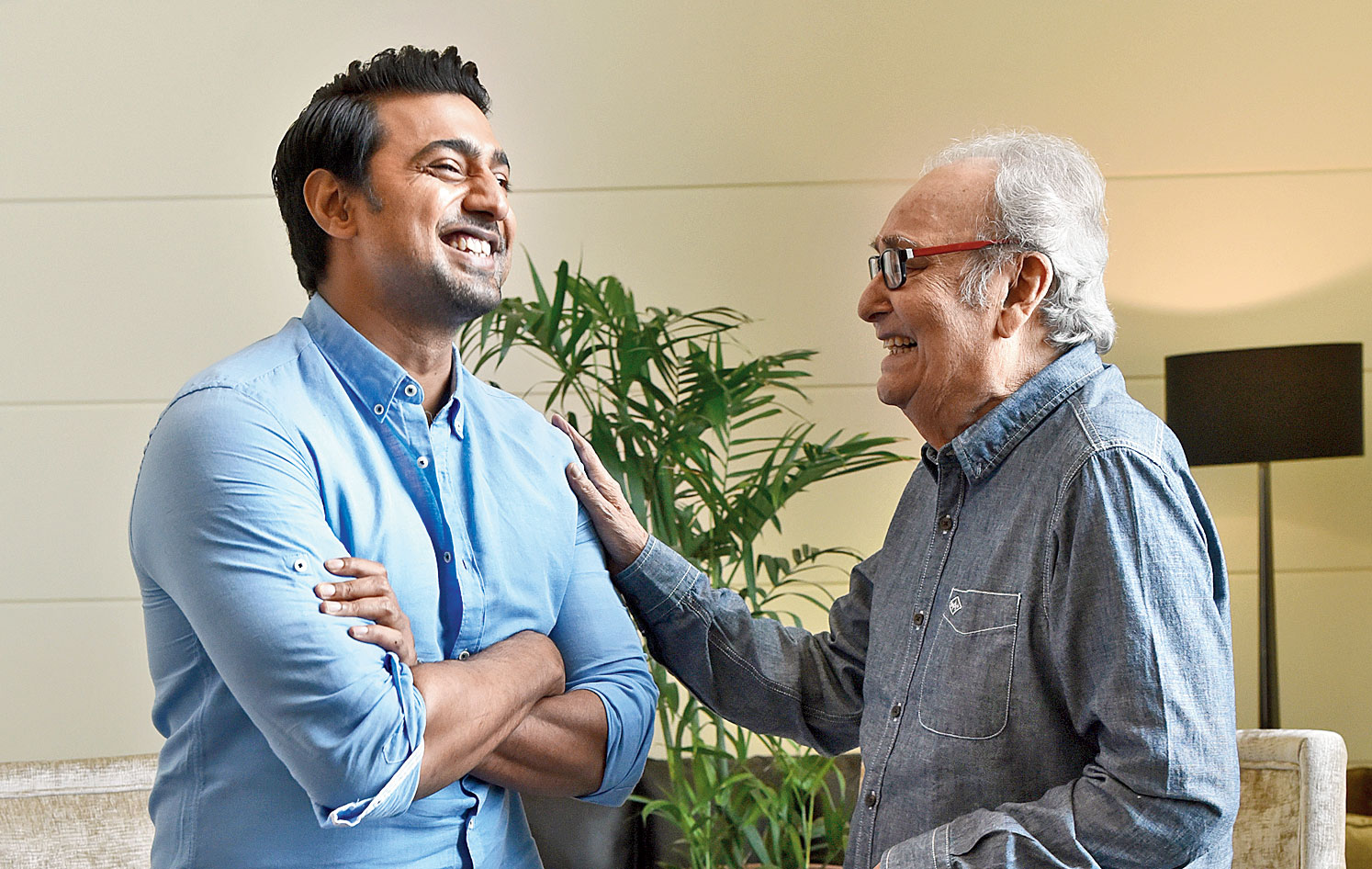 Dev and Soumitra at ITC Royal Bengal.
Picture: Pabitra Das
---
Calcutta
|
Published 15.12.19, 01:56 PM
|
---
Soumitra Chatterjee and Dev came together at ITC Royal Bengal on a Sunday for a special t2 chat. Excerpts...
Soumitrada, you are still one of the busiest actors here…
Soumitra: I feel very happy that I am working with everyone. It feels great to have people wanting to cast me in their films… there is a feeling of great pride in it. This also motivates me to work more. This was my chosen profession… and my work has brought me in front of so many people. I am really thankful to the people, my audience... they have shown the readiness to show appreciation and kindness, and they have showered me with the love.
Do you still get affected by Friday jitters?
Soumitra: It used to happen many years ago, like 40 years ago maybe. 'Will people like this film?' I would sometimes think before a film release at that time. I had to take myself out of that zone. All that tension just would get to you… all that worrying over the fate of a film, which is not in our hands, doesn't make sense. Finally, I just let it go... what will be, will be.
In an earlier t2 interview, you had said that you were a restless child. Is it an essential thing for an artiste to have, to drive him?
Soumitra: A certain kind of restlessness drives all artistes in all forms of art. But it may not be true for others. The fire burns within. But from the outside you may not know it… that person might appear to be really calm… but he or she might be doing the angriest of films.
Dev: I was a calm, quiet kid but my parents say something else (smiles). But I seriously feel I was a quiet child. Now, with all the work pressure, I have become restless. I try to arrive at a level of perfection and if for some reason it is not achieved then the restlessness gets doubled. See, I have to do everything myself, from handling production responsibilities to casting to ideating. I don't want to go wrong. Of course, you also learn from the things that don't work out. It is a process I believe. As actors, we have to go through the creative process, and keep on improving… and one has to accept the failure more than the success.
That must be difficult?
Dev: It has become a part of the system… a part of the process. One must know and understand why a certain thing did not work out. It is very important to decode it. One has to keep on learning… always… otherwise I would not have been a part of a film like Sanjhbati. I had not done a film in this zone before. Sanjhbati is a sweet, contemporary, relevant story.
Soumitrada, you worked with Dev for the first time…
Soumitra: It was lovely working with Dev…. Ami utshaho peyechhi. Dev works with so much care and dedication… that is really important for me. He puts in so much effort. Satyajit Ray used to always watch all kinds of films. What was he looking for? Not art necessarily all the time. He would see how much care and dedication has gone into making a film. He would always look for that… and then say, 'That person really worked hard… that person really gave it all.' The hard work and dedication always shows.
Dev, how was your first day shoot with Soumitra Chatterjee? How was the overall experience?
Dev: The scene was in a park. It was a tough one, Soumitrada had emotional lines. Ekta bhoy chhilo, but I think I did alright! I feel the audience will really like our story in the film. See, it was my dream to work with him. He loves his work… he is so passionate about it. Theatre is very close to his heart, and he gives it so much time. He could have easily done a few more films instead if he had wanted to. But he does theatre completely out of passion. I got to learn so much from him. He has his own world… which is full of the things that he likes. For Soumitrada, it is like, 'Amar koshto holey, ami likhi, I read when my fingers ache, and I say something when my eyes get tired'. That's his world. We also need to see or be with people who would train our minds. Our lives are full of ups and downs… there are the Friday jitters and we have our anxieties. And here is one man who has seen and been through it all and reached this position in his life. There is one sequence in the film where there are a series of close-ups of the key players. Everyone was amazing in giving their best expressions for the close-ups. Only one person didn't 'act'… he just stood, saw and then went away. Soumitrada took it to another level.
What is the secret? How does one achieve this level of effortlessness?
Soumitra: I don't know. Some actors have it from the beginning... and I have been at it long before I started as a professional. As a child, I would play act in our home… the bed cover was used as a curtain… the best part was that we were encouraged to give wings to our imagination. My father and grandfather loved the art of acting and the people in our home and around became my audience. When I came to Calcutta, I got to see Sishir Bhaduri perform. And that was it for me. My life changed completely. I could not sleep the next three nights.
Is there something new that you would like to do as an artiste?
Soumitra: There is nothing new… everything under the sun is old. I would like to play a few good roles… I keep myself immersed, learning from the people and events around me, all the time. My sustenance comes from literature.
Dev, what is your take on the theme of Sanjhbati?
Dev: I was attracted by the theme of the film and I loved the script. The cast is fabulous, and I knew that I would be able to learn something from the experience. Parents give their everything to raise their children and they see to it that the children get to realise their dreams. When the children manage to attain their goals and become busy (and leave the nest), then they sadly fail to notice what their parents go through. Once you see the film, you'll feel this is happening very close to us… this film hopefully will make people rethink certain emotional ties and bonds with their loved ones.