SonyLIV's Pet Puraan is a must watch for pet parents and child-free couples looking to get a pet
The Dnyanesh Zoting-directed web series throws light on the lifestyle many young Indians are opting for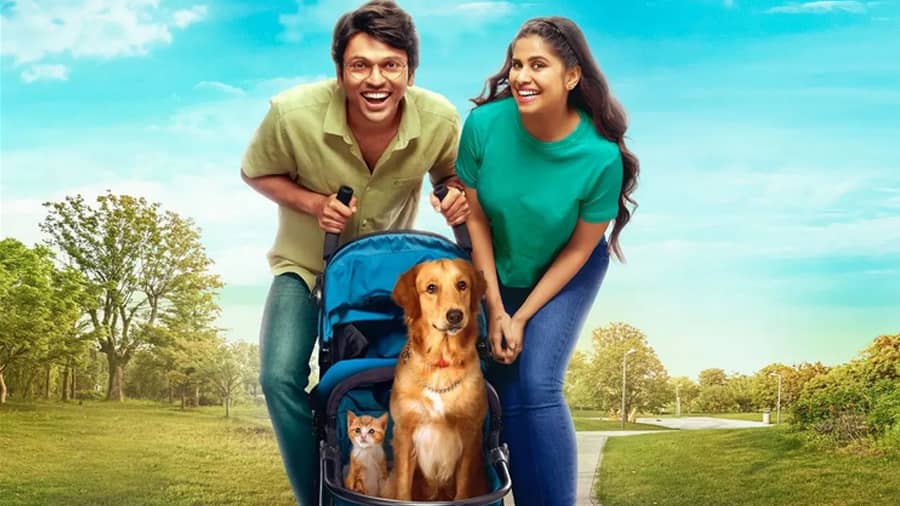 A still from Pet Puraan.
@dnyaneshzoting/Instagram
---
Calcutta
|
Published 01.09.22, 05:18 PM
|
---
In a topsy-turvy world of changing priorities and ambitions, one thing remains constant — puppies and kittens can make us feel at home and fill our lives with joy. The six-episode series Pet Puraan on SonyLIV, directed by Dnyanesh Zoting, banks on this time-tested fact to explore what it takes to become a pet parent. 
At the centre of the show are a young couple who decide to remain child-free and adopt a pet instead. While Pet Puraan focuses on the responsibilities that come with nurturing a pet and the know-how it needs, it is as much about a couple making life choices that their families find unconventional and the hardships they face as a result. 
The show is an ideal watch for anyone thinking about bringing home a pet. And if you are a pet parent, Pet Puraan show is specially for you. 
The would-be pet parents take baby steps
Aditi and Atul (played by Sai Tamhankar and Lalit Prabhakar) go from thinking of pets as tailor-made commodities to having a deeper understanding of the responsibilities of owning a companion animal. 
Aditi and Atul think about getting birds, rabbits and fish before narrowing down on dogs and cats. It's fun to see them bicker about their choices. Finally, Vyanku the dog and Baku the cat come into their lives. 
Mentally toughened up after having to deal with an unscrupulous pet trader, the couple meet a fierce animal activist and rescue worker, Ms D'Souza (played by Rasika Agashe), who gives the couple a reality check on pet parenthood. Aditi and Atul, now better informed about their responsibilities, adopt Vyanku and chance upon Baku, an abandoned kitten, on a rainy night. 
The highs and lows of being a pet parent
Pet Puraan — released simultaneously in Bengali, Hindi, Malayalam, Kannada, Telugu and Tamil — puts Aditi and Atul in hilarious predicaments as pet parents. They now have to deal with the anxieties that come with any vet visit and also convince the members of their residential society to allow their pets to live there. The web series also shows the joy of shopping for your pets, watching them play and having endless therapeutic cuddle sessions with them.
The less-talked-about topic of opting to not have kids
Pet Puraan sheds light on the rarely spoken-about topic of a child-free lifestyle. Family members of both Aditi and Atul pry into their personal lives as they do not understand the couple's choice to not have kids. Under pressure from both families, Aditi, at least for some time, considers having a child but then chooses to remain child-free after watching the antics of a kid of one of Atul's colleagues. The show does not vilify Aditi for not having baby fever and being scared about having children. This is relatable to many individuals and couples who are shamed – or made to feel they owe an explanation to their families – for their choice to go child-free.