Sonar Kella turns 48: Revisit 6 memorable dialogues from Satyajit Ray's iconic Feluda film
Soumitra Chatterjee, Siddhartha Chatterjee and Santosh Dutta starred as Feluda, Topshe and Jatayu in this thriller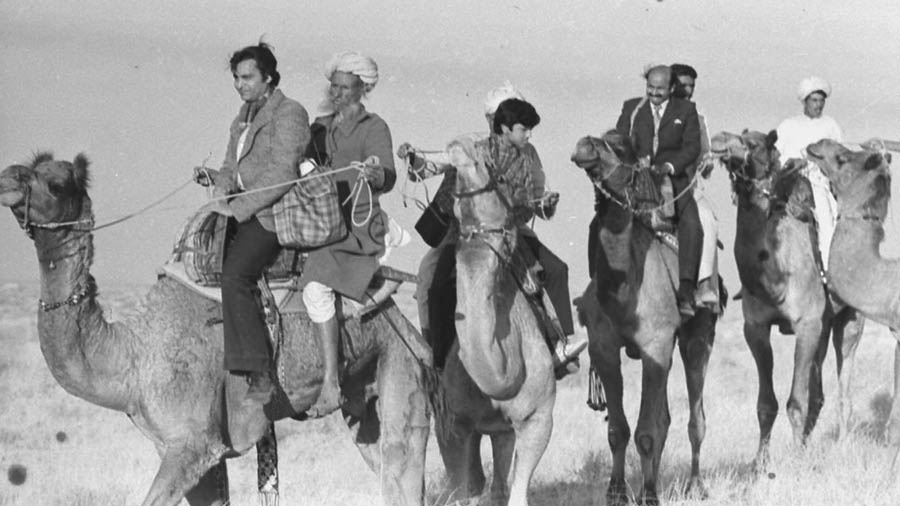 The famous camel caravan scene from Sonar Kella
File Photo
---
Calcutta
|
Published 27.12.22, 06:28 PM
|
---
One of our most enduring movie memories from childhood is the tracking shot of a group of camels and a steam engine running almost in parallel against the golden backdrop of the great Thar desert in Rajasthan. That shot is the focal point of Satyajit Ray's first Feluda movie — Sonar Kella (The Golden Fortress) — which was released on this very day in 1974.
Here we revisit some of our favourite dialogues from the Ray classic, which is the first screen tryst of the iconic trio of Feluda, Topshe and Lalmohan Babu.
'Mistake… mistake'
Mukul Dhar (Kushal Chakraborty), a young boy, claims to remember events from his past life. A journalist publishes a story about how the young boy remembers seeing precious stones in his house from the previous birth. Two notorious fraudsters — Amiyanath Barman (Ajoy Banerjee) and Mandar Bose (Kamu Mukherjee) — plan to kidnap Mukul to retrieve the treasure. However, they kidnap another boy, also named Mukul, by mistake and later dump him near his house. When Feluda asks the boy about the captors' reaction, he acts out how they vented their frustration by saying the words 'Mistake… mistake'.
'Tang mat karo'
Sonar Kella marks the entry of Lalmohan Ganguly aka Jatayu (Santosh Dutta) in the Feluda-verse. A bestselling author of mystery thrillers, Jatayu, the common man in Feluda stories, is a source of mirth and merriment for people of all ages. His first dialogue in the film is 'Tang mat karo, kaafi ho gaya, zyada ho gaya' (do not disturb any further. This is enough, more than enough) while haggling with a coolie. The impeccable comic timing of Santosh Dutta and his typical Bengali accent never fail to trigger an explosion of belly laughs.
'Vanish!'
The two villains — Amiyanath Burman and Mandar Bose — follow Dr Hajra, a parapsychologist who is accompanying Mukul on his way to Rajasthan to find out about his previous birth. They pretend to be tourists and strike up a friendship with Dr Hajra. During a visit to the Nahargarh Fort in Jaipur, Mandar Bose pushes Dr Hajra off a cliff while his crony keeps Mukul engaged with funny stories.  Later, they convince Mukul that Dr Hajra was a dushtu lok (bad person) who simply 'vanished' into thin air. 
'Kanta ki era bechhe Khaaye?'
Amiyanath Burman and Mandar Bose pose as Dr Hajra and a globetrotter, respectively, to avert any suspicion. But Feluda eventually cracks the case and realises that Mukul's life is in danger from the duo. Feluda, Topshe and Jatayu immediately go hot on the villains' heels. On the way, Feluda tells Lalmohan not to bother him with questions regarding Mukul's case as yet. But the indomitable Jatayu manages to come up with a couple of ingenious queries, including this, which prompt a laughter attack among the audience.
'Achhe, achhe, aamader telepathy-r jor achhe'
As Feluda, Topshe and Jatayu rush towards Jaisalmer by road, Mandar Bose is determined to stop the trio from reaching their destination at any cost. He breaks a beer bottle and strews shards of glass on the road. The plan works as the trio's car gets a flat tyre after hitting those broken pieces of glass. This incident, however, leads Feluda to believe that he is on the right track and he blurts out this epic one-liner in ecstasy.
'Eta amar'
In several Feluda novels, Jatayu is seen carrying novel weapons with him while accompanying Feluda on his adventures — a boomerang in Baksho Rahasya, a kukri in Joto Kando Kathmandute and a smoke bomb in Kailashe Kelenkari. It all began with a bhujali (knife) in Sonar Kella. But Jatayu's beloved knife was stolen by Mandar Bose. In the climax, when the original Dr Hajra shows the trio the weapon he retrieved from Mandar Bose on the train, before the latter jumped off, Jatayu is beside himself with joy. His excitement and childlike glee in finding his beloved treasure is a priceless moment in the film.