Sitcom stars Steven Weber and Fran Drescher on their Sony Liv show Indebted
We caught up for a chat with Steven and Fran on the comedy, identifying with their characters and life in the new normal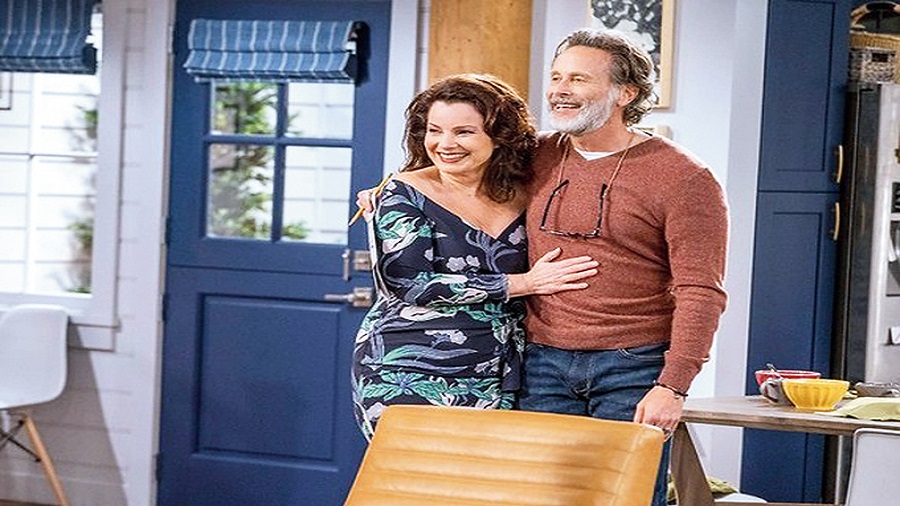 ---
---
Classic sitcom stars Steven Weber and Fran Drescher play an elderly couple that 'redefine' the grandparents prototype in Indebted, now streaming on Sony LIV. The Telegraph caught up for a chat with Steven and Fran on the comedy, identifying with their characters and life in the new normal.

What is it about Indebted and your respective characters that made you sign on?
Fran Drescher: There were a few things that I found interesting. I liked who they cast (Adam Pally) to play the son, and I liked how they wrote the mom (Debbie Klein, played by Fran)... she's very vivacious, unlike the typical TV grandma. I also really liked the fact that my husband (Stew Klein, played by Steven Weber) and I on the show have a very loving, sexualised dynamic where they are extremely tactile, affectionate and are really connected to each other. I thought that was a very fresh relationship for grandparents in a sitcom. Though Everybody Loves Raymond is the kind of prototype that this show falls into, the way the grandparents were shown on that show is very different from how Steven and I play it here. I am of an age where I am certainly old enough to play someone's grandma, but I don't want to play a stereotypical one. This is a very refreshing portrayal... a woman old enough to have an adult child, and yet sexy, vivacious and madly in love with her husband.
Steven Weber: More simply, for me, it had to do with the fact that I had been playing such crummy, authoritative jerks for quite a long time! This role gave me the chance to play a person who is well adjusted, loving and lovable and relaxed. Having a job on a half-hour sitcom is reputed to be, and rightly so, the best gig that an actor can have because of all the perks. In this case, one of the perks was working with Fran. Also, as she said, this is a potentially redefining look at grandparents on television. TV grandparents are generally looked at as meddling, jokey props. Here, the writers imbued the grandparents with sexuality, depth, humour and healthy adjustment.

In a world where the definition of the sitcom has changed, veering somewhere between Fleabag and Schitt's Creek, how would you describe Indebted?
Steven: For me, the whole premise of the show is parents parenting parents....
Fran: We are baby boomers who go broke and are forced to move in with our adult son and his young family. It's three generations trying to live together. The older couple, even when they are in financial ruin, always remain lighthearted. In that process, the younger couple start looking up to them, in the sense that they want to be less serious and less consumed by the responsibility of parenting young children. There are a lot of things that come up with the merging of the two generations, and that makes this sitcom refreshing, I feel.

Do you identify with the people you play on the show?
Fran: I come from very humble beginnings. When I was very young, my dad worked two jobs. In one way or the other, I have been working since I was 13. I have a great respect for money and I really don't squander it like the character that I play in Indebted does. Although I like to be generous and enjoy myself, I derive comfort from knowing that if I had to downsize myself, I can be happy that way too. I have been poor and I have been rich and I know how to enjoy my life in both worlds. I now drive a car that's 19 years old, and I love it. I like to go out to eat and wear nice clothes, but most of my money is invested.
Steven: The character is someone I have not been able to be, but have aspired to be. This is a guy, while he has had some screw-ups in life, who's been quite loved and nurtured by his family. He's very happy-go-lucky, he's sweet, he loves to relax and he lives his life in a way that's positive and accepting of people and things. I'd like to believe that I have these qualities. He's a dreamer and I would like to believe I am one as well. He's amusing and a little nutty, something that I have known to be from time to time. He definitely dresses better than I do!

Steven, Indebted marks your return to comedy after a slew of serious subjects. What is it about the genre that both excites and challenges you?
Steven: After having done so many dark subjects, working on a comedy has helped me at this time because it enables one to channel positive and humorous thoughts. One of the big challenges of comedy is to try and make material that's not always perfectly written, funny. It's not so in the case of Indebted, though, which has been written well. It's always more challenging to pull off darker material. Comedy is relaxing and fun.

Fran, in an interview of yours, you've said that Debbie in Indebted is a 'Fran Drescher type' in every way. What's your definition of the 'Fran Drescher type?'
Fran: I try to strive to live each day in gratitude, to follow the Buddhist philosophy, to make kindness and compassion my compass, to make my food organic, eco-friendly and pristine in every way, to be empathetic towards other people's problems, to notice the tiny miracles that abound each and every day, try and not let the small stuff get to me, to see humour and joy even when one is experiencing grief.... I enjoy food and music, flowers and my dog and I love to cook and lunch with my friends once or twice a week. I am someone who likes to be as present as possible and not beat myself up.

As we adjust to life in the new normal, what's it been like for the two of you?
Steven: I have become more handy, literally, around the house. At the beginning of the quarantine, there were all these repairs that needed to be done and I carried a 50-pound tool bag and travelled back and forth between the homes of various family members... unclogging toilets, hanging pictures, doing basic electrical work, wiring and all sorts of things (laughs). I had to rediscover my own skills... I think I have become quite an able man (laughs).
Fran: I was always fond of flowers, but never got into gardening because I didn't want to get my hands dirty! But over the last few months, I have plunged in and pulled out weeds, planted plants and I am enjoying working in the garden. I am experimenting with recipes... I was always comfortable cooking Italian, but now I have ventured into Asian and also baking a little bit. I rescued a dog just days before the world went mad, and we've really bonded, we go down to the beach together.... It surprises me that how the days can be filled, from early in the morning till bedtime, there's always something to do. I've also continued writing because I am being able to be creative in an area that I am accomplished in. And the funniest thing is that I have realised that I am not as grey as I thought I was because now I am letting my hair grow out. I am no longer colouring my hair, I am allowing myself to be a little bit more au naturel!