Shruti Das and Dibyojyoti Dutta on 'Desher Mati'
The lead pair of Star Jaslha's serial share their view on the joy of living in a joint family and combating online trolling and more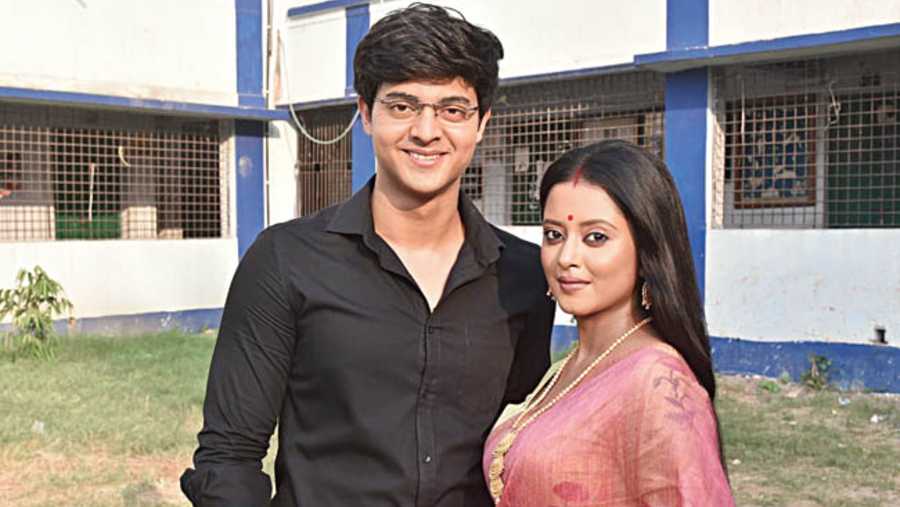 Shruti Das and Dibyojyoti Dutta
Sourced by the correspondent
---
Published 11.07.21, 10:05 PM
|
---
She plays Noah, an educated, modern girl, a schoolteacher who lives in Swarupnagar. To her, the responsibility towards Swarupnagar and her country is paramount. He plays Kian, a doctor, who was born in London but has roots in Swarupnagar. He came back and fell in love with the culture and the people here, and soon Noah and Kian got married. Meet Shruti Das and Dibyojyoti Dutta, who have emerged as a popular pair as Noah and Kian on the Star Jalsha serial Desher Mati (also streaming on Disney+ Hotstar). A candid chat...
Tell us about Noah and Kian's equation with each other, both on-screen and off-screen and why do you think your chemistry resonated with the audience?
Shruti: What stands out here is our on-screen chemistry. Playing the husband and wife's role is challenging to us because we have a brother-sister equation in real life. Dibyo calls me 'didi' off-screen, and 'Noah' on-screen! And I switch to calling him 'tumi' on-screen from 'tui' off-screen. So coming from our off-screen equation to building our chemistry on screen, and creating those beautiful moments was challenging but we have been able to do that I guess because the audience is loving Noah and Kian.
How do you look at the concept of joint family and/or nuclear family in today's day and age?
Shruti: Living together and growing up under the shadow of elders has its own advantage. Of course, there are and there will be scuffles and disagreements within members of a family but to overcome that and always stick together, to give primary importance to all family members and resolve the misunderstandings — to learn these values, a joint family is very important.
Dibyojyoti: I have experienced a bit of both the nuclear and joint family set-up, because we have two houses — one where I live, and an ancestral property that belongs to my Dadu. So, I know the joys of living in a joint family... to be able to share the sorrows and the joys. Any kid from a joint family would tell you how the family programmes are celebrated, which is not perhaps always possible in a nuclear family.
Why do you think the plot of Desher Mati has worked with the audience?
Dibyojyoti: We are indebted to the family and soil that we are born to, to our mother, father, and our nation. Kian has learnt to see life from a different perspective. The serial sends out the message that karma is of many kinds, but our karma should be one with our duty. Kian decided to stay back at his ancestral home and serve the disadvantaged rather than earning in crores abroad, because his karma springs from a sense of responsibility towards his soil and town.
Shruti: Noah is qualified, so she could have gone abroad for better opportunities too, but Noah, Kian and Raja chose to stay back for their native place. Noah is quite like the real Shruti. Noah is the only daughter of her parents like me. Both of us hail from small towns, and Noah works for the progress of Swarupnagar, which is something I stand by too. Noah is defined by her reactive and assertive nature. Kian's dedication towards Swarupnagar has positively impacted her and the characters in her family together hope to build Swarupnagar as a model small town.
Shruti, you recently filed a complaint against vicious online trolling. How do you deal with the negativity on social media?
Shruti: My message to society is if you are harassed on social media, you should know that it is a punishable offense and you could avail help from the law. You could ignore it, or call it out — the choice is yours. (Shruti has opened up about the prejudice and objectionable comments, name-calling, and jeers that came her way from her school days right up to now due to her dusky complexion. The objectification of her as a woman only increased due to the public nature of her profession as an actor. Shruti raised her voice when things got too far with vicious online personal attacks from a fellow Katwa girl.)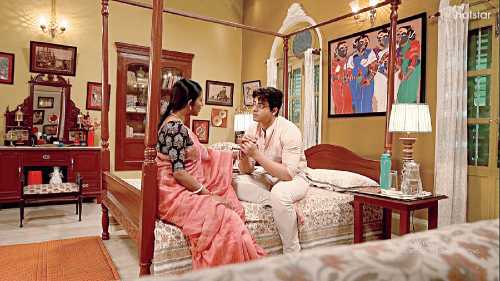 Dibyojyoti, what do you have to say about trolling?
Dibyojyoti: I have been bad-mouthed on social media, but yes, such instances have been infrequent. But there have been instances of asking for pictures from women using my name and then the girls gave their pictures after trusting the perpetrator, so that happened. But I ignored it, so it stopped. Sometimes you need to keep quiet. Of course, we must fight the wrongs, but I haven't been harassed like you have been.
Shruti: That is the point! There's a stage that can be ignored, but beyond that it cannot be.
Dibyojyoti: Exactly! To some level, if it can be ignored, I try to keep it that way. If something goes beyond limits, I will react of course and reach out to the law. But this incident of cybercrime that I mentioned has been going on since the last three years and I have been able to control the situation. I have never talked about this to the media. Some hacker tried to hack into my account but failed because I have put in a two-stage authentication. The hacker asked for pictures from three girls using a fake profile with my name, gaining their trust, and then contacting them on WhatsApp... this went on for days... but I have managed to battle it out and didn't allow the culprits to break my confidence. And then they stopped.
Any fun anecdotes from the sets?
Shruti: Every day on the sets is fun! (laughs)
Dibyojyoti: She spoke my mind! Every day is fun and there's always something happening — we have got excellent seniors and each one of them is very friendly. But if I must tell you, there was this funny incident about the first-night scene — I was very excited about it! It's about a marriage scene, I have got married twice before in daily serials. But that scene couldn't be done because Shrutidi got Covid.
Shruti: And Dibyo was sad that the scene couldn't be done. Still we did the scene, and I did it from home when I was on 14-day quarantine.
How have you both kept on going amid the pandemic and despair all around?
Dibyojyoti: First, we need to free our minds from the fear of contracting Covid-19. We should follow the safety protocols. My biggest hobby is work itself. I enjoy workouts in the gym, reading, watching good movies, web series, spending time with family and friends. I have started reading story books. I read Target 3 Billion by APJ Abdul Kalam and Srijan Pal Singh.
Shruti: I am a Covid survivor. At home, my father and mother took the precautions while staying in the same house. Touchwood, they are safe. But work doesn't stop for that. I worked through Covid. I used to do painting during that time especially. I have learnt art, but I didn't practise it, but I got back to it in my quarantine days. I had sleepless nights back then but made up for it by sleeping in the daytime. In my free time, I post videos on my YouTube channel. I go for outings with my friends or with my partner. I am also a dancer, but due to an injury, I cannot dance frequently though I have danced in Desher Mati. I recently saw Mare of Easttown, it is brilliant! Kate Winslet is amazing, she always has been, right from her Titanic days.