Shonali Bose on her journey as a film-maker
Over an hour-long tete-a-tete she spoke about the thoughts that power her films and how she looks at death as celebrating someone's life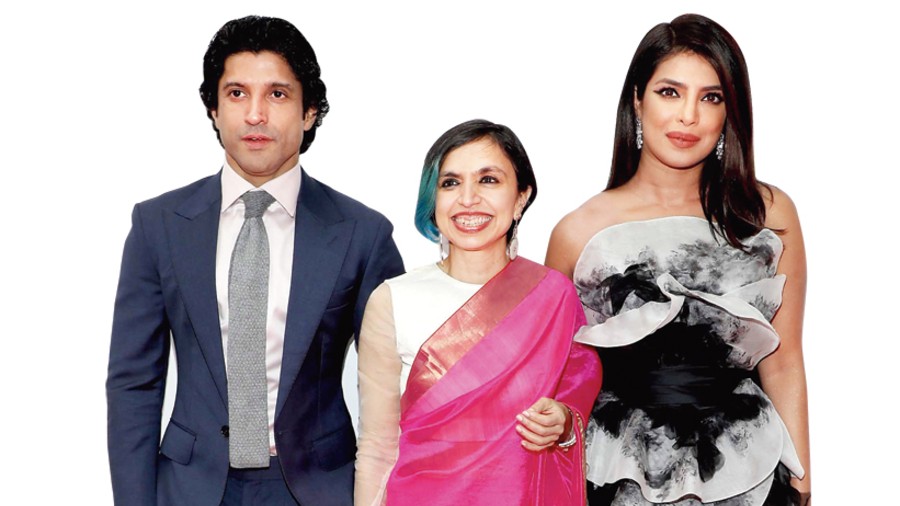 ---
Published 23.02.21, 03:49 AM
|
---
A daughter who faced the loss of a mother at a young age, and a mother who has faced the unimaginable loss of a young son... she sees death in a wonderful new light". That's how film-maker Shonali Bose — who has deeply impactful and empathetic films like Amu, Margarita with a Straw and The Sky is Pink to her credit — was introduced at a recent virtual session imaginatively titled 'My Sky is Iridescent', organised by the Ladies Study Group, Kolkata. Over an hour-long tete-a-tete with LSG president Diya Jaiswal, Shonali, who grew up in Calcutta, spoke about the thoughts that power her films and how she looks at death as celebrating someone's life.
The early years
Shonali credits Calcutta for allowing her to shine as a person and a woman. "Calcutta is the bedrock of who I am. From saying, 'Lenin mama zindabad' when I was two years old because I was very influenced by my mashi Brinda Karat, who lived with us, to being influenced by some very strong women in Calcutta... my mother's friends, our teachers in Loreto House....." she said.
Did the initial years of doing plays at Loreto House lay the foundation of the film-maker in Shonali? "I acted in school plays, but I never dreamed I would be a director. I did theatre through school and then in college, which was not in Calcutta. In boarding school at Sanawar, I was Mira in Mirabai, in Miranda House, I did plays all the time. I never ever thought I would be a director in films, stage (pauses).... maybe".
Losing her mother during her college years made Shonali give up her plans of becoming a teacher of political science at Delhi's Jawaharlal Nehru University (JNU). And off she went to America. "I had fallen madly in love with an American woman called Cheryl who had come visiting. It was a secret because I was not brave enough to be out (Shonali identifies as bisexual). I am a very brave woman but it was such a stigma to be gay/ bisexual in this country, that as a 19-year-old, I couldn't even come out to my peers, and it was horrible for me. There was so much lack of education in matters of sexuality," said Shonali.
Moving on
Cheryl married a man, and so did Shonali (she had two sons with scientist-turned-film-maker Bedabrata Pain). "Even when I was in America and I was doing my PhD at Columbia University, I had no idea I would end up making films," she said. She went on to do a six-week course at NYU (New York University) on cinema, "which brought my political and creative thinking together in ways that I had never thought of before".
Shonali then went on to enrol at film school at UCLA, at a time when she was pregnant with her elder son Ishaan. "I was the object of much curiosity and drama because they had never had a pregnant woman attending class," laughed Shonali.
She went back to school two weeks after delivering her son. "I was directing a project as part of my internship and while calling out 'Rolling camera,' I was breastfeeding my son at the same time. But when I said, 'Action', there was frozen silence, because they had never seen a woman breastfeed in public!"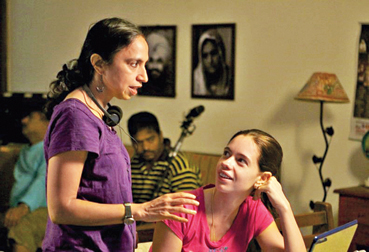 The journey into film-making
Always driven by the issues she believes in while she's making her cinema, Shonali's first feature film was Amu, a 2005 film based on the 1984 anti-Sikh riots, starring Konkona Sensharma. "The very first idea I thought of was the 1984 genocide because it had made a huge impact on me during college. I felt that no one had a proper understanding of this genocide... it was simply looked at as a riot as a result of Mrs (Indira) Gandhi's assassination... the enormous trauma and tragedy that took place in Delhi was not known. I thought that if I made it as a documentary, only people like me who knew all about the genocide and those belonging to the Sikh community would watch it. My idea was to reach that section that knew nothing about it. And hence, my focus was to make an entertaining, dramatic feature film," said Shonali.
For Shonali, the idea of film-making is not about hitting the audience on the nose with the message. "Bury the message deep... it should only be story, story story," she added.
Laughing in the face of loss
In 2010, Shonali lost her son Ishaan, who was then 16, to a freak accident while using an electrical razor in the family home. That changed not only her perspective about life, but also regarding death. "He died in September and on January 20, a few months later, was his birthday and I was determined to celebrate my boy's birthday with as much joy as if he was really here. We had a beautiful day, we celebrated and I felt so much at peace. That night, I picked up a pen and started writing, and I wrote for 30 days and that was the very first draft of Margarita with a Straw. The film is essentially about loving and accepting oneself and saying 'I have me', and that is something I had discussed with Ishaan prior to his death," said Shonali.
Her son's death had a profound effect on Shonali. "It transformed me and my life in so many ways. On the day of his funeral, I looked at his beautiful picture and I could hear him say, 'Mama, I didn't need to be on earth anymore'. When he said that, I got goosebumps and I understood that you only live as long as your soul needs you to live. He just changed my whole understanding of life and death. I understood that you can die at 16 and yet your soul could have lived its entire wisdom in your body," she said. Even now, whenever she's in a fix personally and professionally, Shonali says that she looks at a sign from her son — she cited spotting fireflies at crucial points in her life and at the unlikeliest of places — as an indication that he continues to have her back.
With her mother's death, Shonali said that she "pushed the pain of losing her deep down", but Ishaan's loss is something she continues to "embrace". "In the first nine months after Ishaan's death, I was conscious that grief couldn't be my centre because I had my younger son Vivaan to look after. When he was at school, I would take my grief in my hands and howl and howl and howl and take it out because I didn't want the guilt that I couldn't save Ishaan to hound me for the rest of my life. You should never allow big pains to embed themselves in your body. Make friends with the pain," said Shonali. Raising her younger son and doing her "grief work" became Shonali's agenda for sometime.
Embracing life and movies
Shonali's most recent film, The Sky is Pink, released in 2019, is based on a real-life story in which a couple (played by Farhan Akhtar and Priyanka Chopra Jonas) lose their teenaged daughter to a terminal illness. "Aditi and Niren Chaudhary (the real-life parents who lost their daughter Aisha) watched Margarita with a Straw and loved it very much. At the end of the film, they saw that it was dedicated to Ishaan and they realised, 'Oh my god, this film-maker has also lost her own child'. Aditi emailed me and we got into a conversation and I found out that Aisha's brother's name was Ishaan. I wanted to make a film on her story because by that time, I had reached this state of celebration and joy regarding Ishaan's death," said Shonali.