Sharaabi: a heart-warming hangover
A lot of the film is sozzled sentimentality, but in some scenes the director manages to prise out pure pain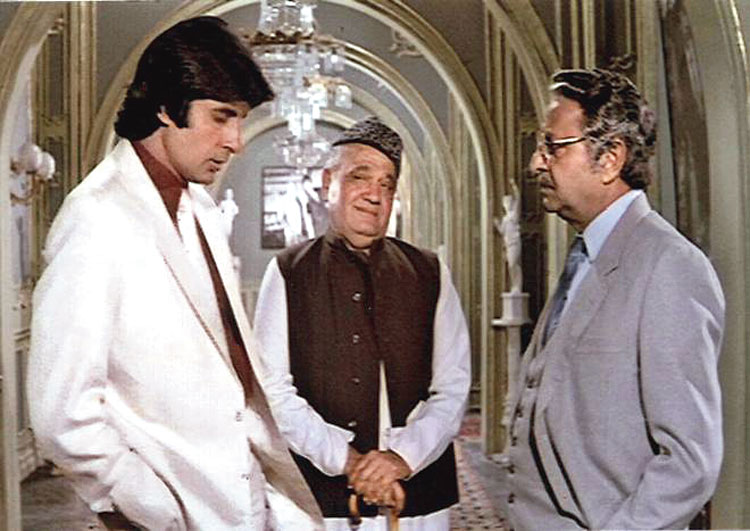 Amitabh, Om Prakash and Pran in a scene from Sharaabi
A still from the film
---
Published 31.05.19, 07:08 AM
|
---
Log kehte hain main sharaabi hoon... Nashe mein kaun nahin hai mujhe bataao zara
Lyricist Anjaan nails it when he makes Vicky Kapoor sing these lines. Alcoholic Vicky, when not getting dewy-eyed at Munshiji or Meena (doesn't matter who, he is equally smitten by both), admiring Natthulal's moustaches or snarling at his evil capitalist dad, spouts shairee and helps the poor, giving everyone, including the audience, a lingering hangover.
In the 1984 May release Sharaabi, Amitabh Bachchan, at the height of his superstardom, played an unlikely hero, a poor little rich boy who sulks without daddy's love but happily spends daddy's money to drink like a fish.
His voice slurred, eyes droopy, steps all a-stumble, AB made this Prakash Mehra film — loosely based on Arthur — work despite its kitschy, campy Eighties stereotypes. Pran as unfeeling dad Amarnath Kapoor, Om Prakash as Munshi Phoolchand aka Jeeves without the stiff upper lip, Jaya Prada as the gorgeous dancer Meena who establishes her high moral ground by being all rude and hoity-toity even as Vicky makes sheep's eyes at her, even minor characters such as sundry people whom Vicky helps or Amarnath's business associates, predictable villains Mr Moneybags (Satyen Kappu) and Meena's evil agent (Ranjeet) or even the squabbling rich babes who are Vicky's potential bridezillas are all great fun. The characters speak Kader Khan's somewhat florid, OTT lines, the leads sing and dance to Bappi Lahiri's still-intoxicating score, there's sparkling chemistry between Vicky and Phoolchand. At the same time, there's a vein of melancholia running through the film that gives it soul. Vicky lost his mom at infancy, his dad never forgave him. Instead of a mum, Vicky got a bottle of booze, a chip on his shoulder and a loyal Munshi who mysteriously can't make the him stay sober.
A lot of the film is sozzled sentimentality, but in some scenes director Mehra manages to prise out pure pain. Like when Vicky drinks the dregs of a bottle left on the road after being disowned by dad. His faithful Munshiji, pretending to be asleep, sees it. Anguish burns in the loyal Munshi's eyes. The impact sears, like downing daaru neat.