Shalmali Kholgade celebrates singledom in her new single — Kalle kalle
The singer's spunky attitude of runs through her new track which had dropped on Valentine's Day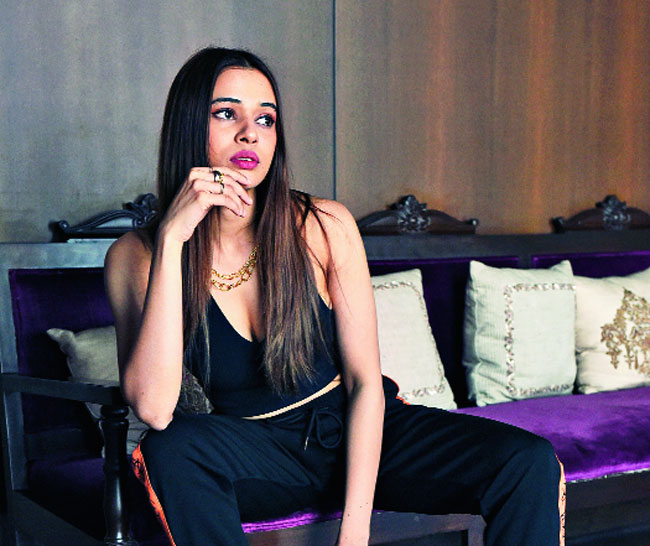 ---
---
The spunky attitude of Shalmali Kholgade runs through her new track, Kalle kalle. In a freewheeling chat with The Telegraph, she talks about her new single, the video of which had dropped on Valentine's Day.
Tell us about the video for Kalle kalle.
Kalle is the Punjabi word for akele in Hindi. So akele akele main khush hoon (I am happy being single) is the basic hook of the song. What I am trying to say is that I don't necessarily need a man to keep me happy. It's an emotion that is very important for women — in general — to feel and to achieve it within ourselves because unless we are happy with ourselves, we cannot possibly be happy in a relation.
What was the trigger for the song?
When we started working on the song with Akull, the producer-composer of the song, I told him that I wanted to write about how I am feeling right now. I am doing so much with my life now... working on music, working on my dance, finishing my knitting project... knitting takes up a lot of time. I was enjoying my own space and I wanted to write about it. They thought it was a great idea to write about singledom.
Your video that talks of being single dropped on Valentine's Day. Isn't it ironic?
Because it's a relationship with yourself at the end of the day. And we tend to forget that relationship.
Is Bollywood the ultimate destination for singers?
It is changing for sure. When I started out, it definitely was the sought-after thing... it's still that way. You have very little control when it comes to singing in films.
Is Bollywood killing all other kinds of music?
I won't say it's killing. It is a source of very beautiful music. I am in love with Mehrama from Love Aaj Kal. It's an original track. We talk about remixes but it also has original music. We, as independent musicians, need to promote our music the way film music is promoted.
What's your take on remixes?
I sang one myself — Don't Be Shy Again — in Bala. It is really the producer's call... singers or composers have very little say in it. At times I don't ask which film the song is going to be used in. It's irrelevant. I simply do my work and leave.
What were your musical inspirations while growing up?
My inspiration is Amy Winehouse but that was later. Michael Jackson was the first... followed by Queen and Aerosmith. I had a CD of Spice Girls. I heard Phil Collins a lot. In Indian music, the only cassettes we had at home was of Roja and Bombay. So I knew about A.R. Rahman. I also listened to Kumar Gandharva and the Wadali Brothers. My mom taught classical music.
You have sung in Bengali (Kala koi geli in the film Proloy). Any more Bengali songs on the way?
Nothing in the pipeline. Talk is on; let's see.
How special is Calcutta to you?
I love Calcutta for many reasons. For one, the listeners and lovers of music are here. No matter which show I have performed in Calcutta, people have never said: "Fast gaaney bajao, Punjabi gaaney bajao." That's always the reaction you get in any other part of the country.
What's your fave food from Calcutta?
Sweets, which I cannot have much of. The first thing I saw when I got into my hotel was sandesh.
You have also worked in a Konkani-Marathi film (Tu Maza Jeev). How did that happen?
I got a lot of acting opportunities because of my video Ruka ruka, which had the feel of a narrative. That got noticed by a lot of acting agencies and directors. There is a film that I will shoot in May-June.
You were also accepted by the Los Angeles College of Music but you turned it down. What happened?
It was a very tough call. I had to choose between working and studying. It was around when Pareshaan (from Ishaqzaade) was being recorded. I asked my parents and everyone else about it and they all said: "If you are getting an opportunity to work with Amit Trivedi, you should take that. Study music later in life." So it was a leap of faith.
Do you really need to take a course considering you are one of the most sought-after voices in the industry?
It was on my bucket list and so in 2019 I went to Berkeley and I did a five-week programme on performance.
Tell us about your riyaaz?
My riyaaz begins with me playing iTanpura on my phone. With this app around, I don't need to carry the tanpura around. It keeps the sur lingering around in your mind. I also keep humming even if am travelling or getting ready. Riyaaz is like breathing, you have to do it.
Dos and don'ts for your vocal cords...
All my coaches have advised me to drink plenty of water.
You are also a style icon for many. What's your definition of style?
I do give a lot of importance to styling and fashion. It's important to reflect whatever you are at that point in life. At this point, I am all about kalle kalle — cool, sassy and independent. I am singing Lat lag gayee and I will never be able to perform it in a gown, a salwar kameez or a chaniya choli.
Tell us about your fave fashion trends...
A crop top and cargos/loose fitness wear... like athleisure... it's totally in. Athleisure is also the tone of Kalle kalle. Bodycon is in... I have been a fan of it in different times in my life. I love cut-out dresses, big long slits. Beyonce does that a lot. I am all for bold... and real.
Are there any fashion must-haves?
Mom jeans, especially for travel. It's cool. Nude lipsticks, a nice sling purse that's big enough for women to carry the essentials, such as wallet, lipstick, phone and so on. In footwear, mules and kitten heels. It gives you that on-point look and is comfy too. And I would say travel-size irons for my hair.
You are also a fitness enthusiast...
To me, fitness came from a very practical standpoint. I am a performer, not just a singer. For that I had to develop endurance and stamina.
I decided it was important to share this with my audience. It's a lot more than just music. I want them to not only listen to my music but be a part of my life, my journey as a performer.
How did you get into fitness?
My ultimate goal is to put up a spectacle for the audience. I need to sustain my voice and energy for the duration of a show. I started running long distances first. I took part in half-marathons. Seeing my stamina, I decided to work on my muscles. I have to look hot and sexy on stage. I have to stay a certain size and shape. That is my carrot. And I am always running after that.
Can you share your workout regimen?
Now I have a trainer. He stopped me from running long distances because I was losing muscle mass. From being plumper five years back to being toned now, I have to do a lot of bodyweight training, a lot of cross-fit. Now I try to better my time in running.
What about your diet?
Rashi Chowdhary, my nutritionist, has changed my life. My relationship with food has changed. She took my Maharashtrian diet and eliminated small things... like milk as it was not agreeing with my body.
You are associated with Young Artiste 2020. What is it about?
Young Artiste is a very unique platform... it gives opportunities to the talented. The people who run Young Artiste have educational institutes to teach underprivileged kids.