Shakuntala Devi may not 'add up' to a fully satisfying whole, but Vidya Balan is at the top of her game
Vidya wins us over with that trademark laugh, the film well establishing a personality who is loud, vivacious and self-celebrating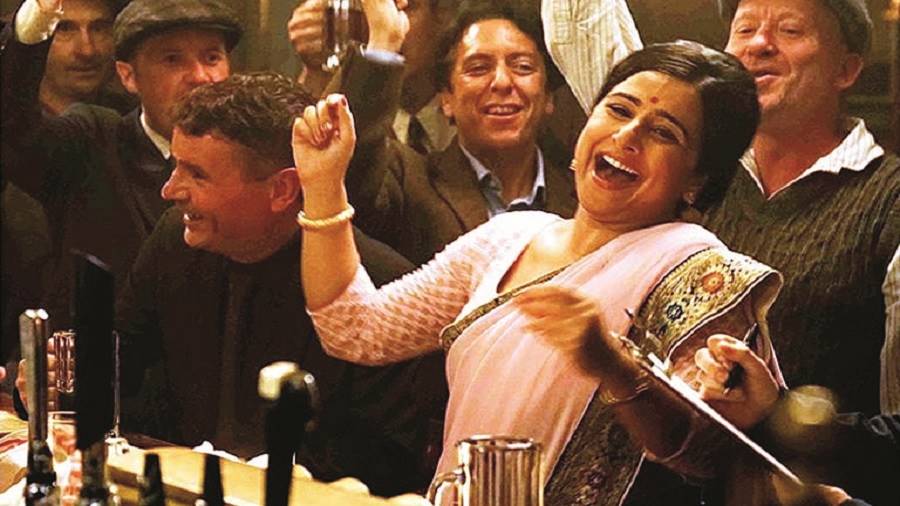 ---
---
It takes a special kind of genius — not just any genius, mind you — to string together a bunch of seemingly innocuous numbers and turn them into a thrilling and dramatic stage performance. Shakuntala Devi, who most of us perhaps superficially remember from some grainy Doordarshan footage as a smiling, sari-clad prodigy dubbed as the 'human computer', was more than just a woman who had numbers speaking to her. She was a full-bodied personality, one who was unapologetic about choosing passion over parenthood, who embraced life fully, who wasn't afraid to acknowledge that she was a woman with an all-or-nothing approach, and who consistently believed, "Why be normal when you can be amazing?"
Telling Shakuntala Devi's story is the eponymous film, now streaming on Amazon Prime Video, with Vidya Balan slipping into the sari of the math wiz. "A dramatisation of real events, doesn't claim to be a biography" are the words that leap out at the viewer at the beginning of this Anu Menon-directed film which is, essentially, a story of two halves. The first half — fun, pacy, a heady ride — traces Shakuntala's dramatic arc from a precocious five-year-old blessed with the jaw-dropping ability to multiply rows of complex numbers in seconds without a chalk and slate, to a celebrated braniac who could stump the world — and the fastest computer of the time — by calculating the 23rd root of a 201-digit number in less than a minute.
A difficult childhood — the young girl was paraded into one math show after another by her father, ending up as a money-minting machine, and not afforded a formal education — leads to a fractured adult life, where Shakuntala — armed with imprudence, wit, the ability to call a spade a spade — refuses to toe the line, wanting to live life on her own terms. "Seedha bolti hain aur dil kholke hasti hain,"... women of her kind are labelled as pariahs in the 1950s (or for that matter, even now), but Shakuntala is determined to rewrite the rules of the gender game. The film, most successfully, explores this aspect to the hilt, with Vidya — who looks like she was made for the part from the get-go — throwing some winning lines with formidable sass, even as she, quite expectedly, turns Shakuntala Devi into a Vidya Balan show.
It's Half Two (a misnomer actually, given there isn't a Lyra Leggings-riddled interval on a streaming platform release) that's a different beast altogether. "Based on a true story as seen through the eyes of a daughter" quotes the disclaimer and Shakuntala Devi deviates from the exhilarating study of an extraordinary mind into the emotional story of a woman for whom mathematics trumped motherhood. The film, swinging back and forth between different timelines, shows Shakuntala experiencing the heady success of playing to the gallery in front of a global audience, giving it up momentarily for home and hearth when she meets the dashing Paritosh Banerji (Jisshu Sengupta), but soon getting restless enough to desert her husband and lug her child across the world for her shows.
Young Anupama (Sanya Malhotra) grows up resenting her mother, her angst reflecting the anger that Shakuntala herself feels towards her parents, with filial differences spilling into legal tangle. That gives rise to one emotionally over-wrought moment after another, most of which dominate its 127-minute running time, resulting in a film that does tug at the heartstrings in parts, but is so mawkish in its tonality that it ends up feeling exhausting towards the end. Most of what Shakuntala and Anupama throw at each other veer dangerously on the brink of dialogue-baazi, and even consummate actors like Vidya and Sanya sometimes struggle to rise above the exaggeratedly-written lines.
In fact, a large part of Shakuntala Devi relies on an over-the-top approach, that actually serves it well in the bits where its protagonist goes all out to show the world how brilliant she is. Shakuntala, in a sari and pigtails, wows an initially sceptical London audience, and the film chooses to treat her run-ins with racism, sexism and isolation with a lightness of touch (at one point, she reverses racism by laughingly telling a Spaniard, "All you goras are looking the same only").
Vidya, channelling a mix of Charlie Chaplin and Buster Keaton, has a blast, ensuring the viewer does too, winning us over with that trademark laugh, the film well establishing a personality who is loud, vivacious and self-celebrating. Her hop, skip and jump from math to astrology, writing to politics is intriguing, but the film inexplicably chooses to gloss over these aspects of her life. We would have loved to see more, much more, than just a smiling Shakuntala flooring the world with her sharp wit and ticking brain even as the numbers swirl around her.
What works for Shakuntala Devi, without a doubt, is its warts-and-all approach in an industry which is notorious for hagiographic accounts of white-washed protagonists. Shakuntala is an absent wife and a selfish mother, and the film doesn't shy away from showing the chinks in her armour. The emotionally manipulative climax, however, seems like a cop-out, so does the over-emphasis on making this a shero story rather than the gender-less triumph of a genius.
It's Vidya who, in the end, keeps you invested in Shakuntala Devi. Sanya, Jisshu and Amit Sadh, playing Anupama's supportive husband Ajay, are their usual dependable selves, but Vidya, a "storm" on screen, much like Shakuntala Devi in life, makes the film a worth-it ride. This is a performer who, as always, delivers on her promise. Or as the film says, "vidya kasam".
I liked/ didn't like Shakuntala Devi because... Tell t2@abp.in