Shahid Kapoor new film scores both in terms of feel and feel-good
Jersey is a beautiful, and often moving, film about the indelible bond between a father and son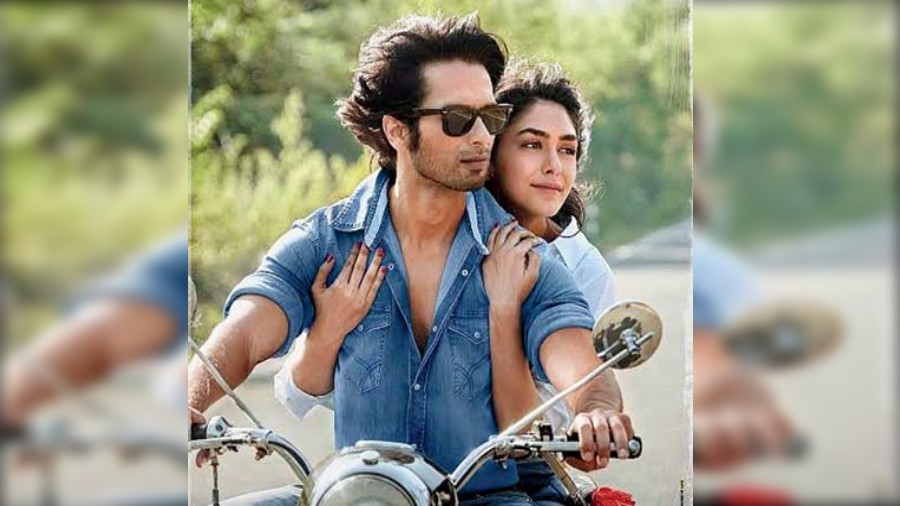 ---
Published 23.04.22, 05:05 AM
|
---
Jersey is an inspirational film about the triumph of the underdog. A film about undying tenacity and relentless perseverance. A film about hubris and catharsis. A film about broken relationships and bridges being built back. A film about sport. A film about life. But most of all, Jersey is a beautiful, and often moving, film about the indelible bond between a father and son.
An official adaptation of the Telugu film of the same name, Jersey has Gowtam Tinnanuri — who also helmed the original — returning to direct. Shahid Kapoor slips into the role brought alive by Nani in the 2019 film, with Jersey in Hindi being almost a faithful version of the original, with minor tweaks here and there.
Shahid plays Arjun Talwar, who his longtime mentor and coach hails as "the best batsman I have ever seen". Temperamental and aggressive, Arjun is a firecracker on the cricket field. At age 26, he has the world at his feet and a near-certain selection in the Indian team. But one day, he inexplicably leaves the game, with the intention of never looking back again.
Ten years later, Arjun is a pale shadow of his former self, jobless and exasperated to the core and in a strained relationship with wife Vidhya (Mrunal Thakur), the sole breadwinner of the family. His only succour and constant support is his seven-year-old son Kitu (Ronit Kamra, who is a natural and played the same role in the original). Plodding through life, Arjun finds purpose one day when his son demands a cricket jersey as a birthday gift. His financial inability to provide one makes Arjun return to cricket — all guns blazing — at an age when most retire from it.
A filial film in the same mould as The Pursuit of Happyness — that heartfelt tale of a father pulling out all stops to give his son a better life — Arjun's single-minded determination to give the game another shot stems from the fact that his son, irrespective of the fact that his father doesn't have a job or a penny in his pocket and is unable to fulfil even his basic demands, always considers him his hero. "Aap jee khol ke khelo. Jab aap cricket khelte ho toh ekdum hero lagte ho." These words from Kitu, who replaces a Sachin Tendulkar poster on his cupboard door with a newspaper clipping featuring his father, sets Arjun off on a journey that makes for a largely riveting and overwhelmingly emotional watch.
Kabir Singh — a box-office blockbuster that was largely slammed for its overt misogyny — was Shahid's last release, and we do see that reckless man emerging here, especially in Arjun's younger years. But Arjun, unlike Kabir, is more frustrated than angsty, choosing silence when he's taunted by friends and family alike for giving up on his dreams. Shahid has always been an exceptional actor, and in Jersey, he delivers a deeply internalised performance, doing the browbeaten hangdog bit as well as the man who eventually rediscovers the fire within him. I am no authority on cricket, but Shahid does look confident with the bat, even though Arjun's seamless transition to his old form, without even holding a cricket bat in a whole decade, seems too abrupt.
What also serves as a speedbump in Jersey is its nearly three-hour runtime, with the second half making you shift restlessly more than a few times in your seat, despite the deeply emotional reveal at the end.
Also, painting the wife as the unequivocal villain of the piece, a course correction which this film should have attempted after it made the same mistake in the original, is unfair. It's to Mrunal Thakur's credit — as it was to Shraddha Srinath's in the Telugu film — that she manages to rise above a poorly written character.
It's fitting that in a film about father and son, it's Pankaj Kapur who plays mentor and father-figure to son Shahid. Their real-life chemistry gives the film some of its most touching moments, and there should have been more. Jersey isn't a perfect film, but in a world that needs feel and feel-good more than ever, it delivers in heapfuls. And then some more.
JERSEY (u/a)
Director: Gowtam Tinnanuri
Cast: Shahid Kapoor, Mrunal Thakur, Pankaj Kapur, Ronit Kamra
Running time: 175 minutes