Shaheb Bhattacherjee plays a revolutionary torn between his mission and his past in the film Detective, based on Rabindranath Tagore's story, set to stream on Hoichoi from August 14. A The Telegraph chat...

You have been a part of detective films. You have played Topshe in Feluda films. Detective takes a different turn. What did you like about the story?
I think most of the popular detective stories — be it Feluda, Byomkesh, Kiriti — make for edge-of-the-seat films. On the other hand, Detective, with its comic elements, is thrilling and fun. You actually start laughing when you see the investigation happen. But you kind of keep thinking what is going to happen next.

What are some of your favourite memories from the Feluda films that you have acted in?
We were shooting for Royal Bengal Rahasya... there is a scene we did in Satyajit Ray's house. Usually guests aren't allowed there, that is the room where he used to sit and write. His desk is intact, his books with pen and pen stand. It was a very strange feeling. So that was one very memorable thing. The other one was shooting in Dhenkanal in Odisha for Royal Bengal Rahasya. Shooting there in the middle of the jungle was absolutely crazy. And when you have someone like Sabyasachi Chakrabarty who can give you the smallest of details about everything... it is fascinating. Also fantastic memories of the late Bibhu Bhattacharya. He was very close to me.

It has been 10 years since your first Feluda film. How would you sum up your journey as an actor?
The journey never ends actually. As you grow, you mature. Your answers mature. Your thought process matures, so the journey never ends. The day the journey ends, that's the death of an actor. So you keep reinventing and keep rethinking of what you could have done, what you should do. Right now if I see my first Feluda film, I feel I could have done things differently. Now when I am working, I am doing things better than what I did 10 years ago. And in future I have to do better than what I am doing now.

You took some really nice pictures of Ishaa Saha on a boat during the shoot. Tell us about your photography skills...
I use a OnePlus phone. It is so beautiful sometimes when you look at nature. And you find it even more beautiful after four months of lockdown, when you have not been able to go out. Looking at the sky and the river, everything was so beautiful. I thought this was the perfect time. I clicked a picture of myself too. Ishaa was looking so pretty, so I thought I will just click the pictures for her. And I keep doing that for my friends on and off.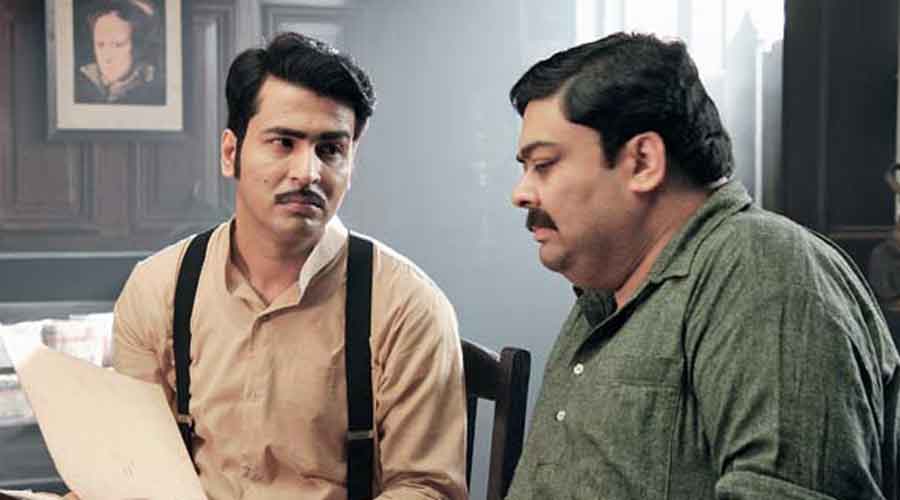 Anirban and Ambarish in Detective Sourced by The Telegraph
Did you ever wish to play a detective yourself? Given a choice who would you want to play on screen?
This choice of mine or this dream of mine is both a blessing and a curse. Blessing because I have been a part of it and curse because I will be highly judged for it. I definitely want to play Feluda, like anybody would want to. I have seen the character so up close and personal that I feel I can bring in inputs of my own. Give him a little shade. But then people might say, 'You want to be like Feluda that is alright but you can't be Feluda!' (Laughs)

What was your experience of shooting Detective in the new normal? What kind of precautions did you take?
It was a very good experience shooting for the film. They are all fantastic actors — Anirban Bhattacharya, Ishaa, Ambarish. I had worked with Joydeepda (director) 10 years ago for my television work. It was great to reconnect with Joydeepda again. We had great fun. The scenes were so hilarious in the film.
I have to mention one special incident... at the end of the trailer Anirban is asked how did you lose your moustache. It was hilarious when we were shooting it. And we felt really safe shooting it. They were sanitising the make-up van every hour. It was mandatory for all to wear face masks and temperature was being checked. Life goes on you know. But I wouldn't say this is the new normal for me because even before corona had happened, I used to sanitise my hands every now and then. So it is very much normal for me.

Who are you playing in Detective?
I play Monmotho Nath Majumdar, who is a revolutionary person fighting against the British government but also has an unrequited love story behind him. So he is basically a swadeshi premik! He is fighting a revolution and is given the responsibility to spy on detective Mohimchandra (Anirban Bhattacharya). Soon he finds out that this person is connected to someone from his past. So then he falls into this dichotomy of whether to fight for his country or let this guy go, going against the country because of his love. He has a heart that is there for the country, but it is also divided between the country and someone else.

What kind of preparation went into playing this character?
The story is set in 1905. I had to do one major preparation. We have a very subconscious, untold urbanisation in our attitude. The way we talk or move our bodies. That same urbanisation makes us say four words in English out of the 10 words we say in Bengali. Those things were not there during that time. When they used to speak in Bengali, it would only be Bengali. The body language was much more muted. Not so loud or urbanised as it is today. I had to cut off all that.

Did you get a chance to bond with Anirban and Ishaa on the set?
This is my second work with Ishaa. Ishaa is a friend of mine anyway... social friends. But with Anirban, I got to bond for the first time. We both were sharing the same make-up room... he is very well-versed and well-read. He was good company, with the chats and discussions in between shots. He is from theatre, I am also into theatre. So we were discussing theatre, world politics. Things were very serious in the make-up van (laughs). I had a great time bonding with them. For the first time Anirban and I were acting together but there was a comfort zone between the two of us.

You have done films as well as web. Would you like to carve a special place for yourself in Bengali web shows?
I believe, I have chosen my web work very carefully. I have not done web work that has cheap content. I am very particular about the work that I do. Bonyo Premer Golpo and Dark Web are absolutely content or story-oriented. Same for Detective.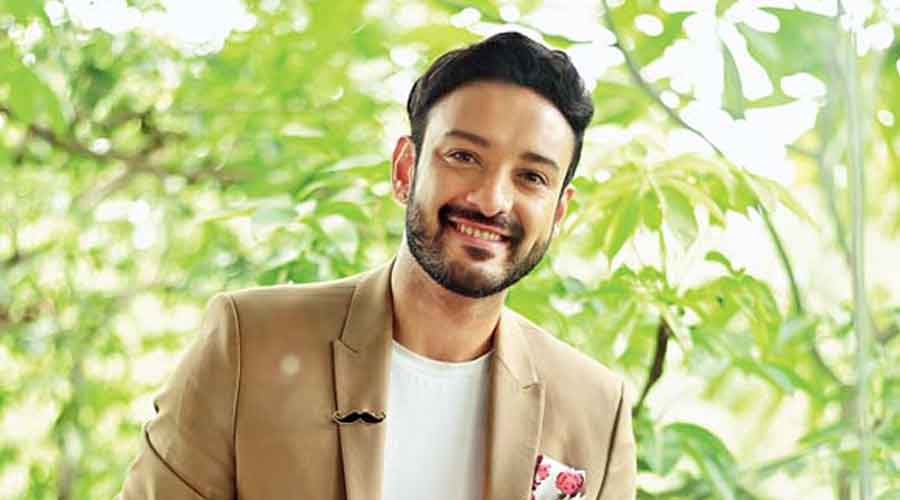 Shaheb Bhattacherjee Sourced by The Telegraph
Tell us about your forthcoming projects...
Apart from Detective, there is one more project that is coming up and two films. I am in talking terms for a Hindi web series.

Which are your favourite web shows?
I am a big fan of Narcos, Narcos: Mexico and Queen of the South. And Anirban and I were both discussing the series called Dark, which has been a revelation in terms of content for me. And also, Game of Thrones.

How do you see 2020 panning out for the Bengali film industry?
2020 is going to be a crucial year in terms of business for the Bengali film industry. Now the big question is, for actors like us who do all sorts of films, we have the scope to finish a film in 12 days within a limited budget and it can be released on an OTT platform. So what happens to the three crore films set to release in cinema halls? Will producers take the risk? Will the big stars now think of coming to the OTT platforms? It is completely from a business angle and has nothing to do with talent or anything else. This is a big question that Tollywood has to answer in the coming days.