Singer-actress Selena Gomez has come out in defence of her ex-boyfriend Justin Bieber's spouse, Hailey Bieber, and urged her fans to stop speculating about their relationship and alleged feud.
Breaking the silence surrounding the drama between her and Hailey Bieber, Selena on Friday posted an elaborate note on Instagram asking her fans to stop harassing Hailey. The Lose You To Love Me singer also revealed that Hailey had been receiving the death threats and online bullying from her fans. "This isn't what I stand for. No one should have to experience hate or bullying," Selena's Instagram story reads.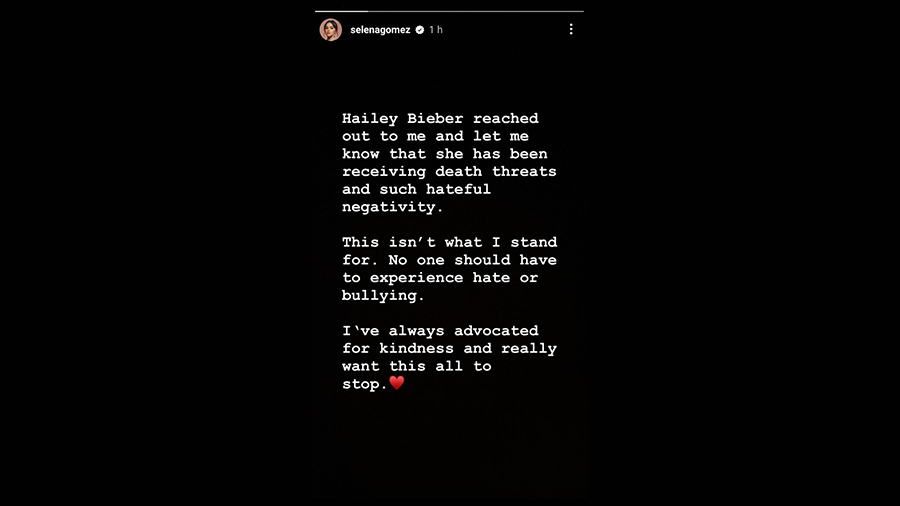 Instagram
Shortly after, Hailey posted an Instagram story, thanking Selena for speaking out against the hateful comments and speculations. "The last few weeks have been very hard for everyone involved and millions of people are seeing so much hate around this which is extremely harmful," the 26-year-old model's story read.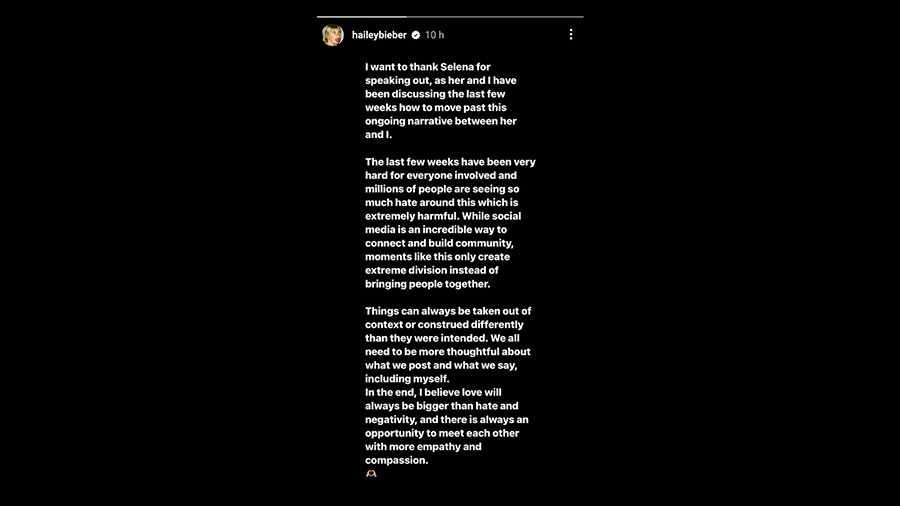 Instagram
Hailey has been on the receiving end of hate since she got engaged to Justin Bieber. Two months after Selena and Justin's official break up in March 2018, the Baby singer proposed to Hailey and they tied the knot later in September 2018.
The drama reached an all-time high in February this year with Selena quitting all social media platforms other than Tiktok. The 30-year-old singer opened up about the reason in Vanity Fair magazine, stating that the comments from Justin and Hailey fans had started affecting her.
"People can call me ugly or stupid and I'm like, Whatever. But these people get detailed. They write paragraphs that are so specific and mean. I would constantly be crying. I constantly had anxiety…I couldn't do it anymore. It was a waste of my time," Selena told the American magazine that covers pop culture, fashion and current affairs.
On February 9, Selena responded to a fan who pointed out a post from Hailey that seemingly took a jab at Selena. Hailey's longtime friend Kendall Jenner accompanied the model in the video with the two lip-syncing the words, "And I'm not saying she deserved it, but God's timing is always right." The video, which was later taken down by Hailey, was posted at the time when Selena was getting body-shamed online over bikini photos. "It's ok! I don't let these things get me down! Be nice to everyone! X," Selena's response reads.
The following week Selena posted a series of Tiktok and Instagram stories where she used the Bella Hadid filter and revealed that she over-laminated her brows. Several fans pointed out Hailey and Kylie Jenner's Instagram stories, which were posted around the same time, where the two showed off their brows. While Selena and Kylie both tried to shut down the drama by denying the accusations, the speculations continued and '#teamselena' started trending on social media platforms.
The next day, Selena defended herself and Hailey in her comments to several Tiktok stories. Her comments on another Tiktok video, however, changed the narrative completely. A resurfaced footage of Hailey gagging over Taylor Swift's music had Selena defending her best friend, Taylor, immediately. "So sorry, my best friend is and continues to be one of the best in the game," the singer-songwriter commented. Shortly after, Selena revealed that she was quitting Tiktok for a while.
Justin Bieber has remained silent regarding the drama.