Filmmaker Arati Kadav on exploring the genre epically and personally with Cargo
'It's my mission to bring sci-fi into India'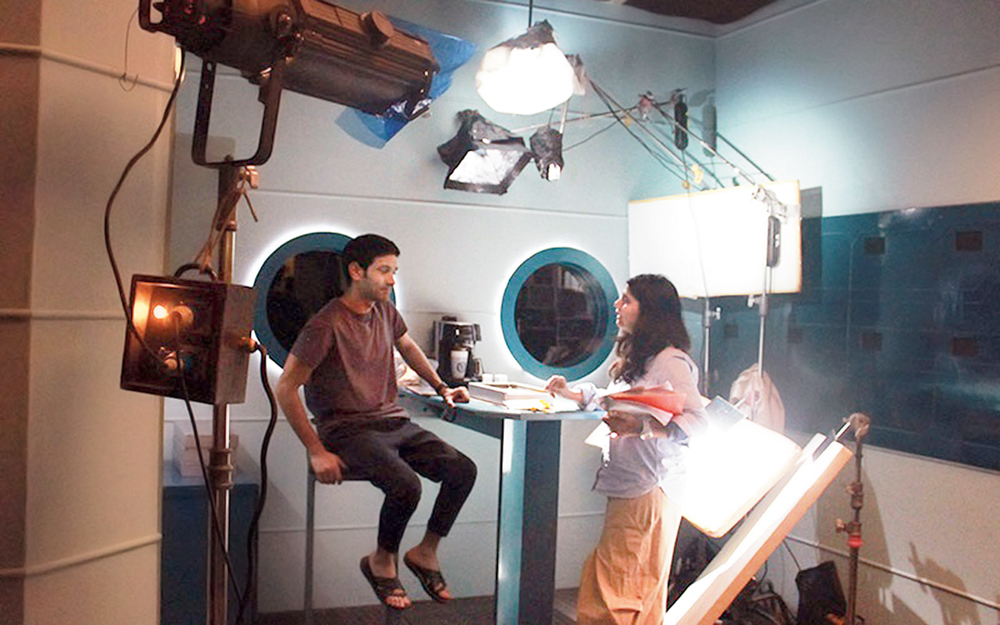 SCI-FI STORY: Arati Kadav with Vikrant Massey on the sets of Cargo
Sourced by The Telegraph
---
Published 19.03.20, 05:04 PM
|
---
Fascinated by the science-fiction genre ever since she was a kid, Arati Kadav has received accolades for her maiden feature film Cargo. The sci-fi film that stars Vikrant Massey and Shweta Tripathi, has been lauded for its vision and execution, telling the story of a world that's peopled not by humans but by a species of modern-day rakshasas who are as sophisticated, smart, confused and complex as human beings. The film has spaceships and concepts of rebirth and the afterlife and was shown at the Mumbai Film Festival last year. The Telegraph chatted with Arati on the film, her interest in sci-fi and the future of the genre in India.
Cargo was screened at the Mumbai Film Festival (MAMI) last year. What's it been like since then?
I think the biggest learning for me, from whoever has seen the film, is the fact that the Indian audience is ready for a film like Cargo. This is the generation that has grown up watching Star Wars, they have consumed Terminator and a lot of international sci-fi content. There is a massive fan following for sci-fi among Indians in their 20s and 30s.
In Cargo, they saw a sci-fi film that hasn't been plucked from the West. It's something that's indigenous, rooted in the Indian ethos and built from scratch here.
What was the starting point of the film?
Since childhood, I have had a massive fascination for the fantasy genre. I have grown up reading Panchatantra and even The Mahabharata, which I feel is the coolest Indian sci-fi in many ways.
I am also fascinated by afterlife and the concept that we have of the afterlife in India is very sketchy… that Yamraaj comes and takes people away (laughs). I always felt it could be denser and I was looking at ways to rewrite that. Every generation comes up with its own interpretation of mythology and I treated the film like folklore, more than anything else.
Was there a moment of epiphany that made you want to become a sci-fi filmmaker?
When you grow up in a middle-class household, then you are far removed from the idea that you can even make a movie. Before Cargo, I had made a short film called Time Machine which had robots and stuff, and we managed to pull it off quite well. I did a lot of cool things in that, predominantly by being smart (smiles) and I derive a lot of joy from improvising. For me, that short film was the trigger point… it gave me the confidence and the realisation that I have to do sci-fi because not only does it give me joy, I think the whole process is very involving… I get obsessed with it and I enjoy that kind of obsession.
What are the biggest challenges of making a film in the sci-fi genre, especially when you don't have humongous budgets at your disposal?
Sci-fi is very pre-production intensive, but also requires a lot in terms of post-production. There are massive visual effects to take care of. The challenge in pre-prod is research.
The biggest irony is that a lot of Hollywood's biggest productions outsource their VFX production to Indian companies, but the genre has never really taken off here. During the making of a sci-fi film, a very good production designer is of the greatest importance. At the end of the day, the film should look realistic… it should be a believable world and so the finishing has to be very good. It's like making a period film… but with VFX! (Laughs)
Why do you think sci-fi is such an under-explored genre in Indian cinema?
When you think of sci-fi films, you tend to only think of these huge Hollywood blockbusters that have these really big budgets. So for a filmmaker in India, even attempting to make a sci-fi film that is anything close to that space is a huge stumbling block. Whenever you think of sci-fi, you think of so much scale that no one wants to take the first step itself.
The good thing is that, besides Hollywood, there is an eastern sci-fi movement that is gaining momentum. For example, China and Japan are doing quite a bit of work in the genre and their version is very nuanced. They are not taken up with scale, their sci-fi deals more with thought-out stories and concepts. That's something that India needs to wake up to.
I spoke to a lot of people who watched Cargo and reached out to me. And, in turn, I discovered that they had some really insane stories, some really good concepts. I really think that we are on the verge of a revolution… it's just that somebody has to push through. The day the people backing content in India, like the OTT platforms, start encouraging diversity in narrative, that's the day when it will happen. But what we need to keep in mind is that one's film can be fantastical or sci-fi, but it also needs to be personal. That's very important. A sci-fi film like Arrival (2016) illustrates that.
What have been your biggest influences in the genre, be it books or films?
I derive a lot of sci-fi inspiration from the books I read. One author I admire is Liu Cixin, who wrote The Wandering Earth that became such a huge hit on Netflix. Then there is Ted Chiang. I also love reading the work of Ursula K. Le Guin. As far as filmmakers are concerned, I am a fan of everyone from (Stanley) Kubrick who gave us an epic film like 2001: A Space Odyssey to indie filmmakers like Shane Carruth who directed Primer (2004). I also like someone like Michel Gondry who are so inventive. Like if you don't have money for a space helmet, you will make it with silver foil and you will make people believe it (laughs). I like that attitude of koi tension nahin lene ka, bas bana dene ka! (Laughs)
So when does the larger audience get to watch Cargo?
We are going to quite a few film festivals (Cargo was slated to show at the South By Southwest Film Festival in Texas and at the Indian Film Festival of Los Angeles, both of which are now in limbo because of the Covid-19 outbreak). I think we are eyeing a June-July release date in India.
What's the way forward for you in this space?
I plan to go deeper. I just hope there is more money for the genre in India, which will enable me to expand the scale of my stories. It's my mission to bring sci-fi into India, not just for myself but also enable other enthusiasts to fulfil their dreams in this space. I am also adopting a 360-degree approach in terms of developing sci-fi podcasts and so on.