Scandal in #MeToo era
But question remains: Did Gen Ayub Khan cross 'line of control'?
---
---
BBC TV's end of year offering is The Trial of Christine Keeler, a retelling of the best known British sex scandal of all time but seen through the prism of the #MeToo movement.
Generally known as "the Profumo affair", the six-part drama, based on the events of 1961-63, has been written (Amanda Coe), directed (Andrea Harkin/ Leanne Welham), produced (Rebecca Ferguson/ Kate Triggs) and commissioned (Charlotte Moore), by women, with the actresses Sophie Cookson and Ellie Bamber cast as Christine Keeler and Mandy Rice-Davies, the 19 and 17-year-old night club hostesses at the centre of the story.
Christine Keeler, who died two years ago, aged 75, and unrecognisable as the ravishing beauty she had once been, is not quite transformed into a heroine but her tale is told with much more sympathy and understanding.
The basic facts are well known. John Profumo (played by Ben Miles), the patrician minister for war in Harold Macmillan's Tory government, encountered the working class Christine when she was swimming naked in the pool in Lord Astor's country estate in Cliveden in Berkshire. He ended up sleeping with her but this had security implications because Christine was simultaneously seeing Captain Yevgeny Ivanov (Visar Vishka), a Soviet naval attaché, quite apart from also being involved with two possessive West Indians, Johnny Edgecombe (Nathan Stewart-Jarrett) and Aloysius 'Lucky' Gordon (Anthony Welsh).
Another key character was the society osteopath Stephen Ward (James Norton), who had taken Christine and her friend, Mandy, under his paternalistic wing and introduced them to his rich and famous patients. He was tried (unfairly) for living off immoral earnings and took a fatal overdose before he could be sentenced.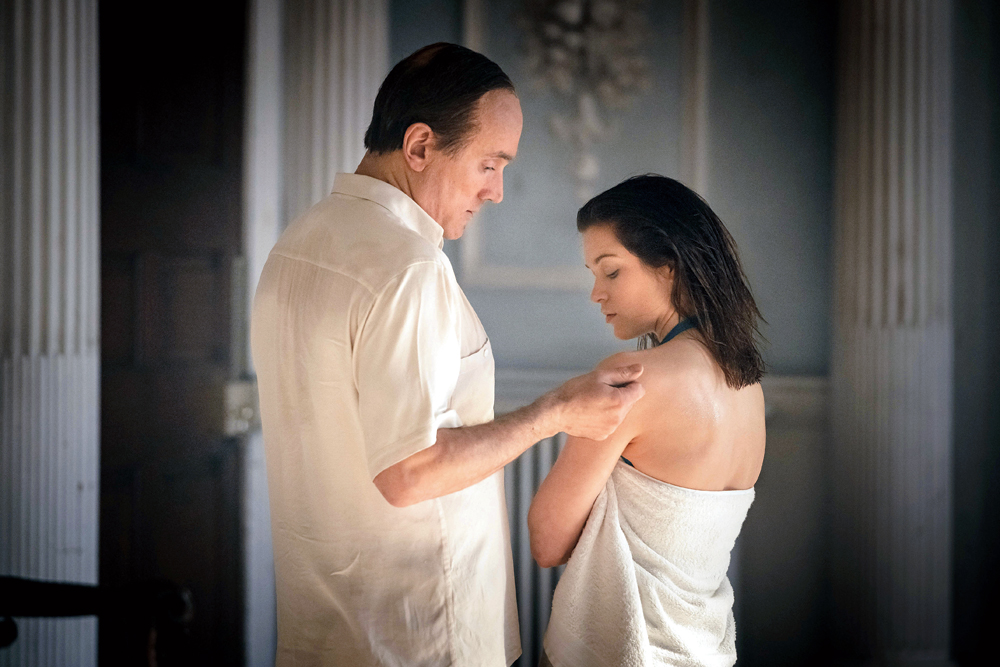 Christine went to prison for six months for perjury but was also judged harshly by society which depicted her as a semi-prostitute. Profumo stepped down as a cabinet minister after admitting he had initially lied to parliament ("There was no impropriety whatsoever in my acquaintanceship with Miss Keeler"). Macmillan, too, resigned shortly afterwards as Prime Minister and the discredited Tories were defeated by Labour, under Harold Wilson, in 1964.
During the trial when Mandy was told that Lord Astor denied he had ever slept with her, she produced the memorable quip: "Well, he would, wouldn't he?"
Over the last half century, there have been thousands of articles and numerous books about the Profumo affair, including notably An English Affair: Sex, Class and Power in the Age of Profumo by Richard Davenport-Hines in 2013.
In 1989, there was a movie called Scandal, with Joanne Whalley cast as Christine. In Andrew Lloyd Webber's stage musical Stephen Ward at the Aldwych Theatre in 2013, Christine was portrayed by Charlotte Spencer. The musical had a bit part for General Ayub Khan, president of Pakistan (1958-1969), who was also a guest at Cliveden when those using the pool had to follow Lord Astor's strict "no costume" rule. A discreet veil has been drawn over whether he crossed the line of control.
Sophie Cookson said about playing Christine: "With this amazing third wave of feminism it's such an exciting and pivotal moment to be looking at this story with a female gaze…it feels like she is being released and is finally free to tell it how it was.
"She attempted to self-abort her child when she was still a teenager. She had the most tragic life. To forever be known as this girl, this whore, this prostitute — which she absolutely was not — was just disgraceful. It makes me so angry!"
Ben Miles, who plays Profumo, agreed: "Christine was utterly vilified in the press and by society and Profumo assumed that he would be untouchable throughout, because most people who were wearing judges' wigs at the time were probably old school friends of his. The 'old boys' network looked after their own."
The iconic image of the scandal is a photograph taken by Lewis Morley of an apparently naked Christine straddling a chair. "Despite looking like she was naked … she had in fact worn knickers," confirmed scriptwriter Amanda Coe.
"When explaining why it was important to look at this story now, we only have to look at the recent Me Too and Windrush news stories (about the hostility faced by West Indian immigrants when Theresa May was the home secretary) to see why it's relevant."
Christine, added Coe, "was vilified in the court of public opinion and there's some restitution in seeing her side of the story".