Satyameva Jayate 2 is an all-round assault on the senses
Rape, medical negligence, collapsing flyovers, mass food poisoning, rampant corruption in politics... nothing escapes the SMJ 2 checklist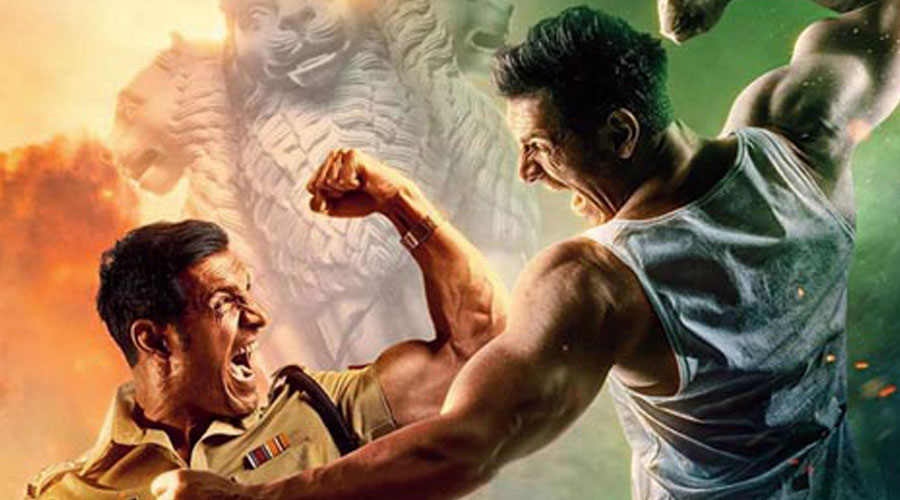 ---
Published 27.11.21, 03:01 AM
|
---
Green Face: As if holding back vomit. May represent physical illness or general disgust. Also called 'Nauseated Face'.
Barf Face: May represent physical illness or disgust, more intensely so than Nauseated Face.
Angry Face: Often used to convey an outburst of anger, frustration or rage.
Abusing Face: Angry, pissed off, cussing, abusing, swearing, frustration, rage, extremely furious.
Horror Face: While intended to represent horror and fright, it commonly conveys such feelings as shock, disbelief....
Injured Face: May represent physical injury or pain but also emotional hurting, sometimes for ironic effect.
Weary Face: I can't handle this!
Making a beeline for Urbandictionary.com to decipher the meaning of one's name may be the Internet trend of the moment, but I found myself Googling something else — the wide range of emotions, all negative bordering on the nauseated, of course, as I set myself up masochistically (and for my job) to watch Satyameva Jayate 2.
To be honest, this review could have just been a series of emojis. But emojis, for the large part, are unprintable. So is a huge chunk, if not the whole, of Satyameva Jayate 2. If the ear-splitting background score doesn't bludgeon you to a state of semi-unconsciousness, ironically, the visuals playing out in front of you will lull you into a state of coma. You will die a million deaths while watching this apology of a 'film', and with all due respect to the dead, you will prefer to remain in that state rather than get up and subject yourself to this monstrosity of a movie.
Director Milap Milan Zaveri is a serial offender. In the name of 'mass entertainer' (even his Twitter handle proudly proclaims @MassZaveri), the man has been serving up one crap fest after another through the years. I had thought I had put the worst behind me with his 2019 film Marjaavan, but Satyameva Jayate 2 is a different beast altogether. It's quite evident that Milap wasn't really aiming for sense with this film (when does he, anyway?) but this 'spiritual sequel' — a much-abused term to further a franchise in Bollywood these days — doesn't even bother to entertain. No, this isn't one of those films which even falls into the category of 'so bad that it's good'.
'Recreating the over-the-top masala films of the '80s and '90s, Satyameva Jayate makes #Throwback seem like a bad word.' That's what I had written for the first film three years ago. Having weathered Part Two, I can safely say that Satyameva Jayate was far more watchable. At least it had Manoj Bajpayee.
Truth be told, even a hammy Manoj Bajpayee is better than three screeching John Abrahams. For, there is no respite from John in Satyameva Jayate 2. There is a John — screaming, shouting, bicep-flexing, bellowing — in almost every frame of this film. There is John the righteous politician, there is John the honest cop, and in a post-interval throwback, there is John the upright farmer doubling as activist. One of them is also a vigilante but since all three are interchangeable, it doesn't really matter who. Somewhere in the middle of the film, sitting all alone in the IMAX screen of INOX (South City), I touched my face and took a long, hard look at my arms to ensure I hadn't changed into John myself. That's what this film does to you.
Satyameva Jayate 2, as mentioned, is not a film. It's a series of ills plaguing the country stitched together for John to either take off his shirt or slip on his hoodie and eradicate from society. Rape, medical negligence, collapsing flyovers, mass food poisoning, rampant corruption in politics... nothing escapes the SMJ 2 checklist, all of which have at least one John — one called Satya, one called Jay, one called Balram — to take care of. Furniture is never really safe around any of them... one breaks a table into two by casually punching his fist on it, one drives his hand through-and-through a cupboard to break someone's jaw.... One splits open a coconut with his bare hands, the other sprints faster than Usain Bolt to prevent the Indian flag from touching the ground. By the way, did we mention that the Tricolour fluttering in the wind has more agency and energy than leading lady Divya Khosla Kumar's dialogue delivery? Well, she does give both 'deadpan' and 'swish pan' a whole new meaning.
Satyameva Jayate 2 is an all-round assault on the senses. "Har mujrim ko lagta hain ki woh kanoon se mujra karwa sakta hain", says John 1. "Agle janam mein tu maa ke kokh se kya, baap ke tope se bhi nikalne se darrega," pipes in John 2. All the Johns speak in couplets. At some point, 'TikTok ban' is made to rhyme with 'beti ki aan'. Somewhere, 'Durga' and 'murga' are put together in the same sentence. "Gandhiji ki hamesha jai ho, lekin Bhagat Singh mera banda hain," says vigilante John at one point, likening Bhagat Singh to his "bro"/ "bumchum". A few minutes after that, I stumbled out of the hall. The first time ever I had walked out of a film.
Which is the worst film you have ever watched? Tell t2@abp.in
SATYAMEVA JAYATE 2 (U/A)
Director: Milap Milan Zaveri
Cast: John Abraham, Divya Khosla Kumar, Harsh Chhaya, Anup Soni, Gautami Kapoor, Shaad Randhawa
Running time: 138 minutes