Sanjay Mishra on Woh 3 Din, typecasting in Bollywood and playing the leading man
Woh 3 Din, directed by Raaj Aashoo, also stars Chandan Roy Sanyal and will release at the theatres on September 30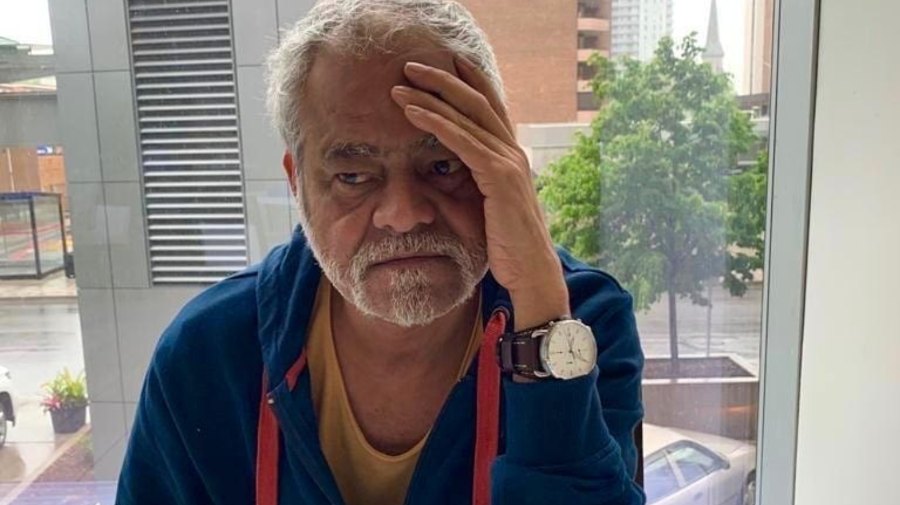 ---
Calcutta
|
Published 26.09.22, 12:13 PM
|
---
Known for his comedic roles in Hindi cinema and television, Sanjay Mishra also got opportunities to play intense characters in films like Ankhon Dekhi and Kadvi Hawa. In 2020, he was much appreciated as the leading man in Kaamyaab. As the chameleon-like actor gears up for the release of his new slice-of-life film Woh 3 Din on September 30, he opens up about his journey.
How did Woh 3 Din happen?
Sanjay Mishra: I don't know whether it happens with too many actors that people write characters keeping them in mind. I think it is an achievement for an actor if characters are being written for them. So, one day, director Raaj Aashoo narrated the story of Woh 3 Din to me. I found the story of the rickshawwala very interesting. He comes from the lowest strata of society. He wants to make his life easier by earning money, educating his children, buying things for the house, and all that. After a certain age, riding a rickshaw is a challenging task. The government doesn't decide the retirement age for a rickshawwala, his own body decides that. I liked the character and the story.
And I like working with new directors. There's always something new that I can learn from them and they from me. How many times can you work with the same director? Sometimes I do that too. I work with Rohit Shetty quite often. But I am always looking forward to working with a new director. And that's how Woh 3 Din happened. Raaj has directed music videos in the past and he knew that I have a thing for music, so he made me sing a song in the film too.
Do you want to do more films like these?
Sanjay Mishra: I think I am in a place where I can support the kind of cinema that I grew up watching. I want to work with filmmakers who have been trying to say something through their stories. I wondered what Neela Madhab Panda had envisioned when he offered me Kadvi Hawa. It was not at all a commercial film. But he was attempting to tell a different story. And I wanted to be part of that attempt. It's the same with Raaj's Woh 3 Din. 
The makers of mainstream Hindi cinema have always played it 'safe'. What motivates you to take on not-so-commercial films?
Sanjay Mishra: It's true that our film industry has been playing it safe for many years. If films on gods and goddesses are doing well, then make films on them. If films on criminals are doing well, then make films on criminals. Any business works on 'safety'. But you can't start selling samosas and kachoris because someone else's business prospered by selling samosas and kachoris — so much for playing 'safe'!
Similarly, it's not like we've started making a different kind of cinema all of a sudden. Filmmakers like Satyajit Ray, Ritwik Ghatak, Sai Paranjape and Shyam Benegal had been making path-breaking films at a time when commercial films were running to packed houses. On the one side, it was an imaginary world, while it was stark reality on the other.  So, a base for films like Ankhon Dekhi was already there. Then people started realising that the uncle in Ankhon Dekhi is like their real uncle. That relatability makes your story work. People these days like stories that have that 'apni wali baat'. For instance, the character that I played in Masaan was much like my father. You should tell stories that you want to tell.
You started your film career with Shah Rukh Khan in Oh Darling Yeh Hai India. In 2020, Shah Rukh produced your film Kaamyaab. How do you look back at this journey?
Sanjay Mishra: Like somebody cast me in Kaamyaab to play the lead role, somebody had put their might behind Shah Rukh Khan in Oh Darling… I was in a supporting role in that film. All I wanted to do was cinema. If not acting, I could have done art direction, or sound, or camera, or costume for that matter. All that I wanted was — shooting ho aur hum kaam kare. I live my life like a common man. I want to have a house, purchase goods and give my children a good life. And for that, I have to go to work.
Do you think you get typecast as a comedian too much?
Sanjay Mishra: Actors like me get typecast easily — aao bhai, comedy karo. But there are filmmakers like Subhash Kapoor who offered me Phans Gaye Re Obama. I asked him, 'Yeh toh Naseer Bhai type ka role hai. Mujhe kyun offer kar rahe ho?' Pat came the reply, 'What is type ka role?' So, I couldn't help but agree to do the film! I told him straightaway that if the movie didn't work, he would be blamed for it. But thankfully, people liked the film.
Then came Rajat Kapoor with Ankhon Dekhi and now Raaj Aashoo with Woh 3 Din. So, my career has a subway going parallel with the mainstream highway. I am doing Bhool Bhulaiyaa 2 and Cirkus as well as Woh 3 Din. You could call it luck or grace of god that filmmakers are keeping me in mind while writing a role.
But I think typecasting or stereotyping happens everywhere, like we buy laddoos from one place and poori-sabzi from another. We don't buy them from the same shop even if they are available. Like in cricket, if a batter is good as an opener, he will always be sent to open the innings. Only a fool will ask him to play at number 9.
Do you think you're getting your due as an actor?
Sanjay Mishra: Yes, I think so. I am doing my work with sincerity. But I never thought that I would be offered lead roles. The other day, I was telling someone that I watched Mehmood Sahab's Kunwara Baap (1976) when I was very little. I cried so much while watching that film. I had no idea at that age that I would become an actor. But when I think about it now, it feels strange that I am playing a rickshaw-puller in Woh 3 Din, just as Mehmood Sahab did in that film. This journey has taught me a lot. One shouldn't let success go to their head.
How responsible do you feel while playing the lead in a film as opposed to playing a supporting character?
Sanjay Mishra: While playing the lead, the entire film's responsibility is on my shoulders. I shouldn't get carried away as the film's prospects might suffer because of that. In films where I'm playing a supporting character, it is like gaali khayenge toh hero khayenge, waah waahi lootenge toh hum lootenge. In films like those, you never know when a character actor might overpower the main lead. 
Like Raghu from Rohit Shetty's All The Best?
Sanjay Mishra: Yes. It was a supporting character while we were filming it. But when the film was released, that character got the most laughs and appreciation from the audiences.
Your film was produced by Shah Rukh Khan and you have worked with Rohit Shetty a lot. Do you think the film industry works on relationships?
Sanjay Mishra: Relationships exist in all industries. Humare yahaan talent se zyada vyavahar se kaam milta hai (In our industry, you get work based more on your behaviour than your talent). It's the same with everyone. We like to work together. Relationships are a good thing.