Samantha Ruth Prabhu and Akshay Kumar bare it all on Koffee with Karan Ep 3
The 'Family Man 2' actress debuted with Akshay Kumar in the seventh season of Karan Johar's show on Disney+ Hotstar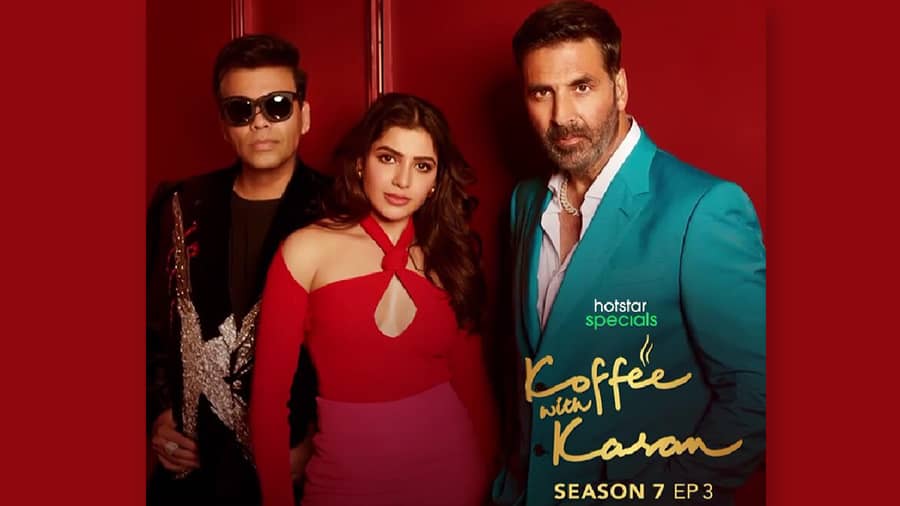 Akshay Kumar and Samantha Prabhu on Koffee with Karan Episode 3.
@karanjohar/Instagram
---
Calcutta
|
Published 22.07.22, 02:46 PM
|
---
The third episode of Koffee with Karan hit Disney+Hotstar on Thursday at 7pm. As promised in the trailer, the episode saw the stunning Samantha Ruth Prabhu alongside Akshay Kumar.
Despite early speculations, the two did not talk about working on any projects together. The show's host, Karan Johar, revealed why he invited the stars together. As per a survey conducted by Ormax, Samantha ranked #1 as the most popular pan-India female star while Akshay was the only Bollywood actor on the most popular pan-India male star list. The two stars lit up the couch with their candid conversations. Here are the highlights:
Samantha talks about her ex-husband
A burning topic that Karan and we all expected Samantha to talk about was her marriage to actor Naga Chaitanya. Samantha got married to the son of popular actor Nagarjuna in October 2017. The couple announced their separation in October 2021. Samantha has mostly avoided discussing her marriage, but she did open up about it on the show. 
When Karan referred to the Bangarraju actor as the Oh! Baby actress' husband, she immediately corrected him, saying "ex-husband". The director of the upcoming movie, Rocky Aur Rani Ki Prem Kahani, also asked the actress if the former couple are amicable toward each other. To this Samantha replied, "You mean if you put us both in a room, you'd have to hide sharp objects? Yes, as of now." She was very open about the bitterness the two had since the divorce but she also hopes that eventually, they will have a more amicable relationship.  Samantha avoided being asked further questions related to her marriage by blaming Karan for setting unrealistic marriage goals in his movies. She pointed out that the director portrayed romance and married life as aflowery affair like in the 2001 film K3G (Kabhi Khushi Kabhie Gham), but in real life, it was more of a struggle like in the two-part action film K.G.F. 
Coping with internet trolling 
Both Akshay and Samantha spoke about internet trolling and how it affected them. The actress said that her divorce has much to do with the trolling that was directed at her. When asked about the most ludicrous thing she read about herself online, she said that some people had spread rumours about her getting Rs 250 crore in alimony. Samantha said that she tries to avoid being affected by what the internet trolls write, but it does manage to get under her skin at times. 
The two men also shared their internet trolling trysts and advised Samantha to not get affected by it. Akshay said that he was used to being called "Canada Kumar" and being trolled for working with younger actresses. Karan said that he was constantly called a 'snake' online. He also hinted at the homophobic trolling he faced. Both men claimed that whatever was said about them online did not affect them at all. 
Why Samantha worked on the raunchy Oo Antava 
Karan asked Samantha what made her agree to do the raunchy dance number Oo Antava in Pushpa: The Rise. She first said that she did the song because she liked the music as well as the messaging and thought "F*** it! I'll do it!" She spoke about getting trolled again for the song that "satires the male gaze". Samantha pointed out that she did the role of Raji in The Family Man 2 to convey a message and her performance in the song also sent a message that she wanted to put out.
Monetary needs drove the two stars toward their acting careers
Money is a driving force for Akshay's career and he made it pretty clear on the show. To Karan asking if there are any roles the two took for money, Samantha said that she never took up a role just for the money. To this, Akshay replied that he is ready to take on any project if the pay is right. Akshay revealed that he earlier worked as a martial arts instructor, which earned him very little money. When he acted in a commercial, he earned Rs 21,000 for two days of work. This motivated him to forge his acting career. Samantha also shared that money was the primary reason for her career choice. She said that money was so tight for her family that she could no longer afford to pay for her education. So, she was forced to pursue a career in modelling, which led to her film career. She added that she was glad that she chose acting as her career.
Samantha and Akshay on nepotism
The topic of nepotism seems to be a staple on the show. Karan at the very beginning even took a jab at Kangana Ranaut, who had called him the "flagbearer of nepotism" by restating her line. Neither Akshay nor Samantha had any pre-existing connections in the film industry. Offering her take on nepotism, Samantha said that it was never enough to really forge a career for anyone. She said that even if the person did get a head-start, their subsequent work would speak for itself. She also pointed out that star kids have more pressure on them. The actress said that if someone like her failed at the box office then it would go unnoticed, but if a star kid's movie failed, it would be widely discussed.
Akshay said that he has worked hard to get where he is. At the time when he made a name for himself, the word "nepotism" was not something that was discussed. He even said that he had to ask his wife, Twinkle Khanna, what the word meant.
Akshay discusses Bollywood actors' ego
Both Karan and Akshay shared their exasperation at the ego battle that the actors have in Bollywood. They observed that actors from the south film industry did not have problems starring in movies with more than one hero. This has become a rarity in Bollywood. They shared that many actors rejected scripts because they did not want to act with any other actors. This was not a trend seen among actresses, however, as they were more open to working on multi-heroine films. The actor and the director both chalked it down to the ego and insecurity of the actors, which they need to get over.
Sara Ali Khan's 'Cheese' is in great demand
During the rapid-fire round, Karan asked Samantha what would be the way to her heart. The actress said, "It's closed, please take a U-turn." However, when asked about the most desirable man in India, she named her Kushi co-star Vijay Vijay Deverakonda. To this, Karan pointed out that the actor was also single and that the two had spent some time together for the shoot of their upcoming movie.
In the previous episode, both Sara Ali Khan and Janhvi Kapoor dubbed Vijay as 'Cheese'. Sara kept gushing over him and it seems that she is not the only actress who thinks highly of the Liger actor.