Saina plays out better on court than off it
Director Amole Gupte knows a thing or two about setting up stories of prodigies who carve their own path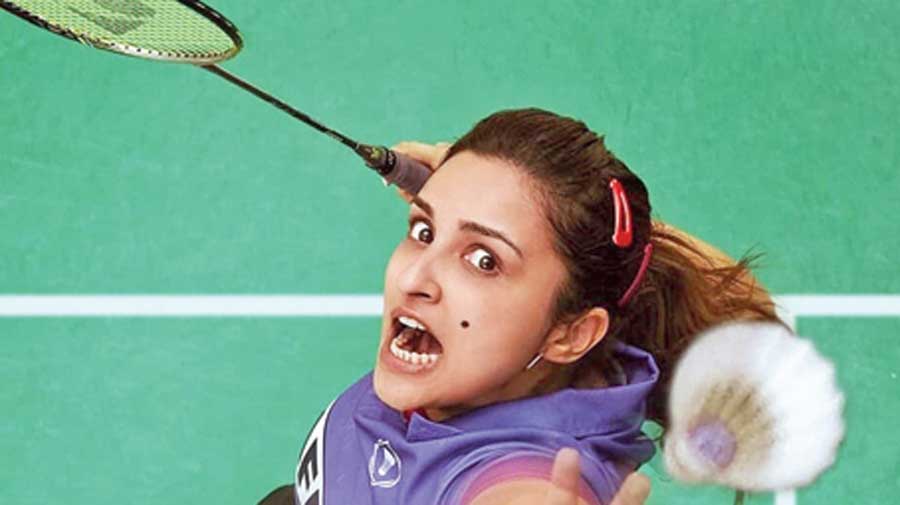 Saina Nehwal's story is one such that needs to be celebrated. The young woman, her trademark straight face masking the emotions clearly whirling inside her every time she's on match point, singlehandedly put India on the global badminton map, almost three decades after Prakash Padukone won the All-England Championship
Still from the movie
---
Published 27.03.21, 02:40 AM
|
---
India still has such few sporting heroes that every now and then, Bollywood needs to give us a biopic to remind us of their achievements. Over the last few years, the desire to shift the spotlight from cricket has unleashed a flurry of stories that highlight achievers in less-talked-about sports. So there's been wrestling (Dangal), hockey (Gold, Soorma), athletics (Bhaag Milkha Bhaag), boxing (Mary Kom), shooting (Saand Ki Aankh), et al. A biopic each on Leander Paes (at 47 and still going strong, the man deserves a few films at least) and Sania Mirza is supposedly in the works. What's noteworthy is that there is a deliberate attempt to laud more women, given that they not only have to work their way up in a country where both support and sponsorship are lacking across the board, but also have to smash through many a glass ceiling.
Saina Nehwal's story is one such that needs to be celebrated. The young woman, her trademark straight face masking the emotions clearly whirling inside her every time she's on match point, singlehandedly put India on the global badminton map, almost three decades after Prakash Padukone won the All-England Championship.
Director Amole Gupte knows a thing or two about setting up stories of prodigies who carve their own path. Taare Zameen Par, which he wrote and partly directed before Aamir Khan wrested control, was about a dyslexic boy who sees the world through a different lens. In Hawaa Hawaai, he gave wings to a boy working at a tea stall who becomes a champion skater. In both these films, as well as in Saina, that's now playing in movie theatres, Gupte also focused on the relationship between the prodigy and the mentor. But unlike those films, Saina doesn't fight shy of depicting Saina Nehwal's tenuous equation with her celebrity coach. Pullela Gopichand is renamed Rajan here and played solidly by Manav Kaul, with Saina — despite its Bollywood-styled dramatic flourishes and over-accentuated background score — doing well in showing the warts and wounds as much as the wins. However, there is no mention of Saina's well-documented rivalry with P.V. Sindhu or the run-ins she's had with Jwala Gutta.
Starting off with a young Saina (played brilliantly by Naishaa Kaur Bhatoye, a shining prospect in the game herself) being nurtured by her mother Usha (Meghna Malik, heart-warming, if a tad over-the-top) and father Harvinder (Subhrojyoti Barat, suitably restrained) to excel at the sport. She aces the junior tourneys, and before long, the mantlepiece at home is found groaning under the weight of Saina's trophies.
Parineeti Chopra takes over as the older Saina, with the actor's efforts to nail the player's walk and talk — Saina's quiet aggression to her familiar colourful hair clips — contributing immensely to the film. With three releases in the last one month, Parineeti, who pours spirit and soul into the part, is back in the game.
As a film, Saina arrests attention every time it focuses on the court. A bunch of badminton experts being thanked at the beginning of the film translates into interesting matches that hook you from the get-go.
With a large part of the audience only superficially aware of Saina's achievements, every match shown on screen turns out to be nail-biting because you don't know which way it will go (unlike say, M.S. Dhoni hitting a six to win India the 2011 World Cup, played on loop by most of us much before we saw it replayed in M.S. Dhoni — The Untold Story).
Saina, however, isn't as solid off-court. The film constantly talks about how champions are nurtured by the sacrifices of their families, but illustrates that point only superficially. Saina's childhood friend and now husband Parupalli Kashyap (played by Eshan Naqvi), a champ in his own right, is reduced to a cheerleader in the film.
What Gupte does well, however, is not resort to over-zealous flag waving, but quietly highlights, through a series of mindboggling statistics at the end, what Saina — the only Indian woman to win 24 individual titles — has done for the sport in this country.

I liked/ didn't like Saina because? Tell t2@abp.in