Saif Ali Khan on Bunty Aur Babli 2 and more…
'I am quite clearly a victim of my own sensibility, but it's also something I enjoy'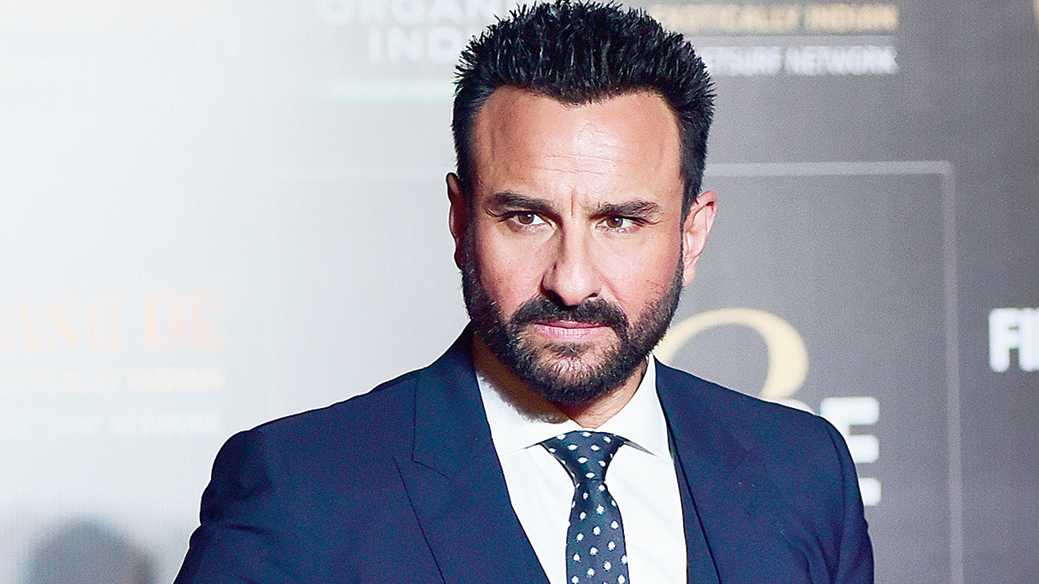 ---
Published 18.11.21, 11:15 PM
|
---
There are perhaps few actors in Bollywood as irreverent and self-aware as Saif Ali Khan. With his latest film Bunty Aur Babli 2 releasing in movie theatres today, we spoke to Saif on box office, big screen and why he loves being different.
What made you sign on Bunty Aur Babli 2? Broadly, what are you looking at when you get on board for a project at this stage of your career?
Honestly, this point is not that point (when he signed Bunty Aur Babli 2). At that point, I was looking at doing something that was quite... (pauses) 'heartland' I supposed is an over-used expression. Let's say a nice, small-town, middle-class character.... I have played all kinds of characters really, but I have had a bit more experience playing the NRI-centric, upper-class characters....
More urban....
Ya, urban... and guys with no money problems (laughs). People with no worries at all and just bumbling through life trying to figure out their love interest or whatever. So I thought it would be nice to play something a little more small town, even rural. It was lovely because Rakesh (in Bunty Aur Babli 2) is this slightly over-the-hill guy with a paunch, henpecked, bored, senseless guy... which I think sometimes is the state of the married man internationally. I have seen that in England, you know, and in a lot of TV shows. Life can get monotonous if you aren't lucky. That's what drew me to this.
It was actually a combination of this, and also the fact that it was (producer) Yash Raj (Films) who I hadn't worked with for a long time, for various reasons. I wanted to start working with Adi (Aditya Chopra) again. The main reason was that I wanted to play Rakesh Trivedi, who is this rather sad character (smiles), but also sweet and heroic in a different way. To top it all, it's a family entertainer, though I know all these words get used so much. But it's a fact. If you can watch a film with the family without stressing about the content, it's quite a nice thing to do as a family.
So did you have fun playing this boring character, so to speak?
I did, actually. Some scenes I thoroughly enjoyed. I liked my introduction scene. I like acting and so when there is nuance and there are things to do, I like that. Your last theatrical release Tanhaji was a huge box-office success. How much does box office matter to you now and given that you had a few releases on streaming platforms in between, how excited are you about a big-screen release after such a long time?
At this stage, what's most important to me is doing interesting work, work that makes one feel good about oneself. If one concentrated only on box office, then one would be only looking at something commercial all the time. And I don't think I have ever really done that. I am quite clearly a victim of my own sensibility, but it's also something I enjoy (laughs).
Honestly, I don't really know how ambitious I am. But I know that I am not ambitious to the point of being disturbed by who I am. I also recognise what has box-office potential and what doesn't. Tanhaji did, and probably a film like Kaalakaandi didn't. I don't think I have done every film with the idea that this has to be a big hit... otherwise I would have done different movies. So, box office is very important, but you should have realistic expectations and it doesn't always trump over doing something fun or interesting.
I am a little artistic, in that sense. Like I may end up doing a Laal Kaptaan, which I thought would be an amazing movie, but I am okay with the fact that it didn't do well. And luckily, there is support for that kind of thinking. Humshakals was designed to be a big hit, but people didn't enjoy that at all, and I got a lot of flak for it... but I didn't get any flak for Laal Kaptaan, so I feel vindicated that I made these choices. As long as you are trying, I think you are all right.
But then again, your films need to make money because someone is paying for it and the audience is paying for it and so they need to get their money's worth.
When it comes to the big-screen experience, it truly is a magical thing. But then, OTT is also a magical thing. But they are slightly different, you know, and I think you should shoot them differently. I feel that one can be more artistic on the web. I feel the commercial guys should stick to the movies and the artistic guys should be on the web. But I love to do both.
You are doing well on both, so you have cracked it in that sense...
I don't really know whether I have cracked it. But I am enjoying acting right now and we are really doing well in a lot of creative areas. I have been noticing that Indian creativity is really touching new peaks. Even dinner plates, you know, I notice all of that too (smiles)… such beautiful things are being made in India.
You said that you are often a victim of your sensibility. Do you feel like a misfit?
Maybe at the beginning, you know. It took me some time to fit in because my entire training was very English. I was culturally very different to what the notion of a Hindi film hero is. It took me a while to understand that. I don't think I felt like a misfit because everyone was trying to support me and I got a lot of support and love. It is a very kind industry.... (pauses) of course, it is mean and cruel as well, but that's just the nature of the job. But I never felt like a misfit... I just felt not talented enough. The good thing about this business is that there is no 'fit' here... you work as long as you are interesting.
It did take me a while to understand who I am culturally. And now, it's been years of practice. I am happy and proud of the way I think. And again that's a good thing because it makes me different. You don't want to be just another number, you know. You should be quite proud to disagree with everybody, without being difficult. I am happy to be me and say this is who I am and this is what I like. I have quite a few things going for me in life.
I don't like talking about other people in interviews, but I will make an exception here. I talk to Shah Rukh (Khan) and I see how different we are. He thinks on a very grand scale... he has a sweeping, panoramic view of things. I somehow like that, but I like being me also (smiles).
You have told me earlier that you don't like to live a paranoid life. You like to read books, take off on vacations, relax with a glass of wine.... In short, your career is not your life. Does this attitude get misconstrued as lack of interest in a business which is constantly on the go?
Well, I hope not! Because I am very interested. I like working. Kapil Sharma, on his show, asked me if I am a workaholic because in the last year alone, I have done Tandav, Bhoot Police and now Bunty Aur Babli 2... so I am quite prolific in that sense. I work quite a lot. I believe I am hardworking and I am quite keen about what I do. It's just that I don't like talking about it all the time, and worrying about it all the time... for me, that's not a nice way to live. I have seen actors living terribly worried lives, and I don't like it.
I have been lucky these 30 years. I just look at Mr (Amitabh) Bachchan and he's still so sparkling. When I went on KBC (Kaun Banega Crorepati, hosted by Amitabh Bachchan), he just blew my mind. He's so good! I told him, 'You are like a school for me, Mr B!' That's where I want to be when I reach a certain age.
Obviously it's luck that they are still casting us and we are getting work. But after a point, honestly, if it all ended, it's okay. Something new will come along, and that's the cycle of life. I have done quite well and it will be amazing if it continues for a few more years. It will be nice to be like Rishi Kapoor, you know. Like work when you want, and (pauses) drink when you want (laughs)... with all due respect! (smiles)
Beyond acting, do you see yourself doing something else in the movies?
I quite like producing. I find it to be quite a creative job. I think I have an instinct — which I don't take too seriously — for what people might like. I have a sensibility that's quite in common with most people... like if I don't like something, you will probably not like it too and vice versa. I see some producers not having that. Producing a movie is exhausting, but it's also fun. So maybe I could go back to production.
Do you see a director in you somewhere?
Yes, sometimes. I love atmosphere and I feel I would love to create atmosphere. Films are a directors' medium. But my friends tell me that I lack the mental make-up. It's difficult being a director... I wouldn't mind being a 'star director', who everyone worships and starts listening to immediately (laughs). But I can't go suddenly and start convincing people about it.
It's tiring to be a director... you are the first man in on set and the last man out. It's just a 24x7 job. You are probably underpaid and you have to convince people all the time. It's quite a lonely job as well. I would love to do it one day, but I don't think it's as much fun as acting. You have to go on recces and things like that... I am not sure I would enjoy that! (Laughs) But I would love to, maybe, one-day try.