Rukmini Maitra talks birthday plans and more
'Just imagining the stories I am to pen down if I survive this makes me look forward to my next birthday'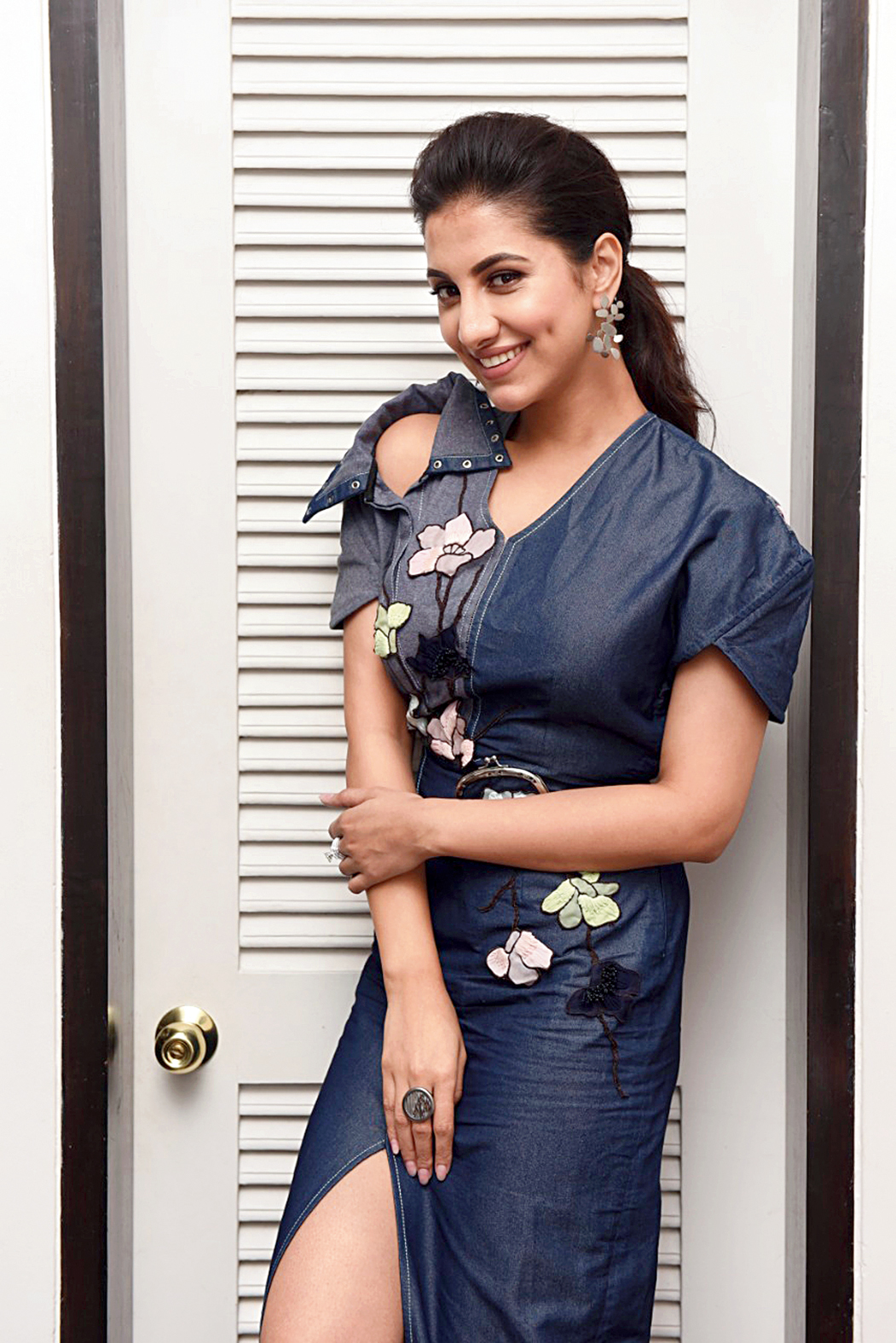 ---
---
A birthday calls for we-time with family and close friends, and a chat with The Telegraph! Over to Rukmini Maitra, who turns a year younger today.
This birthday will be a different one. Are you planning something special?
Well I could, considering that the lockdown has partially lifted, but I'd rather not. A lot is going around all over the world including our very own country and I don't exactly see it as the best possible time to make merry and celebrate flamboyantly. Plus with the still very much persistent pandemic, we all must be very careful to inhibit the transmission of the virus as much as possible. The biggest prevention being social distancing, it's best to forgo gatherings this time. There's always a next time... well hopefully!
Is someone else planning something special?
That you have to ask these handful of "someone special" kinds of people you think I have in my life, right?! Haha! How am I to know now!
How will you spend the day?
I will be mostly spending it with my mother at home, maybe order in some good food and open loads of presents! But all that is for my mother to plan, I'm not stressing. I have always celebrated all my birthdays at home only. I have my family and childhood friends coming over and we stay in for two-three days straight. We dance, make merry and have a ball of a time.
What are your birthday thoughts for this year?
It's exactly like this birthday week post I had made on my social media handles which goes something like: "2021 mein mil baithenge sab yaar, Is saal bas bachke niklo yaar!" But jokes apart, it's a difficult or rather confusing headspace to be in. Having been home for over three months now, I feel any kind of loss or emptiness gets to you all the more. If this would have been any other year and I weren't able to have my people around me on my birthday, probably it wouldn't even have been such big deal. You just simply move on, as it actually isn't a big deal! But psychologically how this lockdown is impacting us or me, as I can only speak for myself, is that the emotion behind any event is multiplied by many folds in my head and heart. Birthday is a trivial little issue honestly. People are actually going through such hard and testing times that it's heartbreaking.
Today the reason why we see so much prolonged focus on various socio-economic or political issues on social media is probably because we have time on our hands. So somehow the tendency is to dig deeper into subjects your mind sets on. Right now, there is a feeling of oneness. A need to connect and resonate mutual feelings. So the focus is socio-economic issues, the focus is interpersonal relationships, the focus is politics, the environment and everything under the sun we didn't care to bother about before. And probably this will in turn help bring in the long overdue change.
Will you be stepping out on your birthday?
Maybe we might go out for a private little lunch or dinner. Let's see. I did plan to go see my grandparents as I always have them over on my birthday. But I can't any longer as I was dubbing for Switzerland. So I don't really wish to put them at risk before quarantining myself for 14 days before I see them.
What's your fave birthday memory?
Without a second thought it has got to be all the ones when I had my father around. Funny story my mother tells me is that my father got so excited knowing that he had a daughter, he apparently bought some 10 or 20 bags full of chocolates for me and brought it to the hospital. And then realising that I was barely an hour old and it would take me a considerable amount of growing up to even take my first bite, my poor father had to distribute all of it to the hospital staff! (Laughs) But now I also do cherish cutting my cake each year with my niece Amaira who flies down to Calcutta from Delhi every year for my birthday along with my brother and sister-in-law. So this year that's what I'm going to be missing the most.
How's the last couple of months been for you?
Surprisingly, it's not exactly been that bad for me on a personal note. I had a lot of catching up to do. To begin with, it was sleep! Followed by books and pending scripts and loads of conversations with my family.
Have you picked up any new skill during this time?
I actually reconnected with my childhood favourite, chess! Also I did try my hand at origami, which I wanted to for a while. It's still an ongoing process. But let me tell you, it's absolutely fine to be completely unproductive during this lockdown. Sleep all day if you like, exercise if you desire, eat if you're craving, meditate in solitude or headbang to that heavy metal music if you will. As long as YOU feel healthy, happy and your best it's perfect. You need that positivity to help yourself, your loved ones and people in need to steer clear of this pandemic.
What's been a big change in your life during this lockdown?
To not only tell myself but actually realise that one must truly live in the present. Live your best day every day and please tell people you care, by taking cue from a simple line from the song, "If tomorrow never comes, will she know how much I loved her." Also zero make-up for three months straight! Yes!!
What are the new things that you learnt about yourself and Dev during this lockdown?
That I am actually an extremely confident introvert, which is a dichotomy. And Dev could actually make a good director someday. And the two of us together, if you ask, are people who are pretty comfortable without much attention. We are kind of cool in that way.
Did you get to hang out with Dev in the last three months?
Actually, quite a bit. More than usual, as our work schedules didn't exactly allow too much catching up during the beginning of this year as I was busy with Switzerland and he with Golondaaj. We are neighbours, so we know we are maintaining protocols and are safe. Plus now we know more of each other's secrets. I know more of his actually. But on a serious note, we have been exchanging quite a lot of notes on both films and politics.
You also shot for a lockdown short (directed by Arindam Sil). How was the experience there?
That was quite a pleasant one. And the most interesting and intriguing part was the process. How the shots were to be taken, how each one's act had to work in synchronisation with the following person who is shooting for it almost 10 kilometres away... maintaining your looks, having an imaginary object in sight, which actually exists in a different frame you know not of! So the brainstorming bit was quite an enjoyable experience.
Plus the call which Arindamda made to me will be a memorable one, saying, "I have always wanted to work with you since you were 14, and it has never happened. So I will make sure it happens and we break the jinx and that too during a pandemic to make it even more iconic!"
How do you see film-making changing in the post-Covid world?
I suppose everyone's currently in the wait-and-watch game. Watching who goes first and what the probable outcomes are like. Eventually, we will all have to go out and get back on set. If a solution is out by then, then things go back to just how they were. But hygiene and sanitisation will naturally get into the system of people as they will be so used to it by then I feel, but of course sans the masks. Though I'm hopeful even though it might take some time, it will build its way up and bounce back. And yes there will be OTT and digital releases, but once the theatres are back in action people will go, I feel, since that is the magic of the big screen.
When is your film Switzerland releasing?
Well, that's a question I would like to not only ask my producer but in reference to all other films to all the other producers! At the moment we are in the process of assembling the film and completing it, which will take a month or so at the least. Thereafter the producer will take a call in accordance to the parameters of lockdown whether to have a theatrical release. If not, then probably OTT or a digital release. But all that would be naturally decided once the film is ready. It's a lovely film and I'm really looking forward to everyone watching it.
When do you start shooting? Are you looking forward to it?
I don't really see myself going on floors before August or September as I'm only hoping by then there is a concrete preventative solution to the virus. This is more for the safety of my mother back home than for myself, as I wish to not bring back anything from set or travel which would harm her health. So I'm being as cautious as possible. And yes, of course, I so want to get back to work and face the camera... a statement my lazy self would have never imagined me utter! But... I do! I am missing work. Never say never, the other thing I realised in this lockdown!
In March, you had mentioned how important it is for us to give back to nature...
It's an ongoing process which is happening right now as we speak. The earth is suffering at the hands of us humans for ages. I have always strongly felt for this. Like I mentioned now that we have the luxury of time, it's time to reflect. And let's focus on preserving our environment. Let's not take it for granted again once things get back to normal. A part of me feels that nature knew that if us humans continue exploiting it at the rate at which we were, the earth would self-destruct. So in its own way it stopped time to help the earth heal, to in turn let us live and hope we don't begin exploiting it again and learn a lesson from this.
Chaamp completed three years on June 23...
And so did I complete the same in the movie industry! The journey is very special. And the rate at which these three years have passed by, it feels like the fastest and the wildest rollercoaster ride I have ever been on! I'm truly grateful to the audience and my directors who have believed in me even when I didn't. We are living in a time where we are witnessing both a pandemic and a historic revolution. Just imagining the stories I am to pen down if I survive this makes me look forward to my next birthday and so should you reading this. #StaySafe #MaintainSocial Distancing and a #HappyBirthday ToMe!