Rituparna Sengupta on her show Rishta
The actress will be seen motivating people and creating beautiful bonds of human connections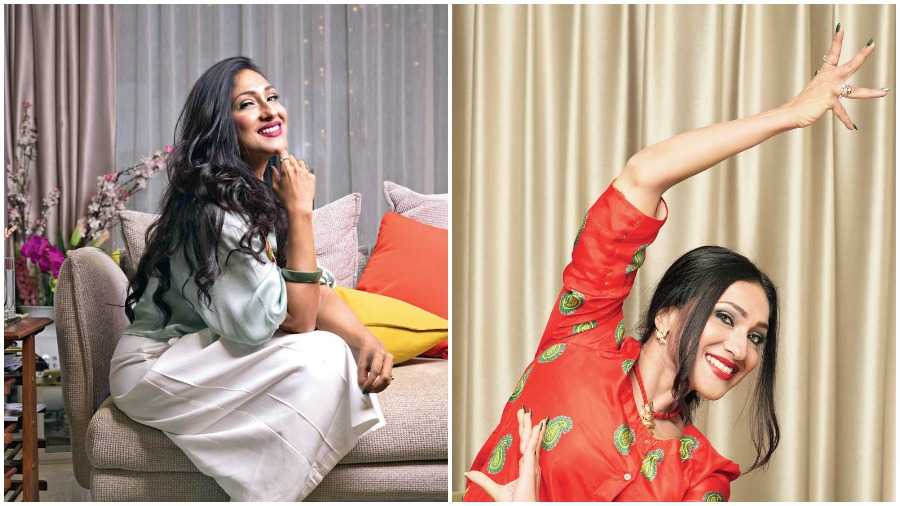 ---
Published 12.08.21, 01:33 AM
|
---
In Singapore, Rituparna Sengupta's mornings would start by listening to beautiful classical ragas. Every day she would wake up with new energy and vigour to discover the day. "It was a time that grounded us to our realities and got us back to basics, keeping us at home," smiles Rituparna, who now aims to bring happiness and positivity through her new show Rishta — The eternal bond of mind, body and soul on Colors TV APAC.
A candid chat....
How did the show take off?
During the pandemic, I got the chance to spend time with my family and got the opportunity to actualise a couple of projects there and that's how Rishta materialised. During these troubled times I wanted to speak and get people motivated about positivity and solace and that's what I had been doing the whole time last year through my social media. This show is very close to my heart and my sole aim is to create this space to enhance the spirits of the individuals and not let them feel low and unmotivated.
Tell us more about Rishta....
I have worn many hats in this creative field, and through this programme I want to develop a beautiful relationship with every individual, taking them through journeys, maybe through music, or with dance or maybe with nature, family or with any kind of positivity.
When I conceptualised and wrote this idea to enhance and initiate human bonding, I didn't know Colors would love it and would be ready to work together on this. They loved the idea and offered the show to me. This will be a new kind of a show and I am extremely excited for this. The music is by Dibyendu Mukherjee.
How is the feedback till now?
The feedback is pretty positive and they have offered me six Sunday morning slots! I shot the episodes in Singapore. I was quite thrilled that my own concept, script and ideas got so much response and acceptance from an international channel, being telecast in Australia, Singapore, Malaysia, New Zealand, Sydney and Bangladesh.
You speak about happiness. How do you define it?
Happiness is relative and free flowing... deriving happiness is absolutely your own call... amidst of all negativity, crisis and chaos we have to find solace in our own way... be calm in our ways... that's my way of calling for happiness. We have to go into  depths... it's a lonely journey but with soul searching. It's been a tumultuous journey ever since the pandemic... so many near and dear ones are no more and so many are living in fear every day.
As you know I have a habit of writing. I was writing articles both in Bengali and English on the pandemic and also on other issues... suddenly I got a call from within to write something to strengthen our human bonds and initiate human connections with each other mentally and physically... and hence started writing.
Why did you feel the idea will help people?
The idea was floating in my mind... the idea seemed to be very important and potent for me in this situation... very relevant and strong... facing  ground realities was a task in itself. I saw my friend in Singapore weeping inconsolably after losing her mother suddenly and she couldn't reach India to do her last rites... same happened with another friend last year. In the pandemic I lost a dear friend and a friend's husband. I tried to organise vaccines, oxygen and help through organisations I support.
What was the motivating factor?
Every single thing worked as a motivating factor, the pain was so deep and devastating. I could sense my mother sinking into a state of depression, not being able to see the grandchildren for so long... loneliness was there in every house.
Why move to TV?
It's not about moving into television as such... it is a very different concept and different way to invent life as a whole. It is not a typical show, it is  a reflection of your mind, body and soul in these trying times. I thought this was a unique attempt on my part to contribute in my own small little way.
Tell us about the subject?
The subjects are varied here... as dance is my passion I always wanted to do something experimental and innovative through dance, music and art. I have used these mediums and analysed human aspects and connections. I wanted to rekindle human bonds. In a therapeutic mode I have introduced my own my mantra — discover life at your own pace.
What is the format?
On Sunday morning, I talk about mind, body and soul... motivating people and speaking about love and happiness... and engaging people to send their thoughts or a poem or picture of a relevant topic.
Singapore pictures: Shaunak Ghosh; Make-up and hair: Chandni and Parul