Ritabhari Chakraborty on her upcoming release Tiki Taka
I will never enjoy a Bajirao Mastani, Bahubali or Star Wars on OTT. Or, for that matter even an Om Shanti Om or Main Hoon Na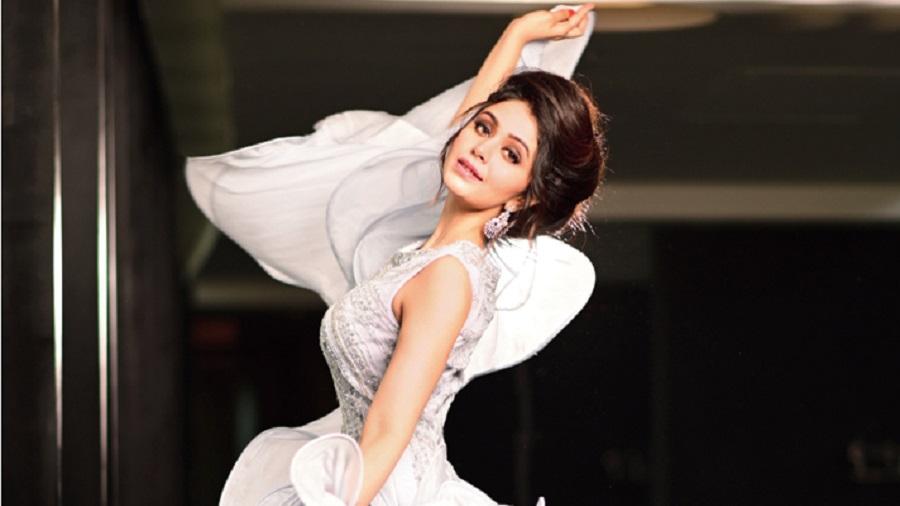 Ritabhari Chakraborty
Siladitya Dutta; make-up: Babusona Saha; hair: Gini Halder; styling: Kiara Sen; wardrobe: Verse; jewellery: Jewel House; assisted by: Pritha; location courtesy: Novotel Kolkata Hotel & Residences; coordinated by: Madhuja Bhowmick
---
Published 09.09.20, 09:17 PM
|
---
Whenever we've met Ritabhari Chakraborty in the past couple of years, 'Khelechi Ajgubi' has surfaced in conversations, with the pretty and multitalented actress eagerly looking forward to the Parambrata Chattopadhyay-directed film. Hinging on a mistaken identity, the film is now set to premiere on Zee5 as Tiki Taka on September 11. A chat with Ritabhari who had double the reason to celebrate — the film's release and the fact that she got to glam up for this interview.

The film was initially called Khelechi Ajgubi and is now releasing as Tiki Taka…
Now the film is releasing in both Hindi and Bangla and they wanted to go with a title which fits in well with a bilingual film and something that football fans, pan-India, would be able to relate to. We dubbed it during the lockdown. The film was supposed to have a theatrical release and now because of the current situation, we have had to go for a digital release. Though there is a bit of a disappointment because you are missing out on a theatrical release, the good part is it will reach a bigger audience.

When did you shoot it?
2018. It is Param's directorial venture and he got really busy. The film also has a lot of special effects and he believes in perfection. I was constantly following up. Then the pandemic hit us. Now when I see the output, I feel proud that I am a part of this film. It's flawless in how it looks. I am at least not living in a bubble and know what's happening out there, consume a lot of national and international content and I am very proud that the content I am associated with, it's very today and upmarket and in tandem with the contemporary work that is happening.

Who is Bonny, your character in the film?
She is a journalist, very bhola bhola and slightly dumb but with a golden heart. Mon ta puro clear and mathatao khanikta clear (laughs). That's how I look at Bonny. No smart person would have bought that idea in the first place. The way Param's character (Raju, a taxi driver) explained it to her (about Khelechi Ajgubi, an African national, being a footballer) and she buys it, even while shooting it, I felt OMG! (Laughs) Param kept on saying she is not dumb, just a little bhola bhala. She is from the mofussil and if she can't crack a big news and get a solid footing in the city, she'll be married off. So, she has a lot at stake. Bonny is not me, but I loved playing her. I am a big fan of Joey from F.R.I.E.N.D.S and I have always wanted to play a dumb character. Though Bonny is not Joey dumb.
Raju and Bonny sort of meet accidentally. He looks at me and comes up with this plan. He comes selling me a fake story and I buy it and what follows is the film. The whole flavour of the film is funny.

A lot of actors feel that comedy is the most difficult genre. What do you feel?
It is difficult because your timing has to be right. You have to add your own flavours which, we kept on doing while shooting Ogo Bodhu Sundori (the popular mega serial which saw Ritabhari become a household name). Lolita never tried to be funny. Same for Bonny and Raju and Khelechi. The ensemble cast comprises funny-funny characters… be it Paranda (Paran Bandopadhyay), Kharajda (Kharaj Mukherjee), Kanchanda (Kanchan Mullick), or Saswatada (Chatterjee).
I don't personally think comedy is the hardest. Being a convincing villain or vamp is the hardest without overdoing it. Tabu in Andhadhun is not overdoing anything or Priyanka Chopra in Aitraaz or say Bob Biswas in Kahaani. I think I would have to work the hardest for that kind of a role because I am absolutely a white person.

Was it intimidating to be surrounded by actors who are known for their comic timing?
Honestly, I never feel intimidated by anyone I work with because whenever I step on the shooting floor, I feel like I am going to school and there are lots of teachers and there is the head teacher who will guide me. I get really cluttered if the director is not sorted... I know that the director has to be sorted with his vision. They are so effortlessly good… jaw dropping. And the energy was so high on the sets. One thing I have really taken away from the experience is to be spontaneous.

Do you follow football?
No! Sports is not my thing. If I was playing, I would enjoy. Similarly, I don't enjoy watching a shoot. If I am shooting, I will enjoy. I remember going for the Mukkabaaz shoot because I admire Anurag (Kashyap) so much as a director. I was there for the climax shoot for two hours and then was chilling with my best friend because I got so bored after two hours. AK is so chill and sorted with his vision. That's all I could gather. People think you can really pick up a lot. You actually cannot because film-making is a whole process.

So, you've never had a crush on a sportsman?
Not because how good a player he is, but, say… (David) Beckham. I have my reasons. Look at him and you will also have your own reasons.

So, did you look up 'tiki taka'?
I asked Maddy (Madhuja Bhowmick, manager)! She explained which I half listened to, but I understand the sentiments behind sports. You need icons in your life to look up to… 'I am going to be a winner like Virat Kohli'. And that's why that win matters to them.

Your director, Parambrata, is majorly into sports…
He is! I don't know man… I get stuck with (sports buffs). Anurag is a huge cricket fan. I remember him going to Anushka's (Sharma) wedding and his Instagram being full of pictures of the cricketers he met, including Sourav Ganguly, and not the couple!

Rate Parambrata the director and the actor, out of 10…
I will give him a 10 on 10 for both and I am not flattering one bit. He has a clear vision. I love working with people who have a clear vision. After working with him, I realised why people keep wanting to work with him. He is way ahead of his times. He could have totally had a career in Hindi films, but he decided to stay here. He is so authentic. When he writes something on social media, it is not to gain followers. I admire how much he works on himself. Kahaani remains a favourite. In Tiki Taka, he has pulled off Raju really well. I also feel he is underrated and deserves a lot more attention and love for what he does. For me, he is like a Farhan Akhtar who has a lot to offer.  

You are a digital release pro, but does a full-length film releasing on a digital platform feel any different?
Of course I am feeling different. I have had some kind of an audience reception at the theatre before it came on OTT. Is the response going to be immediate like when I have released my short films or is it going to take time? So, I am looking forward to it. We aren't having on-ground promotions because of the pandemic. All this is very new to me.

What will you miss about a theatrical release?
I think mainly the experience. I will never enjoy a Bajirao Mastani, Bahubali or Star Wars on OTT. Or, for that matter even an Om Shanti Om or Main Hoon Na. I watch films at home on a projector. Tiki Taka should have been a big-screen experience for the football match. May be OTT will rule in having more content but theatres cannot go anywhere. When you experience something larger than life, you want to feel larger than life.

You got to dress up for this interview shoot!
The last time I wore a gown was on my birthday (June 26). This is the first time I have glammed up in months. And how good the pictures have come out! I was dying to shoot!