Rhythm Shaw's great musical journey
The 24-year-old has managed to tour Germany and Europe with his first album
---
---
From making jingles to touring with A.R. Rahman and Amit Trivedi, Rhythm Shaw has had a great musical journey so far. With his father (Nepal Shaw) as inspiration and having a knack for music since childhood, the 24-year-old has also managed to tour Germany and Europe with his first album, the aptly-titled The Opening Act. The Telegraph recently caught up with the guitar man.
You started playing the guitar as a child. Walk us through the journey.
It all started because I come from a musical family and I didn't have to make a decision at that point in time; my toys were guitars which would be lying around on the sofa, beds... and I would beat the hell out of them! That's how it started. My dad named me Rhythm because he believes that in music rhythm is more important than melody because it's okay if you mess up melodies but if you don't have rhythm, it just doesn't gel. He wanted me to learn the tabla because it is the most intricate percussive instrument on which you learn counting, rhythm, patterns.... Once you have that, add melody. This is the reason I connect — on stage — most to drummers. And then I got more influenced and got into guitars while I stopped practising the tabla. Well, not stopped completely but the guitar has become my main instrument.
We believe you have 40 guitars. Which one do you like playing the most?
I think it has increased now because I bought three more and got one from Reynold's in (Calcutta's) Ballygunge Phari… so it's 44 now (laughs)! But when it comes to choosing, it depends. I can't choose my best friend because they are all good friends. Each has a specific job.
I like this one acoustic guitar called Lowden, which musicians like Jon Gomm and Thomas Leeb play, and Jon was the one who told George Lowden (the maker of the guitar) to get me on board. Also, I love collecting old-school guitars... German-made... I have five of them but each one is different. I also endorse Yamaha electric guitars and acoustic guitars, so I get a lot of them free and that's how my collection is getting better (laughs).
How different is the audience at international venues, like the ones in Germany or in Europe?
They all differ but in Germany, I would say, they are more appreciative of acoustic music. The audience out there were not full of young people that much but the feeling was amazing.
You've worked with A.R. Rahman and Amit Trivedi. How did that happen?
A.R. Rahman happened through Sambit Chatterjee (drummer of aswekeepsearching). 
He was the one who took me to a John Mclaughlin and the 4th Dimension gig, where Ranjit Barot was also playing and he kind of knew about my music and had seen some of my videos that bassist Mohini (Dey) had shared. So when I met him at the gig, he told me that it would be great to have me on his album. He then called me a few days later, telling me to come to Mumbai so we can get started on the album and then said: "Do you want to work with A.R. Rahman?". I was like: "What?!" After I went to Mumbai, I played with and for A.R. Rahman and soon settled down playing with bands and doing jingles. And then I started playing with Amit Trivedi. This is how my Bollywood stuff developed; I'm balancing it with my kind of fusion, jazz and rock music.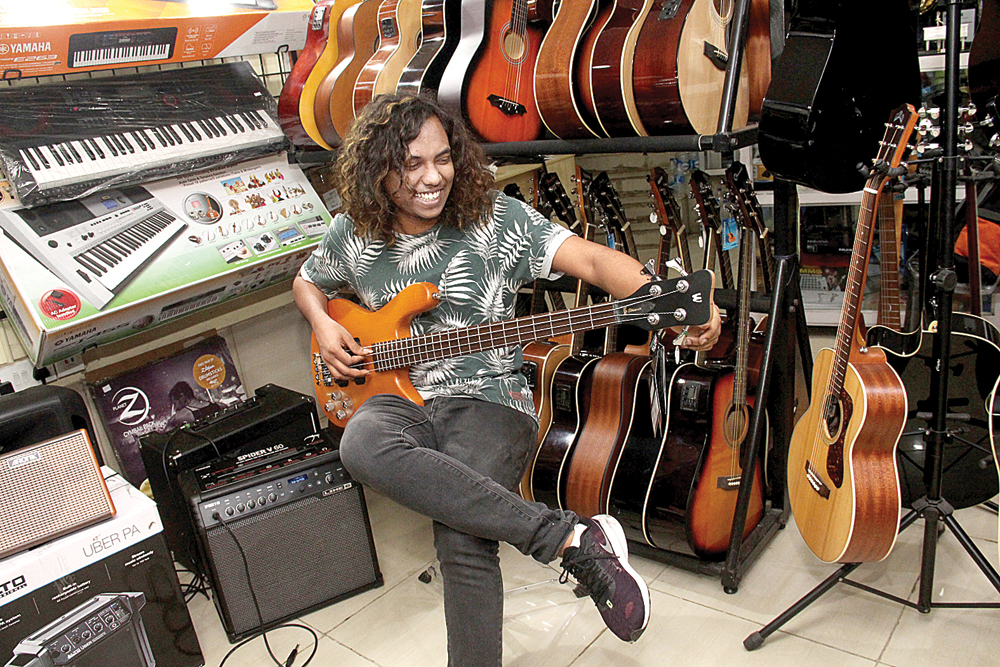 We were listening to Raga Livewire where you collaborated with renowned violinist Nandini Shankar. How did the two of you work on that?

We met at one of the gigs she did in Delhi and we became friends and we wanted to do a piece together. I am not a big fan of just fusion stuff because at times it just doesn't make sense to me; it's just confusion. Because people are just trying to fuse things together, it doesn't work all the time. You need to have a proper composition that serves both genres and then you go to the section with the solos, stick to the ragas and you have to have a proper construction of the song which people miss a lot these days. If you want to go to the basics, listen to the music of Shakti. I tried to explain this to Nandini. She stuck to the ragas and I went the opposite way. I guess it tuned out well.
Let's talk about your upcoming releases. What do you have in store?
(Laughs) There are a lot of things which have been pending for years. I am trying to make an album with electric guitars, rock, fusion, metal and jazz along with some production, in which Gergo Borlai, Anton Davidyants, Dave Weckl, Kaz Rodriguez,Marco Minimen, Dallas Horns and some friends like Mohini Dey and Ranjit (Barot) uncle and other musicians are playing in. I'm still in the middle of writing it but I'm coming up with a bunch of singles super soon. In terms of my acoustic music, Germany has been calling me for the next album but right now I am so stuck with Bollywood that I am not getting time and I am going to be busy till June 2020.
Your mum and dad are musicians. Do you guys jam at home?
My mom used to sing way back but my dad is a professional and he's a Calcutta guy, so he has played with names like Usha Uthup. I've been inspired by him and I learnt from him for many years. So yeah, we have a lot of jams but it's less now because I live in Mumbai. We used to have this thing where I used to play the tabla and he used to play the guitar. You'll find some videos on the Net; God knows how old I was. When I was in Calcutta earlier this year, we played a gig for his academy, Shaws Music Academy.
You said in a recent interview that you learnt and read up on different techniques. How important is it to find your sound?
Definitely a lot. If you want to come up with your technique... and that doesn't happen by just learning something and then changing it… it happens over many years. I really want to thank my dad because he knew all the wrong techniques and he took a lot of time to find what was right. Back then they didn't have YouTube or anything; they had vinyls. So my dad used to play them and slow it down to listen and understand how a song is playing, because he couldn't see it. And while listening he would fix how he would play or work on his playing style. People say practice brings about perfection but I think it makes a man 'permanent'... we have to practice the right things to have those techniques conditioned to one's memory. So he helped me a lot to do the right things. I learn different techniques for the classical guitar, then jazz... I picked up Bolly rhythms and fingerstyling acoustic guitar, then rock... so it all blended together and I found this vibe. There's nothing special about it but it sounds fun and different from what others offer.
You have a soft spot for your niece Aashvi. Does she enjoy your music?
She does, a lot. Whenever she demands something, I take my guitar and start playing and she keeps quiet. Sometimes I turn on the iPad and start playing (the iOS app) GarageBand and she takes it from me and starts playing herself, indirectly asking me to get out (laughs). She kind of inspires me. Children don't think about the outcome; they just do what they like and people just love it.