Rendezvous with Sara Ali Khan
'We want to make you laugh out loud at us and with us. Ultimately, that's what movie-making is about'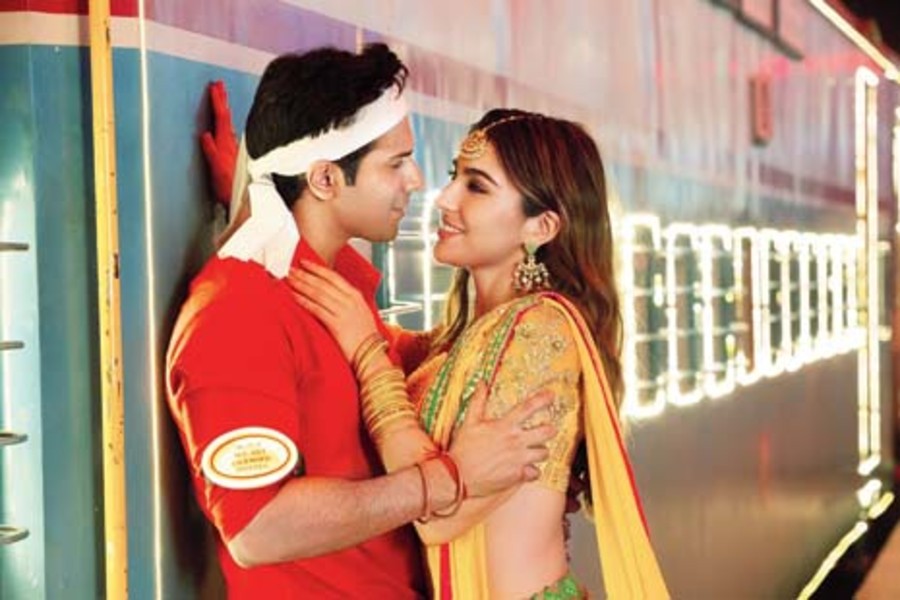 Sara Ali Khan with Varun Dhawan in Coolie No 1, streaming on Amazon Prime Video from today
Sourced by the correspondent
---
Published 25.12.20, 04:31 AM
|
---
Sara Ali Khan is always a spot of sunshine on a dull cloudy day. Like she was during this chat recently where we spoke about her stepping into Karisma Kapoor's shoes for the reboot of Coolie No. 1 — that premieres on Amazon Prime Video today — having Varun Dhawan as a helpful co-star and why she now lives in the moment and appreciates the smaller things in life.
Have you been a Coolie No. 1 fan and what are your earliest memories of watching the original film?
I have been a David Dhawan fan in general, whether it's Coolie No. 1 or Hero No. 1. His films are just so funny. He's just so good with this commercial genre that he does, but one thing I specifically want to say is that... Judwaa, both the old one with Salman sir (Khan) and the new one with Varun (Dhawan) are almost equally funny films for me.
My favourite thing about David sir is how he has retained his outstanding comic timing, his outstanding view of the commercial genre, and yet he has managed to grow beyond that, with the times. He's managed to make even his old films so relatable today. I have great memories of watching the first film. The impact of it is such that even someone like my brother (Ibrahim), who hasn't watched the original, knows about Husn hai suhana and Main toh raste se jaa raha tha. Everybody knows these songs, and it's been so wonderful for all of us to come together and recreate that.
What was your first reaction when you were offered Coolie No. 1?
I think Karisma ma'am (Kapoor) was simply outstanding in the first film. The impact that all her songs had was huge. I think shock, gratitude, excitement, enthusiasm and immense levels of eagerness would be the five levels of my reaction. I would love to also do a Biwi No. 1 remake with David sir... maybe I could do a double role and play both Sushmita ma'am (Sen) and Karisma ma'am's roles! (Laughs) That will be wild!
When it comes to a film like this, what is the key to keeping the balance between retaining nostalgia and yet imbuing the new film with a certain freshness?
The main line that Coolie No. 1 is predicated on is that it is a comedy of errors. It's a very simple romantic comedy based on a story of someone pretending to be somebody else because he's truly in love with the girl. Of course, there is a little bit of 'I want the rich girl's money' involved in it (laughs), but ultimately, this theme itself is something that is pretty relatable, you know. The general story will immediately make you nostalgic as far as the first film is concerned, the thread is timeless.
And as far as the relevance of the story is concerned, Varun Dhawan is one of the most relevant names right now. And we have made Varun Dhawan dance a lot here, so that's a great step, I guess (laughs). The screenplay, dialogues, choreography have been adapted to a more modern world, at least that's been our attempt. Comparisons are inevitable, but whether it's Govinda sir or Karisma ma'am, nobody can and nobody should copy them. Both Varun and I, as people and as actors, are thoroughly inspired by the two of them, and we have tried to take as much inspiration as we can. There is a suhaag raat scene in the old Coolie No. 1, and we have a similar scene in this film too. But even the day before the shoot, we asked David sir if we should watch that scene again. And he was like, 'Please don't! I want you guys to do your own thing. It's not about what was done in 1995. Sara, you were born in 1995! You can't be aping someone when you were zero (years old)!' (Laughs) So we have tried to be honest and true to who we are and we have brought that to the film.
This is your first comedy film. Was it tough?
It was tough, for sure. Comedy is a lot about living in the moment. And when you are working with Paresh sir (Rawal), Rajpal sir (Yadav), Jaaved sir (Jaaferi) and Johny sir (Lever), you are always on your feet... they are all such supremely talented actors overall, but specifically in the comedy genre. Comedy is so much about reacting. So if you are in the scene and you have to react to them, it helps you a lot because at the end of the day, you are as good as your co-actor is. And all of them are supremely helpful, that is after me getting past the stage of getting completely intimidated by them (laughs), and thinking, 'Oh my god! After this, how do I even do anything?' It was a very good vibe on set. 
Varun, as a co-actor, was very helpful and did so much more for me than what was necessarily his job. There were times when he wasn't needed for a shot, but he would be there and he would help me. This is more his world... this is his father, he probably even spent time on the original Coolie set... he's known this world much longer than I have. He was always there to turn to. So it was difficult to act in this genre, but everyone made it easy for me.
Coolie No. 1 was supposed to be the big release in theatres in the first week of May. What's the wait been like?
Of course there is the feeling that, 'Oh, yeh theatrewaali picture hain'. But while I myself have been dying to go to PVR and eat popcorn and watch a movie, but the truth of the matter is that this has not been a good year and there is a virus out there. The only thing that we can do as entertainers — apart from spreading positivity and encouraging safety — is give you the opportunity to leave your stress and sorrows behind and spread some Christmas cheer... make you laugh out loud at us and with us. Ultimately, that's what movie-making is about. Yes, there is a commercial aspect, yes there is box-office aspect... and of course, there is that whole feeling of, 'Oh I wish'. But then there is also that whole aspect of creating magic and passion and sharing that with people. So whether you are watching it at PVR or on Amazon Prime Video, ultimately we are entertaining you.
What have the last few months been like for you?
I know it sounds cliched, but I have realised the need to live in the moment. This is something that we have all written on our Instagram handles and messaged our friends who are going through a heartache. But now we are truly living it. Covid times have taught us that we really don't know what's going to happen tomorrow. You can book a flight, but end up not taking it. And while that uncertainty is scary, it also makes you truly live in the moment. Right now, I am truly talking to you like I perhaps haven't done before because I don't know what's going to happen after this.
Again, at the risk of sounding cliched, me-time is something that has not been taken seriously by us, especially in the world that I come from. We tend to take up one project after another and stop spending time with family and friends and we just don't stop to breathe... and the irony of the whole thing is that we are now all breathing through masks (laughs). But now I think we are all a little more appreciative of the smaller things in life... like mom's rotis and the sunrise and sunset... even though mom doesn't make rotis, but like... whatever! (Laughs)