Ray is a mixed bag, a 50-50 effort that's still worth checking out
There are a few elements that lightly bind the four films in Ray; flamboyance is one, so is frailty and there is a slight flashiness in all of them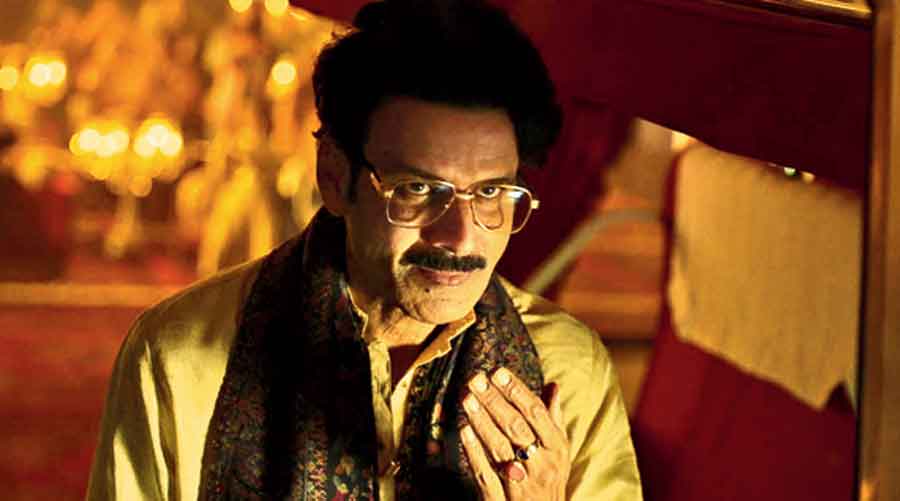 Manoj Bajpayee in Hungama Hai Kyon Barpa
Screengrab
---
Published 26.06.21, 03:27 AM
|
---
Auteur. Master. Original. Storyteller par excellence. What more can be said about Satyajit Ray that hasn't been said before? Retellings have been attempted, homages pop up ever so often.... In Ray, Netflix strives to (re)introduce the film-maker/ writer/ critic/ calligrapher to the present generation with an adapted retelling of four of his short stories. A perfect starting point, given that Ray's short stories were written predominantly for Young Adults. The hook? They are set in and narrated in far dark spaces than Ray — even though his stories were essentially about lonely, layered and complex men unravelling — had envisioned.
There are a few elements that lightly bind the four films in Ray. Flamboyance is one, so is frailty. There is a slight flashiness in all of them. The films, each almost an hour long, are individual pieces. Women may function as catalysts in some of them, but it's the men who hold centrestage. An air of irreverence punctuates each of the films, but so does inconsistency. In short, Ray is an audacious attempt, but an uneven ride. Like the streaming platform's last anthology Ajeeb Daastaans, one has to wait it out a little to reach the most noteworthy film in Ray. That belongs to Abhishek Chaubey. Hungama Hai Kyon Barpa, adapted from Ray's Barin Bhowmick's Ailment, is a delight, aided in no small measure by the two actors who inhabit it. Manoj Bajpayee and Gajraj Rao chew up the scenery, in this case a rail coupe, in a story where two strangers meet on a train, but with an uncanny sense of deja vu. As it turns out, they had met decades ago — on a similar train journey — with one of them being guilty of scarring the other for life.
Chaubey gives up his trademark gritty film-making to embrace a story that's charming and cheeky in equal measure. Paying tribute to Ray's penchant for setting many of his stories on a train and even naming Bajpayee's ghazal singer as Musafir, the man known for films like Udta Punjab and Sonchiriya crafts a one-hour watch that packs in both humour and heart. The thrust and parry between his two actors — with poetry and music, tales of wrestling matches lost and won — holds the film, whose name is inspired by a Ghulam Ali ghazal, together, finally resulting in a gratifying ending that would have perhaps brought a smile on Ray's face. This is an adaptation, a homage in the true sense. And we aren't just talking in terms of Chaubey's use of mirrors and dream sequences, both of which are Ray trademarks.
Vasan Bala's Spotlight retains the title of Ray's Spotlight, but is a freewheeling, colourful, explosive and eccentric reimagining of the story of an actor with limited range who finds his frail fame being upstaged by the presence of a godwoman in the same space. Bala brings in the quirk and coolth of his standout film Mard Ko Dard Nahi Hota, with Harsh Varrdhan Kapoor slipping into the part of a fan-made star called Vikram Arora, whose patent, smouldering look at the camera — which worked for him once upon a time — has now reduced him to being dubbed and dismissed as 'one-look Vik'. Vikram's already dissipated self-respect and star status suffers a body blow when a mysterious godwoman surfaces in the same hotel he's staying in and steals his spotlight. Radhika Madan, as Vikram's arch-enemy Didi, makes an appearance in only the third act, and is literally the scene-stealer in Spotlight, but it's a delight to see Harsh gamely taking up a part which could be too close to comfort.
In Spotlight, Bala goes full gonzo. It's a flash of colours, of irreverent lines.... His hero spouts words like "Kafkaesque" and "Lynchian", mostly having no idea what they mean. There are nods to Ray everywhere, from the film-within-the-film called 'Chiriyaghar' to Vikram's ever-efficient manager (played effectively by Chandan Roy Sanyal) named Roby (a homage to Rabi Ghosh). It's a mad, mad world in Spotlight and if you aren't a purist or don't go batshit crazy when the masters are meddled with, then this could be an, er, fun ride. Srijit Mukherji — whose first film Autograph was a tribute to Ray's Nayak — is tasked with directing two of the four shorts. In both, the men at the centre are powerful in their own ways, but it's this power — and their path in getting to it — that proves to be their undoing. Bahrupiya, adapted from Ray's Bahuroopi, ventures into Joker territory, Kay Kay Menon's mousy make-up artiste Indrashish slapping on prosthetics, bequeathed by his recently deceased grandmother, to slip into disguises and seek revenge on those who have tormented him all his life.
Srijit's treatment of the story is dark, with Calcutta — the dimply-lit hole-in-the-wall College Street bookshops to the sordid lanes of the north — complementing the film's tone. Indrashish is a textbook example of a social outcast who acquires a God complex, but then meets a fateful end. This is a story ripe with potential, but barring a knockout act from Kay Kay, Srijit's exploration of the depths a man wronged can plunge to doesn't translate into a befitting end.
Srijit explores a different world and a different protagonist in Forget Me Not — an adaptation of Bipin Choudhurir Smritibhram. Unlike Indrashish, Ipsit Rama Nair (played with flair and flamboyance by Ali Fazal) is an overconfident corporate shark who is known as some sort of a human computer because of his photographic memory, but it's not long before he finds himself unravelling, plagued by self-doubt when it comes to the very superpower that he prides on.
Forget Me Not is slickly filmed and well acted (Shweta Basu Prasad is a standout), blending the literal with the metaphorical and delivering a climax packed with surrealism. It's a film that left me wanting more but a little less in terms of melodrama.
In the end, Ray is a mixed bag, a 50-50 effort that's still worth checking out. We will wait, in hope, for a more-worthy-of-Ray follow-up.