Ravishing Raveena opens up on her OTT debut
I just want people, when they look back at my work, to say, Okay she did a varied body of work, says Raveena Tandon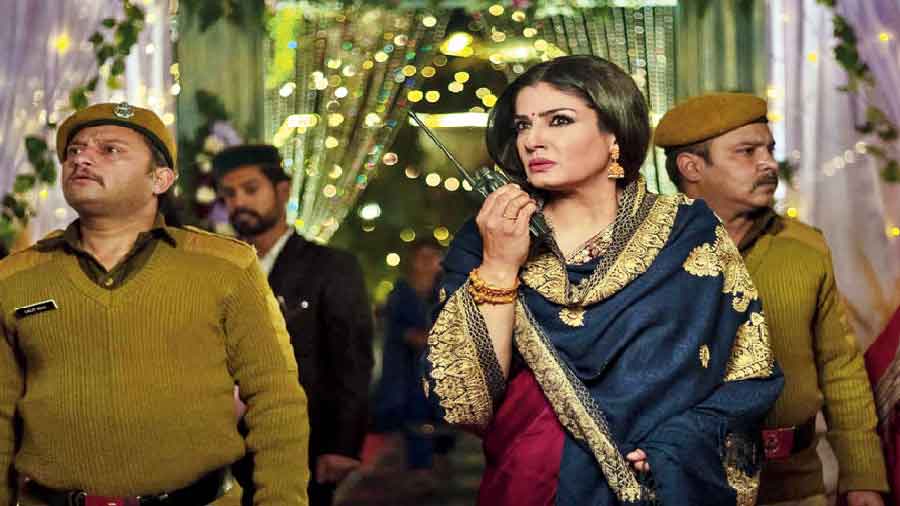 ---
Calcutta
|
Published 06.12.21, 12:15 AM
|
---
Just a day before I sat with Raveena Tandon at the Hilton Shillim Estate Retreat & Spa in Lonavala for this chat, the actor had got herself a tattoo of a series of paw prints on her hand. As she excitedly put out her hand and showed me her tattoo, I couldn't help but ask Raveena if they were real. "I never do anything fake!" she winked and laughed out loud, before proceeding to show me the inked scorpion (Raveena's zodiac sign is Scorpio) on her neck that she has had for a long time now. "I think I was the first one in the industry to get it back then," she smiled.
The pandemic has ensured that I was meeting Raveena after a long time, but as is always the case with her, we picked up from where we had left off. The conversation, of course, was predominantly about Aranyak, her foray into the web space, that streams on Netflix from December 10. The thriller series that also stars our very own Parambrata Chattopadhyay among a host of prolific actors, has Raveena — ravishing in a powder-blue ensemble that day — playing a cop. Here's what we spoke about...

You have been offered projects on the web before. What made you say 'yes' to Aranyak?
The first thing was that Netflix always comes out with very strong women character-driven shows. I also liked the fact that Aranyak gives out a message. I have always chosen my films which had a message tucked in somewhere, whether it was Maatr, Daman, Shool.... And something like this was very, very important for me to portray. It just made all the right sounds to me. And, of course, the fact that Netflix is a responsible global platform. I am always looking to do things that contribute to me somewhere as an actor and a person... I am not someone who looks to create controversy, in some places these things do work, but not for me.
Also, it's almost like life coming to a full circle for me. I made my film debut with G.P. Sippy Films... with Patthar Ke Phool (1991) and now I am making my web debut in Aranyak with Rohan Sippy. The two of us have literally grown up together during Patthar Ke Phool... he, me and Sheena (Rohan's sister).... Aranyak was literally something that was meant to be. And then, of course, Sid Roy (Siddharth Roy Kapur) is producing it.... It's also been amazing with this new breed of directors. They come with a new vision, it was great working with Vinay Waikul (the director of the series).
As far as the cast is concerned, I have worked with some of them already, like Ashutosh Rana ji. And then meeting Param (Parambrata Chattopadhyay) again was so refreshing. So it's just an eclectic mix of everything... too many ticks in too many boxes to ignore!

How would you describe your character Kasturi Dogra?
She's strong, she's a feminist... but she's also trying to be a family person and a perfect mother to her kids. She is a nurturing mother, she's trying to be a good wife and she is an amazing daughter-in-law.... In fact, her tuning with her father-in-law is so good that he treats her like the head of the family. At the same time, she is raw, real and in your face. Everywhere, women in uniform are always under so much pressure to excel in whatever they do. They try to juggle all aspects of their lives as best as they can.
Being in the police force is not easy. You have to put in your 100 per cent, both physically and mentally. You are always in the line of fire. You have to be constantly alert on the field. And then you go back home and help your kids with their homework, do the ironing and washing, you are making khana for your husband to take his dabba to office.... Women have to juggle so much and it was crucial for me to portray that correctly. There are only very few women, like you and me, whose families support us. But that's not the case mostly. A lot of these women have to function without any support.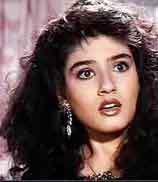 I didn't identify with Kasturi, but I felt empathy. I go on shoots outside Bombay for two months at a stretch and at that time, my children (Ranbir and Rasha) only have my husband (Anil Thadani) and me on FaceTime. I thank my family for giving me their support, and above all, I thank myself for having that support, tenacity and drive to want to achieve things in my life constantly. I feel for Kasturi Dogra.
Kasturi works in a job which is considered to be largely a man's domain. You broke into the film industry in the '90s when it was driven by the male superstars. They still do, but now it's perhaps a little more democratised. Do you find any parallels in your journey and Kasturi's?
Yes, I could say that initially, and even to a certain extent today, our industry is hero-driven. But things are also starting to equalise. And honestly, I always love saying one line... 'Public sab jaanti hain' (smiles). So if a man now tries to take credit away from a woman, the audience sees it and she gets her due. It wasn't like that perhaps 15-20 years ago. In today's day and age, I see a positive change and I am grateful for that change....

And for the growing opportunities...
For sure! The industry has definitely opened up. I have just finished a fantastic film and I am about to sign two new films in which I am playing my age (smiles). I am not trying to sport pigtails and play someone younger! (Laughs) I have always said that I want to do roles that allow me my grace and dignity and which are age appropriate. KGF (Chapter 2, with Yash and Sanjay Dutt) should be releasing soon. I am in a good space, and I am playing roles that I have waited a long time for.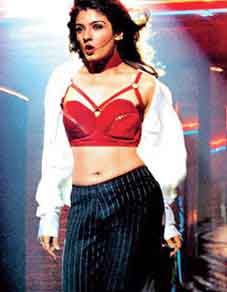 What do you think has brought about this change?
Our audiences now, more than ever, are aware of global cinema. Even our cinema, for the large part, has become more intelligent and more evolved. We did make intelligent cinema even earlier, but the rage and demand for typically formula-driven cinema has come down. The box-office masala films, you know. But then at time also, we had a film like Shool which was commercial, but was also realistic and did well at the box office. Now, of course, we have much more content-driven cinema. Film-makers have broadened their horizons, and OTT has brought in opportunities that allow makers to tell all kinds of stories. They are now free of apprehensions that would limit them earlier... limitations of time, box-office viability, time.....

How have things changed, as far as film-making is concerned, from when you started out?
Aajkal bahut shots lete hain yaar! (Laughs) They want to keep doing a shot over and over again, from different angles and perspectives, and I am like, 'I just did that 20 times over... I am exhausted!' (Laughs) These days, you need to have a lot more energy. But I am loving every bit of it!

Exactly 30 years in the business, what would you account for your longevity?
I just want people, when they look back at my work, to say, 'Okay she did a varied body of work'. If you saw me play a housewife, I also played a cop. I was a villain in Aks and I also did comedy in films like Andaz Apna Apna. To be accepted in all genres is something I am very grateful for. Some people tend to stick to what they know best and are comfortable with. I always pushed myself, I experimented and it got accepted. And I am sure people who I have worked with will say, 'Yes man, she was professional, she was on time, she came, she did her work. She was a producer's actor, she was hardworking....'

My favourite Raveena Tandon role is... Tell t2@abp.in