Rani Mukerji speaks on her film Mrs. Chatterjee vs. Norway
'Scripts choose me. i like to get excited by what someone's brought to the table'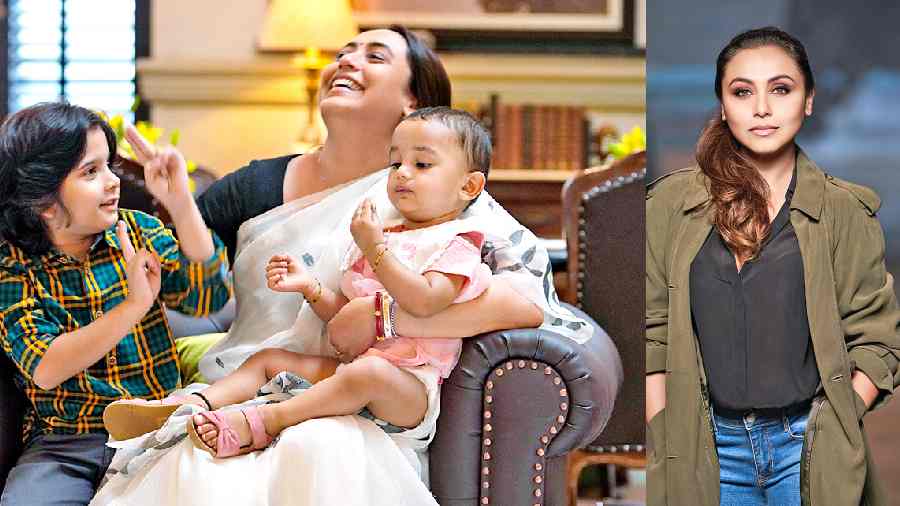 (l-r) A moment from Mrs. Chatterjee vs Norway, Rani Mukerji
---
Published 17.03.23, 12:15 PM
|
---
Rani Mukerji was a radiant presence in a yellow shirt and denims at Yash Raj Films, in Mumbai, on a sunny Tuesday morning when t2 caught up with her for a chat on her Friday film Mrs. Chatterjee vs. Norway. The film directed by Ashima Chibber captures the real-life struggle of Sagarika Chakraborty who fought against the Norwegian government after her kids were taken away from her by a children's welfare body, on grounds of bad parenting. We had watched the film a day before at PVR in Juhu and found Rani to be mind-blowingly good, portraying helplessness and resilience in equal measure. As we sat chatting with the actress in her room 'RMC', we also felt the steel in her. Just like Debika Chatterjee, whom she plays, straight from the heart.   
Rani, you are brilliant in Mrs. Chatterjee vs. Norway. What made you say yes to the project?
Nikkhil (Advani; producer) called me at the beginning of January 2021, with this true story that had happened in Norway. When he told me the details of what had happened, I got pretty shocked and was in disbelief. Also, I felt quite ignorant about the fact that if a case like this had travelled to India in 2011 and had been reported in the media so extensively, why is it that people still don't know about it? It didn't really hit us then, right? That got me thinking that if it didn't reach me and I am a citizen of the country, there are so many people who might not have heard about the story. I thought it was an important story to be told and it was an important journey to be shown. The lady who had fought this struggle, I thought she deserved a platform where she could speak to everyone from a larger perspective. That was my reason for actually doing the film because I felt this story should be heard by a lot many more people. Since I am an actor, this is the only thing I can do to be able to raise awareness through my work and through a film.
How did you prepare?
Ashima, the director, was in touch with Sagarika extensively because she is the one who thought of bringing this story to celluloid. She was passionate about the film and she took me through her chats with Sagarika, what Sagarika actually feels and made me watch a lot of recordings on Zoom where she had a lot of conversations with Sagarika. At that time, there was Covid and there was no way to meet her. For me, the emotional struggle that Sagarika went through or what she is feeling today and what she felt at that time, the way she expressed to Ashima, and how Ashima explained to me her situation, I got a gist of how Sagarika would have been and her emotional turmoil, struggles and pain. Also, the fact that she was a fighter from within and that she didn't give up. That is a big thing that Sagarika achieved. Whether it was fighting in Norway or in India for her children, she didn't give up. That for me is a mark of a strong woman and it was important for me to portray that aspect of Sagarika. Her pain is there of course, a mother's pain to be separated from her kids, but the main thing that caught my instinct as a mother is her strength. For me, that was applaudable and something I wanted to salute her for. She stayed true to who she is, a mom, and what she wanted for her children. Whatever odds she faced did not matter to her.
That's why there is a journey in my performance as well. From being completely hysterical to the time when she comes to terms with the fact that her children are separated, and now whatever happens, she is going to fight it. How she is going to fight it and where she is going to fight it even she doesn't know, but she will fight it and bring her children back. She has accepted what has happened to her. So, she is not questioning it any more, and she is living with that pain and thought and the strength that no matter what, she will fight it. 
Playing a character like Debika is massively challenging. What was your emotional wavelength like? Did she stay with you even when you were not playing the character?
Subconsciously, of course, Sagarika was always on my mind when I signed this film. She is actually on my mind even now. I don't think I can remove Sagarika from my subconscious, but obviously, when I am working as Debika, I have to stop thinking about somebody else and start channelling my energies into what Debika is feeling. At the end of the day, it is a film we are shooting and I have to do justice to the scenes vis-a-vis the movie. So, for me, though Sagarika was mostly there all the time with me in my subconscious, I let Debika Chatterjee take over in the film. It couldn't be Rani. It couldn't be Sagarika. It had to be Debika, her journey, to come out real because if I channel my energies through another person, Debika might look made-up and I didn't want that. I wanted Debika to look as real as possible. So, when you are watching the film, you are seeing Debika's journey, and her struggle.
Post the breakdown scenes could you immediately switch back to the next scene or it took you some time?
Naturally, it would take time, but the way we shoot, we don't have the luxury to park ourselves in the moment. We have to finish the schedule. At least the audience gets the time to live with that film, process it and go through it, and decide whether they like it or not, but as actors, we have to move on to the next shot.
You also share screen space with Anirban Bhattacharya, who is also so good in the film. What was your experience of working with him?
Excellent. He is an extremely fine actor. I was so happy working with him and sharing the screen space with him. He is just so nuanced. A brilliant actor. For him to take up this part, I will always be thankful to him for being a part of the film and for giving so much dignity to the character, in spite of it being such a difficult role. It's a mark of a true actor.
There are so many Bengali actors in the film, which makes us very happy. So, casting wise too, you wanted to keep it...
Real, yes. When you watch films today, people are wanting to see relatable stuff. You can relate with people who are actually authentic. When you have a Bengali actor perform in a Bengali space, the way they speak and their language is, you can make out, they are Bengalis. That was important.
Your interactions with Jim Sarbh's Daniel Singh Ciupek, especially the ones through the eyes, are so beautiful...
This film has an ensemble of really good actors. Acting is always a reaction. If the other person is so brilliant, it helps me evolve as an actor. Jim was effortless. The actors are brilliantly cast and the characterisation is also good. No one is trying to portray that I am the best person on this planet. They are real people with grey and good shades. It is quite wellbalanced I would say. It's organic and trying to stay true to the real story because sometimes when you are portraying a real story on screen, a person who doesn't know the true story might find it really bizarre. But the truth is more bizarre. When you see that for cultural differences children were picked up, a person can frown and say, 'what nonsense', but you have to know the reality. It had shaken me up. I had googled after that call with my producer because I thought he was trying to sell me the film by saying something as silly as that.
I really pray that more than the box office or a film failing or succeeding, the bigger picture is about raising awareness of this... and the message. It is an important film for an audience to watch, especially post the pandemic, when films are trying to find space for themselves...
How are you choosing your roles more and more?
Scripts choose me. I am not in a position where I'll sit and decide, I want this script to be written for me. I don't think I function like that as an actor, where I try and find scripts. I like to get excited by what someone's brought to the table.
What were your feelings for your mother after doing this film?
My mother is hovering around me 24x7 and there is no reason why I would miss my mom (laughs)... she is very much a part of my life even after my wedding. She has made sure that she's just a stone's throw away from me! (Laughs) I think that is something she prayed for and God listens to her prayers a lot. She tells me she prayed for a daughter and she got me and prayed that her daughter be married in Juhu and I got married in Juhu! I'd better go to her and ask her to pray for this movie to be a blockbuster....