Rani Mukerji is the heart of Mrs. Chatterjee vs Norway which unnecessarily courts melodrama
The Ashima Chibber-directed film is an adaptation of Sagarika Chakraborty's real-life account in The Journey of A Mother, and also stars Anirban Bhattacharya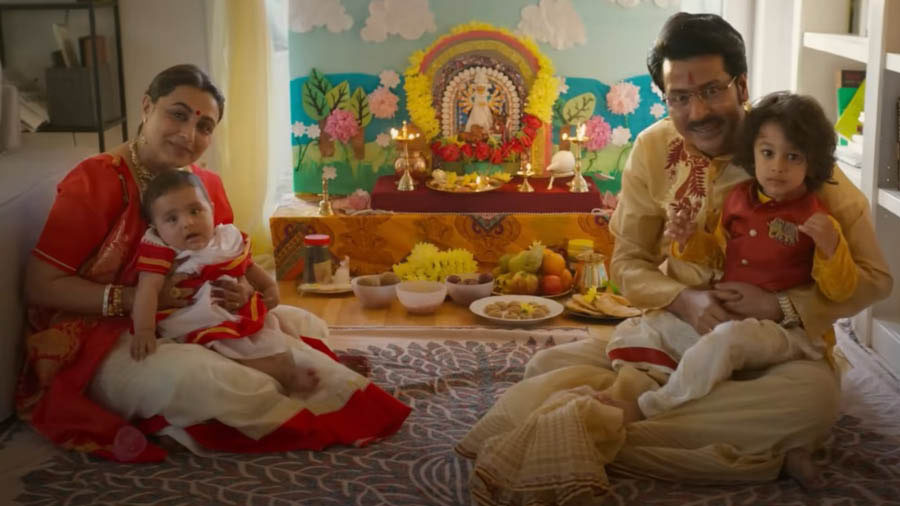 Rani Mukerji and Anirban Bhattacharya in Mrs. Chatterjee vs Norway
YouTube
---
Calcutta
|
Published 18.03.23, 01:02 PM
|
---
What does a mother do when her cradle has been robbed, the whole world is up against her and not even her husband is by her side? Ashima Chibber's Mrs. Chatterjee vs Norway is the agonising story of such a mother, powered by Rani Mukerji's screen presence. But the film stops short of being the emotional wringer it promised to be, largely due to the direction that devalues restraint in favour of melodrama. 
Mrs Chatterjee Vs Norway is based on the true story of Kolkata girl Sagarika Chakraborty, who has chronicled the ordeal of her two young children being taken away to foster care in Norway — and her fight to get them back — in The Journey of A Mother. The book has been adapted by Chibber, Sameer Satija and Rahul Handa.
In the film, Sagarika becomes Debika – played by Rani Mukerji —  a homemaker whose life with her husband Aniruddha Chatterjee (Anirban Bhattacharya) and two kids Shubh and Suchi, aged three and one, in Norway's Stavanger is suddenly turned upside down by Velfred, the Norwegian child protection system. 
Velfred's extreme step to snatch the children from their mother stemmed from a severe lack of awareness of cultural differences and a disinterest in discovering and acknowledging other ways of living practiced around the world.
The Chatterjee family is under Velfred's surveillance as it feels Debika and Aniruddha are incapable of raising their children as per the country's laws. Why? Because Debika feeds her children with her hand, puts tika on their foreheads and they often sleep in her bed — customs that are alien to the country in which they are living as immigrants. After 10 weeks of inspection, Velfred takes Shubh and Suchi away to foster care. Thus begins Debika's battle to get her kids back and where Mrs Chatterjee Vs Norway begins to stutter.
Chibber lets dramatics take centre stage in presenting Debika's inner turmoil, which takes away from what could have been an intense battle of nerves between a desperate, cornered mother and the law-enforcing authorities. The parts on legal proceedings are too few and far between, though those are the most engaging bits of the film, especially the fight for custody in a Kolkata courtroom.
Rani puts in a heartfelt performance as a mother in distress but it is marked by unnecessary histrionics. Debika runs aimlessly around the streets of Norway and gives an earful to even the advocates and judges. There is endless wailing and screaming that sounds shrill, and at some point, your empathy for her begins to wear thin. All of which are big problem points in Chibber's script and which don't do justice to an actor of Rani's calibre. 
The other characters in Mrs Chatterjee vs Norway come across as black and white. Either they are all heart, or conniving evil-mongers. The Norwegian authorities always wear a smirk on their faces and frown at Debika like Cinderella's cruel sisters, which could be out of spite or plain racism towards an immigrant family from a third-world country. Only Daniel (Jim Sarbh), the state-appointed lawyer for the Chatterjees, has grey shades to his persona. He turns Debika's adversary in the final court battle but doesn't stop from praising her maternal instincts.
As Debika's self-centred, chauvinist husband Aniruddha, Anirban Bhattacharya's restrained performance is in stark contrast to Rani's over-the-top act. Aniruddha is more concerned about his citizenship application than the fate of his children, and also has a history of domestic violence.
The lack of grey in characterisation is also apparent when it comes to Debika and Aniruddha's families. Debika's parents (played by Bodhisattwa Majumdar and Saswati Guhathakurta) are poised and supportive. Aniruddha's mother (played by Mithu Chakrabarty), on the other hand, resembles the evil mother-in-law characters made famous by Anamika Saha in Bengali potboilers of the 1990s. 
The music composed by Amit Trivedi somewhat makes up for what Mrs Chatterjee vs Norway lacks in the other departments. It is loaded with the beats of dhaak and ektara, capturing the Bengali flavours all too well. Shubho Shubho, sung by Altamash Faridi, paints the picture of a happy immigrant family in Norway. Written by Kausar Munir and sung by Javed Ali and Dipakshi Kalita, Maa ke Dil Se is another soulful composition depicting Debika's pain of separation.