Rani is the one bright spark in Bunty Aur Babli 2
Perhaps some things are better left alone and some memories best allowed to remain unscathed?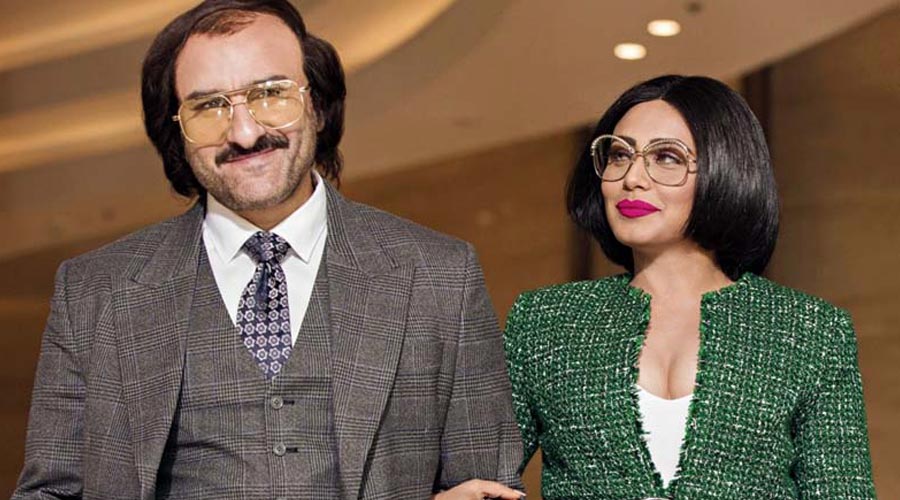 ---
Published 20.11.21, 12:41 AM
|
---
Like almost everything in this world, Bunty Aur Babli 2 is about the old giving way to the new, Gen Y handing over the baton to Gen Z, style and swag being given preference over tried and tested.... While moving forward and embracing the new is mostly a good thing, it really doesn't translate well in the case of this film.
The primary reason being that Bunty Aur Babli, despite some loose ends here and there, was a rollicking ride. Sixteen years ago, Abhishek Bachchan and Rani Mukerji lit up the screen with their sparkling chemistry to deliver a film that packed in dollops of entertainment, a fun romance, a music album that remains evergreen... and Amitabh Bachchan. Pretty much all of which is missing from the new film.
Instead what we have is an interminably long first half in which a new pair of confident tricksters pull off one con after another. Kunal Singh (Siddhant Chaturvedi) and Sonia Rawat (Sharvari), both unemployed engineering graduates, start off by duping a group of overeager old men with the promise of a debauched weekend in a foreign land, move on to renting out the Ganges on a lease and then rob a government granary. With each successful con, their confidence in themselves rises and they decide to take forward the Bunty Aur Babli 'franchise'. The cops, led by Pankaj Tripathi's Jatayu Singh, are left at their wits' end, and the original Bunty and Babli are left very, very angry. For Rakesh Trivedi (Saif Ali Khan, taking over from Abhishek Bachchan) and his wife Vimmi (Rani Mukerji) have now settled into a life of domesticity in Phursatganj. He's a ticket collector with a paunch, she's an aspiring designer whose only 'dupe' these days involves making copies of Sabyasachi's clothes. And yes, they have a precocious son who singlehandedly takes the crown of being the most irritating presence seen on screens big and small in quite some time.
The first hour of Bunty Aur Babli 2 — Varun V. Sharma takes over the directorial reins from Shaad Ali — is mostly focused on the new Bunty and Babli, who function like modern-day Robin Hoods and are armed with a sob story to justify their cons. It goes something like, "Agar system humein con kar raha hain toh hum bhi system ko con karenge." In the first film, the cons were a riot — I particularly enjoyed how Bunty and Babli sold off the Taj Mahal to an unsuspecting American on an elephant — but in this new film, the tricks are a bit of a yawn. And even with music men Shankar-Ehsaan-Loy returning from the first film, there is no Kajra re here to rescue the viewer.
It's only post-interval that Bunty Aur Babli 2 gets a bit of an energy boost when the original pair decide to get back to business (no spoilers here, it's all in the trailer) to take on the new ones. Reason? "Woh hamari brand ka band baaja rahein hain." The action shifts to Abu Dhabi, and despite the plot still remaining weak and stilted, things get going with the presence of Rani, who infuses some much-needed comedy and drama into the narrative. In fact, Rani is the one bright spark in Bunty Aur Babli 2, her over-the-top performance bringing on as many laughs as her garish outfits. Saif is content playing second fiddle, with the film packing in some nice moments between the two, but failing to rekindle their Hum Tum magic. Pankaj Tripathi is wasted in a part that is strictly one-note, but both Siddhant and Sharvari do well with the material they are given.
A predicable twist in the tail later, Bunty Aur Babli 2 ends with the promise of another film in the franchise. Perhaps some things are better left alone and some memories best allowed to remain unscathed?
I liked/ didn't like Bunty Aur Babli 2 because? Tell t2@abp.in
Bunty Aur Babli 2 (U/A)
Director: Varun V. Sharma
Cast: Saif Ali Khan, Rani Mukerji, Siddhant Chaturvedi, Sharvari, Pankaj Tripathi, Prem Chopra, Brijendra Kala
Running time: 134 minutes