Ram Setu hammers the viewer into a shock-induced semi-comatose state
The film aims to be Indiana Jones-lite and parts of it will remind one of a Monopoly version of National Treasure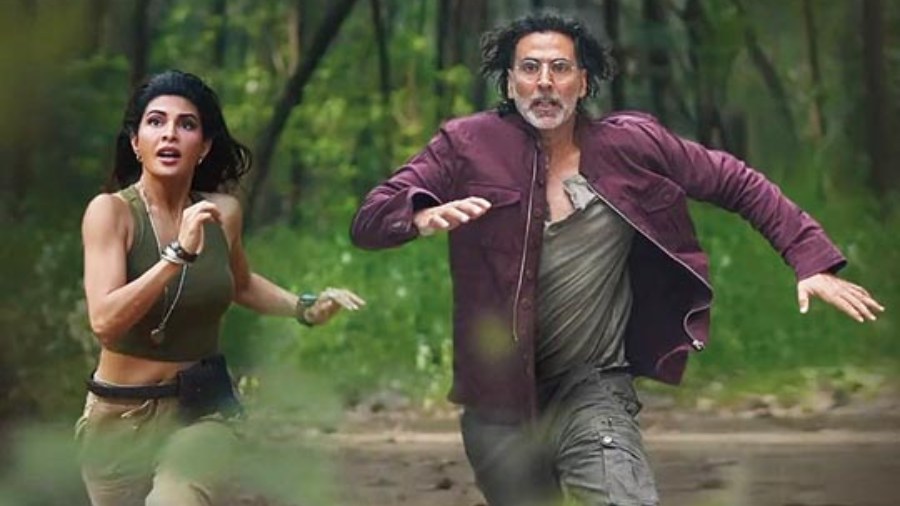 ---
Published 26.10.22, 05:17 AM
|
---
After rescuing Indians from war-torn Kuwait, spearheading India's first interplanetary expedition to Mars, winning the country its first hockey gold independent of British rule, peddling sanitary napkins and building toilets... Akshay Kumar is back in saviour mode in a film that, quite honestly, deserves to be flushed down the toilet.
Ram Setu, in which the Khiladi straightaway "goes for the jugular" (his words, not ours), has the man playing saviour again, this time to no less than God himself. In fact, towards the end of this Abhishek Sharma film, Nushratt Bharuccha (she spells it this way, not us) looks beatifically at Akshay, who plays her husband but looks old enough to be her dad, and tells him, "Shri Ram ko tumse zyada achha vakeel toh mil hi nahin sakta". And that's not even the worst part of Ram Setu, which by that point has done its job of hammering the viewer into a shock-induced semi-comatose state.
With playing knight in shining armour coming as easily to Akshay as angry young man did to Amitabh Bachchan, Ram Setu hits the ground running, quite literally. Archaeological expert Aryan Kulshrestha helicopters down in an Afghanistan excavation site (that looks suspiciously like Mars and makes you wonder if 'Mission Mangal 2' is also being shot on a budget here), and within 15 minutes, the man unearths a box of ancient priceless coins, dodges enemy bullets, and because being Akshay Kumar is a gift that keeps giving, stumbles into a hole and discovers the statue of a reclining Buddha, seemingly lost to world civilisation for centuries. None of these have any bearing on the rest of the film, but are thrown in to show what a superhuman scientist — with tousled hair, grizzly beard and rimmed glasses, in Bollywood's true tradition of a mad scientist — our man is.
Aryan, in what is Akshay's most un-Akshay 30 minutes on screen, also starts off as an atheist whose official report states that Ram Setu — the chain of natural limestone shoals that connect India and Sri Lanka and date back several centuries — is a natural formation and not a man-made structure built by Lord Ram. In barely-concealed propaganda, it is shown that Aryan has been bulldozed into writing this report by the government (the film takes place in 2007, so join the dots).
But public outrage, if not social media, was present even then and charged with blasphemy, Aryan is thrown out of his job. Down but not out, Aryan signs up with a private player — Nassar unsubtly plays to every stereotype of an unscrupulous businessman only out for profit — to clear his name. But he soon resets himself to Akshay Kumar mode, going all out to prove that Ram Setu is indeed a divine creation, his change of heart being brought on by such laughable twists and turns in the plot that even 'cringe' doesn't begin to describe it.
What the antecedents of the Ram Setu are is out for debate and isn't the subject of this review. What definitely is is how frivolous the film makes it come off through its comic book-level plotting and amateurish treatment.
Ram Setu aims to be Indiana Jones-lite and parts of it will remind one of a Monopoly version of National Treasure. But what makes it an unintentional comedy of sorts is the way in which the film carries out what are unequivocal comic situations with utmost seriousness. Aided by an environmentalist — played by a predictable one-note Jacqueline Fernandez — and a Man Friday of sorts (Satya Dev is the only one who is semi-watchable in this film) —Aryan travels from cave to tunnel, from India to Sri Lanka, from underwater to open air and once even "walks on water" — to provide "hard evidence" of his findings.
All the while, a seemingly 7,000-year-old rock from Ram Setu is lugged around in a satchel and a manuscript dating back several centuries looks like it came out of the printing press a few hours ago. The court scenes challenge Akshay's own Rustom in terms of their caricaturishness. And let us not even get started on the visual effects. Let's just say it makes Brahmastra come off as Star Wars.
Going by the number of people I had in the audience with me on release morning, Ram Setu looks well on its way to becoming Akshay's fifth straight dud of the year. Can the man please reset, reboot and stop playing saviour for once, given he's almost exhausted the list? Wait, there's Rishi Sunak now... 10 Downing Street, here he comes!
Ram Setu (U/A)
Director: Abhishek Sharma
Cast: Akshay Kumar, Jacqueline Fernandez, Nushrratt Bharuccha, Satya Dev, Nassar, Pravesh Rana
Running time: 144 minutes