Ram Gopal Varma's Bhoot gives the scares even 15 years on. t2 lists the reasons why this horror film was a hit
Everyday scenes of bustling traffic, people rushing to work, a couple on a beach, children going to school were blended with a bloodcurdling theme music that set the stage.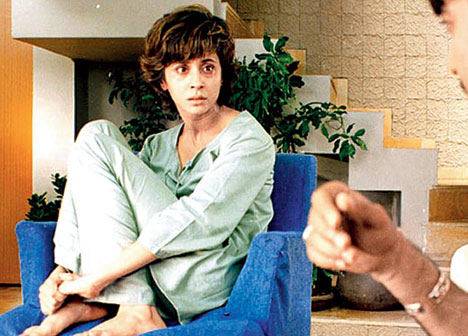 ---
Published 30.05.18, 12:00 AM
|
---
1. The opening credits: Everyday scenes of bustling traffic, people rushing to work, a couple on a beach, children going to school were blended with a bloodcurdling theme music that set the stage.
2. The constant feeling of foreboding: The initial scenes of a happily married young couple Vishal (Ajay Devgn) and Swati (Urmila Matondkar) moving into a new house may have seemed harmless, but RGV made sure that there was fear lurking in every corner. The top shot of the building's ancient elevator moving up and down played a part in keeping the fear alive.
3. Used familiar tropes differently: Bhoot didn't have anything that we haven't seen before, but its treatment of the familiar was novel. Like, the billowing curtains, that were not only used for effect but gave way to a blink-and-you miss shadow of a ghost. The film broke the Bolly horror formula… it had no songs, no love story and no erotic scenes.
4. Fear in the innocuous: Watchman's chair to mirror, loft to doll…. Our favourite? When Swati watches TV in the dead of the night and is startled by a woman (who we later know is Manjeet, the ghost) in the mirror.
5. Spine-chilling scenes: There are quite a few. Like Swati walking up the steps to her bedroom and the camera panning on Manjeet staring at her from below (in picture); or that moment when Vishal has a nightmare that Swati is stabbing him, opens his eyes and finds her looking at him vacantly.
6. The tributes: The cremation scene at the beginning was a nod to RGV's own 1996 Telugu horror film Deyyam. Bhoot had many tributes to his Raat. Like the movie hall scene in which Swati finds the whole audience turning back to stare at her (gooseflesh!); and the watchman's head being turned 180-degrees is a nod to the iconic head-turning scene in The Exorcist.
7. The technique: The background score (by Dwarak Warrier) made you jump out of your skin. Vishal Sinha's camerawork was top notch, the camera sneaking up to the loft, plunging 12 floors below or simply lingering on an open door.
8. The bhoot: Manjeet (played by Barkha Madan) was not the typical Bolly ghost flying around in a white bedsheet. And boy, did she manage to scare with that stare of her kohl-rimmed angry eyes.
9. The players: Bhoot had a wide release, courtesy its A-list cast — Rekha, Tanuja, Nana Patekar, Victor Banerjee, Fardeen Khan..... Seema Biswas's maid brought on some much-needed laughs, but it was to Varma's credit that Bhoot never became unintentionally funny… okay, except the penultimate scene when Fardeen is made to levitate!
10. Urmila: RGV favourite Urmila was superlative as Swati, transforming from meek to aggressive, the standout moment being when the bhoot takes over her body and soul.
Priyanka Roy
Bhoot still scares me because... Tell t2@abp.in
---
Our Hindi horror picks
Raat (1992): Directed by Ram Gopal Varma, Raat had Revathi as a college girl who becomes possessed after moving to a new house. Raat still gives us the chills — murder on the terrace to the jungle scene.
Kaun? (1999): More psychological thriller than horror, this RGV film written by Anurag Kashyap and starring Urmila and Manoj Bajpayee made us scream out loud with the final twist.
Vaastu-Shastra (2004): Produced by RGV and directed by Saurabh Usha Narang, this one had enough chills and thrills. The ending promised a sequel that never got made.
Ragini MMS (2011): The "found footage" horror film directed by Pawan Kripalani had an impressive act from Rajkummar Rao and a constant feel of foreboding.
Pari (2018): Calcutta boy Prosit Roy's Anushka Sharma-Parambrata Chattopadhyay starrer was an inventive take on the horror genre, relying heavily on atmospherics.