Rakhee takes a trip down memory lane
Scripting a comeback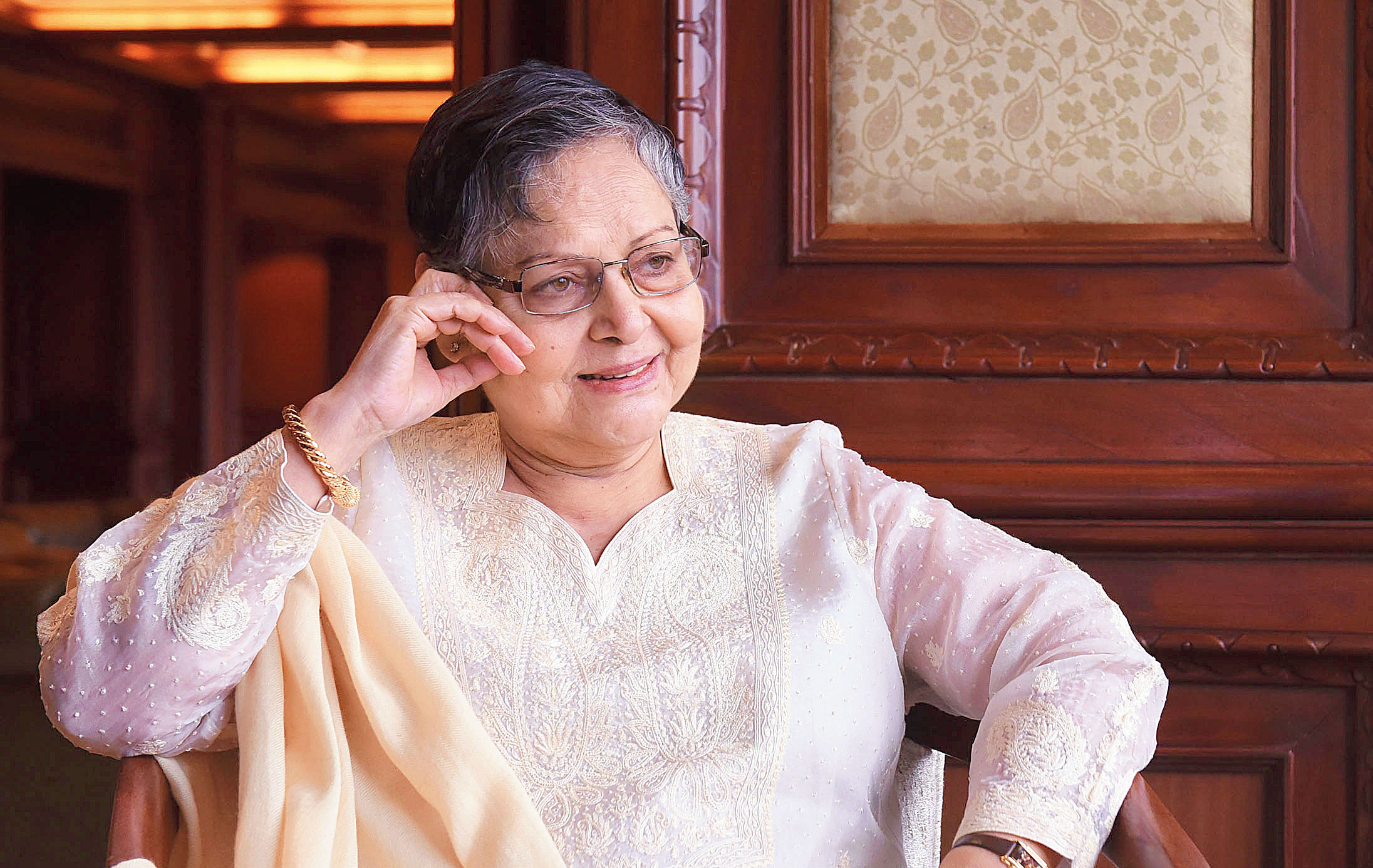 ---
|
Calcutta
|
Published 10.11.19, 07:11 PM
---
The hazel-eyed twinkling charm is still very much in place, the one that reigned supreme in the Hindi film industry in the '70s and '80s. Dressed gracefully in a beige salwar kameez and a golden shawl when t2 meets her on a gloomy Friday morning at Taj Bengal, Rakhee exudes a charm that is hard to miss and when she gets talking you realise how exuberant she is about life and living.
The yesteryear superstar of Bollywood is in Calcutta as a guest at the 25th Kolkata International Film Festival. Saturday marked the return of the reclusive actress to the silver screen in the Gautam Halder-directed Nirban at Nandan I.
Rakhee starts off by saying that she doesn't start her day without reading the newspapers. And if the delivery boy is late she rings him up to admonish him. Ordering a light coffee, she sits down for a chat with t2oS. Excerpts...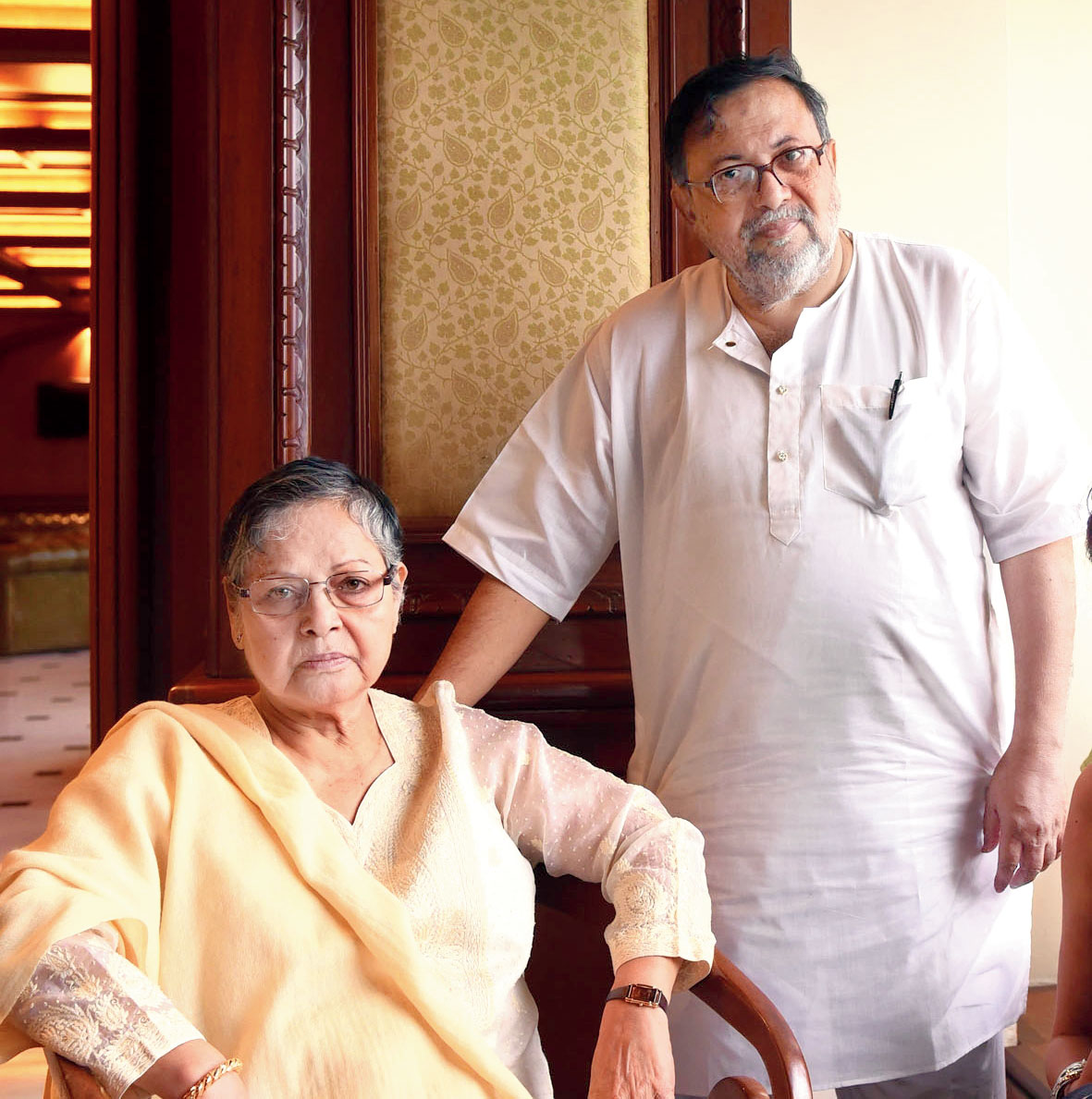 How are you finding Calcutta this time?
It's nothing new for me. I keep coming to Calcutta. It's just that I don't let people know about it. When I was coming here from the airport last night, I saw a change in Calcutta. When I was passing by the Dhapa on the Bypass, I saw that a lot of flyovers have come up. They were all decorated with lights and it was looking so nice. I will get to see more when I go out into the city. I woke up to a murky day when I drew the curtains this morning. It was foggy as well. I could see the Alipore Central Jail from here as well. Once there had been a riot here and I was locked up in my room for four days with a view of the correctional home (laughs).... A cyclone is approaching (looking out at the Calcutta skyline). It's a very strong cyclone. We all better be prepared. I keep reading and watching the weather reports. I follow the BBC, they are really good.
Tell us about your Calcutta memories?
I have lived in Calcutta... I know Tollygunge, Ballygunge... you name it. I know all the roads here. I am very good in geography. You can leave me in the middle of a road here and I will be able to find my way back.
What do you usually do when you are in Calcutta?
I don't come to Calcutta to travel. I don't have much friends here. I visited so many places from here... Darjeeling, Kalimpong and others for shootings. Personally, in terms of going around Bengal, I would say Burdwan, Bankura. I have been to the temples in Bishnupur. I remember I had once visited a weaver's house there... it was unplanned. I had learnt to make a sari there. I have been to the Sundarbans. I have been to Bolpur... and I had been there on my own, not for a shoot. And I always make it a point to visit the Dakshineswar Kali Temple. From the airport I head right there. I sit there for some time facing the Ganga... it feels so nice.
You young people might not know but there was this Radhu Babu's dokaan that used to sell the most amazing chingri (prawn) cutlets (giggles). I love having muri (puffed rice) and there's also a nice telebhaja and beguni (fritters) shop near the Barasat crossing. There's also the ghugni at the Victoria Memorial. Phuchka at Deshapriya Park. I usually take back patali gur and Dhonekhali sari for my parents. And I like going to Tangra.
Do you like Chinese food then?
There are a lot of variations. Like there is Cantonese, there is Szechuan and others. I like Mandarin, it's the authentic one.
We have heard a lot about your cooking... do you cook when in Calcutta?
These people don't give me any time (pointing to director Gautam Halder)... They make me work overtime (laughs)... the shifts keep extending but I still manage by cooking in the studio.
Any food memories?
This was during the shoot of Parama. Rinadi (Aparna Sen) said I had to get slimmer as there was a hospital scene near the end where I had to look pale and sick, a suicide survivor basically. She advised me to have pineapple the whole day. And my body has an aversion to the sour taste. And I had a very bad time having only pineapple. So what do I do? After the shoot, I told the driver to take me to my maternal aunt's place. I told my aunt about this predicament. I also asked her to cook for me daily and after the shooting I would carry the tiffin box with me to the hotel. I told Khateja, my hairdresser-cum-friend who accompanies me everywhere, to pick up the food from my aunt's. I told Rinadi that I need a car for Khateja to buy a pair of shoes for me. However, I got caught when the driver later said he had driven to some place to pick up food (laughs). Rinadi was exasperated. She said, 'I don't know what to do with you, I will commit suicide if you do this again'. I meekly said, 'I can't act surviving on Chinese food and sandwiches. Please arrange for rice, masoor dal, and maach bhaja for me. I don't want anything else'.
Any funny memories in Calcutta?
At the race grounds in Tollygunge where I used to live, there used to be a back-door entry. The gate used to be locked but I somehow managed to wriggle in. That place used to be the starting point of the race. I used to sometime talk the guard into letting me in. Once I entered but the sound of the gates caught a couple of horses' attention and they started running in the opposite direction (laughs).
What did you cook this time on the sets (of Nirban)?
During the dubbing, I cooked for them. I have a ritual of sorts... be it Kashmir, Manali or in the jungles, on the last day I cook for the crew... not the big stars because the production takes care of them. I have seen how these people are treated. I used to carry the spices from home. I used to tell the producer to arrange for the utensils only. I used to plan two days ahead of the wrap-up. And the dish always used to be biryani. I have a record of sorts — I have cooked 70kg of biryani, on the sets of Rudaali.
Tell us about an interesting biryani cooking session on sets...
It was in Manali I remember. It was snowing and occasionally raining as well. No matter how hard I tried the chulha wouldn't burn. So the biryani remained half-cooked. And the crew members were all coming up to me and asking, 'Khana taiyyaar?'...I thought of using paper or anything to get the fire going but nothing helped. So I told them the truth. It didn't dampen their spirits... they had their fill.
There's another incident. This was the climax scene of Kabhi Kabhie being shot in Goa. And Shashiji (Shashi Kapoor) had a standing order — that if I was shooting with him I had to cook chingri (prawn). And Jenniferji, his wife, would come to know of it seeing that Shashiji had not touched his tiffin box. Jenniferji used to send him salads and other stuff. She used to ring me and say, 'Mujhe maloom hai Shashi was shooting with you'. While in Goa, I spotted a boat carrying fish from the ocean. I asked him if I could buy... he said I would have to buy the entire quantity of fish on the boat. So I bought the entire stuff. And I used to tell the hotel staff wherever we went to provide me a counter to cook. So I used mustard and everything to cook the fish. In the evening everyone had gathered... they were all singing and drinking, having fun. I asked Khateja to taste the preparation.
She did and said, 'Rakhee, karwi zeher hai'. I was embarrassed and nervous at the same time. So I told everyone I was tired and won't eat. I am going to bed (laughs)... I was sure of getting beaten up that day.
So you were quite the prankster on sets...
At the Mudumalai forest, we were staying in two small rooms with elephants sometimes straying into the vicinity at night. We were shooting there and Shashiji suddenly hollers, 'Kuch khaane ko hoga ki nahin? Sirf dosa khaa rahe hain'. So we arranged fish and chicken. Shashiji used to spend the evening in a tent. He told me, 'Kya beyara, khana taiyyar?' I was a bit miffed... what does he think of himself?! So I decided not to cook. Shashiji asked a south Indian cook named Tambi to prepare roasted chicken and he was shouting, 'Nahi chahiye kisika khana'. In the evening, I told a local boy there to add a lump of salt in the roast discreetly. Later, I could hear Shashiji at the top of his voice saying, 'Tambi, tumhare paas Surf hain?' He wanted to clean the chicken (breaks into a laugh).
Tell us a bit about your role in Nirban...
I would suggest everyone to see the film first. It has a very important message. That is the reason why I said yes to the role. The same reason I wanted the film to be bilingual. The entire nation must watch it. Throughout my career, my prime concern has been choice of the story, how the character is presented, the producer. The director should be able to tell me if I am wrong... not a chamcha.
How is Gautam Halder as a director?
I said no to him initially. But he was adamant. But later I felt after reading the script that I will act in it.
Do you follow Bengali films?
I watch Bengali news channels. I buy Durga Puja publications. I haven't watched too many films.
What keeps you busy nowadays? We hear you live at your farm in Panvel, in seclusion.
I was always a loner. Even when there were 19 people at home, I used to remain aloof. I don't like loud parties, too much of noise. I like nature, like travelling. I don't waste time to pass time. I use time to good effect. I don't waste time on kitty parties or shopping. I have loved nature from childhood. We had goats at our home... there used to be cows at the neighbours'. When I went to Bandhavgarh, I showed my grandson different birds. He needs to learn these.
Your film was screened at the Kolkata International Film Festival...
A chief minister has called me to a film festival for the first time in 50 years.
The best thing about Bengal is that the people here make you feel like you are one of them. They welcome you so well. In Mumbai, they give me respect by calling me aunty or ji. Here, people respect each other by calling kaka, dada, didi. This kind of respect I don't get anywhere. There is so much warmth. I haven't forgotten Bengali... it's not possible to forget your mother tongue. But I do forget a few spellings sometimes. Also the fact that Bengalis treat guests only with homemade food, they never order outside food for guests.... The trend is changing though. In Mumbai, it has changed completely.
When can we see you acting in your daughter Meghna Gulzar's film?
I will look at the script first. I know the director of course. I know her capabilities. I don't think the credit for her talent should go to Gulzar or me. She had to work very hard. She excels in investigative scripts. If I wanted I could have launched her as a heroine as it mostly happens in the industry. I kept her away from that. I was keeping a watch on her knacks, her abilities. I could never pursue what I wanted in life. When I started working, no one interfered in my life or work. So if she offers me something not upto the mark she knows I am going to turn her down. But why does she need to do a film with me? Or on me? Just because I am her mother? No way. She should try to make good films. She is making a film on Field Marshal Sam Manekshaw now.
From being a top Bolly star in front of the arc lights to now living in solitude... how would you sum up the journey?
I don't consider myself an icon. I hate it when people call me that. I don't like to be praised. I wanted to be a scientist but I could not owing to financial crisis. Initially I didn't want to do films, but when films happened I had no option but to give my best in a dedicated manner. I realised I have my own life to lead as well. It's been 50 years now. I am trying to know myself... I never had that opportunity. Life had been so busy. Maybe I will live for another five or 10 years. These years belong to me only. I am seeing my childhood through my grandson now. He inspires me to live.