Rajkummar Rao on completing a decade in Bollywood
'I don't have any identity apart from that of being an actor'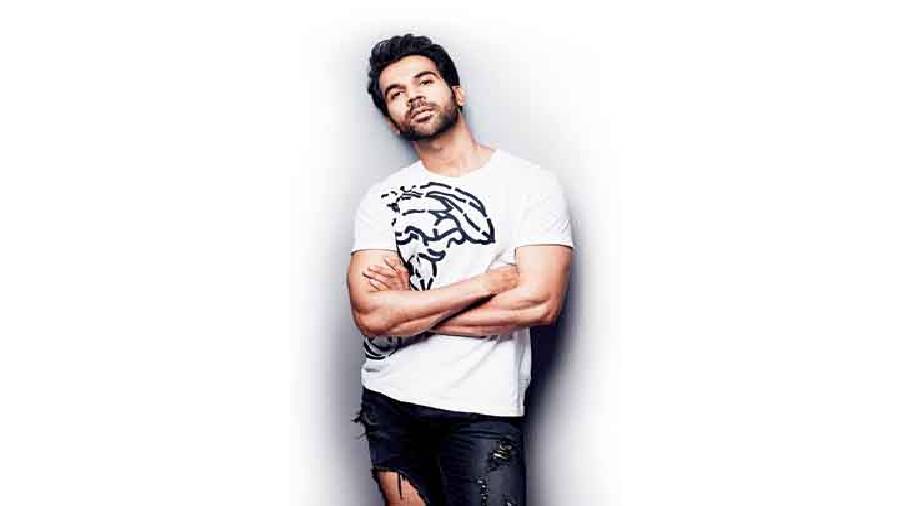 Sourced by the correspondent
---
Published 03.03.21, 12:54 AM
|
---
His last release in a movie theatre was Made in China in Diwali 2019. With Roohi, that releases on the big screen on March 11, Rajkummar Rao is hoping to take forward the horror-comedy genre that his Rs 100-crore blockbuster Stree re-energised three years ago. We chatted with Raj on Roohi, that co-stars Janhvi Kapoor and Varun Sharma, the busy 2020 he's had on streaming platforms and spending 10 years in the business.
With Ludo, Chhalaang and The White Tiger, you have had three big releases on streaming platforms in the last three months. With Roohi, does it feel almost surreal to have a film releasing in theatres after so long?
It does, it does. It's pretty thrilling and also very surreal because the gap has been so long. It will be fun to go back to theatres and watch the film with the audience in a dark theatre. That's such a unique experience... you cannot recreate that anywhere else. And here we are talking about Roohi, which is going to make the audience laugh. It's always more fun to laugh with other people around.
Does the fact that Roohi is the first big Bollywood release that everyone's kind of expecting will pull some of the audience back into theatres after a year, put pressure on you?
Not really. That's because we are pretty confident about the film. Of course, we will have to wait and see what happens on March 11. What I can say is that people should feel very comfortable with the idea of going back to theatres. The theatres are taking extra measures to make people safe and feel protected. The audience just needs to take some precautions and we can all relive the experience of going back to theatres. What was it like having so many films releasing back-to-back on streaming platforms? The magic of the audience may not have been, but your films did reach a vast number of viewers...
Ya, ya, one cannot deny the reach of a digital release. I have experienced that with Ludo, The White Tiger and Chhalaang. It's huge... the power of these digital platforms. But there are some films, of course, that are meant for theatres... Roohi being one of them.
How do you think Roohi builds on the world of horror-comedy that Stree established so successfully? What, according to you, is the most difficult bit to pull off in this genre?
I think that would have to be the fine balance between horror and comedy. That, I think, is pretty tough and it has to come from the writing. Kudos to our writers Gautam (Mehra) and Mrigh (Mrighdeep Singh Lamba) who have balanced the comedy bits and the scary parts of the film very well. You can't only make people scared. In this genre, the tilt has to be more on the funny side, and then you have to build on the element of horror. As I said, it's always nice to make people laugh, because we tend to laugh even when we are scared, and in those two hours, they forget everything else. The idea is to engage the viewer so much with the characters that they laugh with them and also get scared with them.
Most actors say that comedy is the toughest to pull off. Would you agree?
It is tough, it is tough. It's a very thin line when it comes to comedy. Of course, the situation has to be funny, then only an actor can explore that situation and make it comic. It's definitely tough to make people laugh. I have achieved that in a couple of my performances and I hope I am able to recreate that in Roohi as well.
What was the vibe on this set like?
There was great synergy on set. All of us were there on location (Roohi was shot in Agra and Roorkee) together for almost 40-50 days. We were living like a family and having fun with our lines on set. Even off set, it was pretty awesome to have this kind of a team. We were all on the same wavelength. There was no groupism, everyone was talking to everyone. There was no hierarchy on set, everybody could come out and give an idea and we would try and incorporate it in the film.
Do you see this kind of a democratisation of film-making increasingly happening on the sets that you work with now?
Yes, I am experiencing that a lot now. And that's the kind of process that I also enjoy. I like it when everyone is equally involved in the film and every person on set feels that it is their film. Not only the actors or the makers, it's everybody's film and we all should feel equally responsible in the endeavour to make a film better. A decade in films, what's the Rajkummar Rao formula to choosing a script now?
It's always been the same. My process hasn't changed. My choices are largely ruled by my gut. I read a script and if I feel that it's offering me something new and it's pretty challenging for me as an actor, then I do it. Or it could be as simple as the fact that I enjoyed reading the script and I want to be a part of it. It's very impulsive, my decision of choosing a script.
Did you work on an international production like The White Tiger to expand your horizons as an actor as well as your reach to a global audience?
I certainly did. The kind of response we got for The White Tiger and the messages and emails I am getting even now from film-makers all over the world are definitely going to help in expanding my horizons. I would love to do films for a global audience.
You have plunged right back into shoot with Badhaai Do, with Bhumi Pednekar. How's that coming along?
Well, Badhaai Do is almost done, we just have a few days left to wrap up shoot. I am very, very happy with the way it's shaping up and I can't wait for it to come out. I was missing being on a film set during the lockdown. I don't have any identity apart from that of being an actor. I genuinely love being on a film set and playing different characters. I just couldn't wait for shoot to start. I was horribly missing it.
During the lockdown, I believe you learnt how to cook. How's that getting along or have you abandoned it now?
(Laughs) No, I tried, I tried... but I don't think it's something I am good at. Safe to say, I shouldn't really cook too much! I think cooking requires a lot of patience, which I don't have. But the good thing is that I got to spend a lot of time with my loved ones and my dog.
You completed 10 years in the film business in 2020. It's been so many films and so many great performances. Would it be fair to ask you to pick what you think was a turning point in your career?
I can think of a couple of them actually. Of course, it all started with LSD (Love Sex Aur Dhokha), which was a very special film. Shahid was a big turning point in my career because people took notice of me after that film and the National Award also came my way. In Bareilly Ki Barfi, people saw me in a very different avatar. Before that, I was mostly doing dramas and biopics. Bareilly Ki Barfi gave me the opportunity to expand my repertoire as an artiste.
Newton was very special. It got me the Asia Pacific Screen Award in Australia. Trapped is a film I will always cherish. Stree was, of course, a massive box-office success and brought back the horror-comedy genre.
Kai Po Che! turned eight last week. What are your best memories from making that film?
Spending time with Sushant (Singh Rajput) and Amit (Sadh) and living those moments with them. During shoot, we were actually living like brothers. Gattu (Abhishek Kapoor) is such a phenomenal director and the whole process of making that film was very special to all of us. It's a film that I am very proud of.