Rahul Bose on being the suitable voice for Discovery's silver jubilee
He speaks about an actor's life during a pandemic and on being the voice of the campaign film #KeepExploring as Discovery Channel turns 25 in India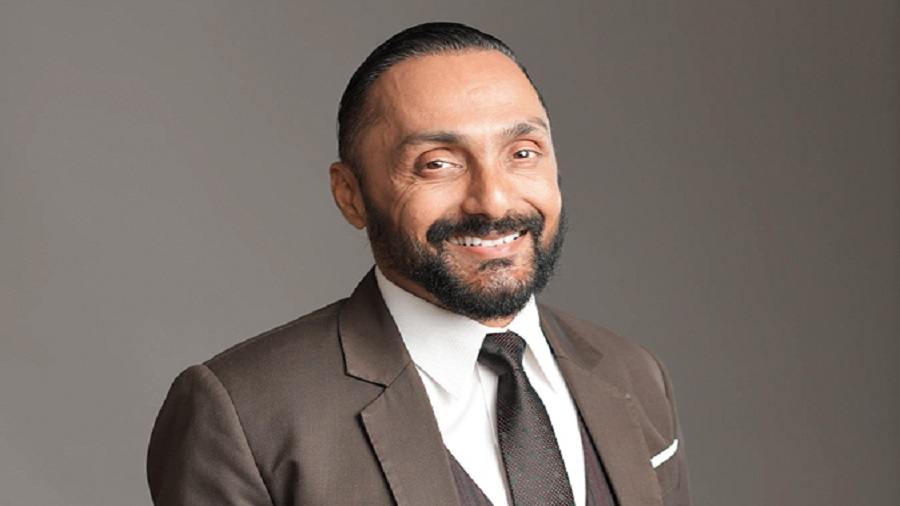 ---
Published 16.09.20, 10:19 PM
|
---
Rahul Bose has a wide grin on his face on being told that despite him being a Mumbaikar, anyone from Bengal would always appropriate him as a son of the soil. "Happy to be appropriated," he interjects. The affable and articulate actor, fresh from the success of Bulbbul, speaks to The Telegraph about an actor's life during a pandemic and on being the voice of the campaign film #KeepExploring as Discovery Channel turns 25 in India.

Are you a regular Discovery viewer?
I was in my 20s when Discovery started in India and I started watching their shows. They make you look at new ideas for the future. That cannot be done through a dry, knowledge-based programme. The actual production of the show has to fascinate you. Discovery showed us how ideas can be conveyed through film, whether it was Morgan Freeman's Through the Wormhole or How the Universe Works, Top Gear or Man vs Wild. The production values, the writing, the conceptualisation of how to make the show viewer-friendly — everything was and is world-class and gripping. It's like getting a free ride across the world, with all the science and travel ideas. That was my relationship with Discovery till I did a project with them.

What project was that?
It was called India on Film. It was a chronicle of pre- and post-Independence India through film footage that was taken at the time for different reasons, be it to see how jute is being made, how villagers are working or how life is in a busy town like Calcutta… Through the footage, they were stitching together a sociological history of pre- and post-Independence India. The show was launched this Republic Day. I was asked to do the narration for the series. That's why when they asked me to lend my voice for their 25th year commemoration, I was happy to do it as Discovery is part of my viewing life.

Coming to life in Covid times, how have you been since the lockdown?
For many people, it has been a mental and emotional challenge. But I have lived in an equilibrium for many, many years. I don't consider myself to be ambitious at all. Yes, I am full of desire but not ambitious enough to reach some point, to become somebody, to achieve a certain kind of fame… I am at a point in my life when I do things for the sheer pleasure of doing it. It's not important to me that in the pandemic my career comes to a standstill or some great plans I had has been put on the backburner. I am not a hectic socialiser, I am not anxious about when the next project will come. For me, it has been an easy time to negotiate, mentally and spiritually.

So, have you kept yourself completely switched off professionally?
I am writing my next film, which I would like to shoot at the end of next year. I write 15 to 20 drafts normally. I've been offered a film for an OTT platform after Bulbbul. That is a very interesting film with a very, very interesting role. So I am looking forward to that.

The congratulatory messages must still be pouring in for Bulbbul?
Bulbbul's release took a happy six weeks of my life during the pandemic. Those weeks went by in a blur. Bulbbul was appreciated, my work was appreciated. I think more people saw Bulbbul than they have seen my films in the past because there were only OTT channels to watch. You see, there was no film releasing, no theatre or restaurant to go to…. In that respect, it was a rewarding time for me. Had my work not been good, it could have been hell.

You mentioned somewhere that the roles in Bulbbul were the toughest you have played.
Yes, both the roles. The most important transformation of Indranil from being a jealous zamindar, who is responsible and mature, to a violent, cruel person, was done in silence. There was no dialogue. One had to bridge that transformation in less than two minutes. Mahendra is a 10-year-old chap in a 40-year-old's body, who is spoilt and whimsical. He becomes a violent, greedy, sexually depraved human being in 20-30 seconds, again in silence. The challenge for both characters was to bridge the arc between what you thought they were and what they become. Those moments cannot be scripted. They depend on the actor's performance. To fully imbibe the character and the circumstances, and make it believable that Indranil could become this desperately cruel person who is so violent to his wife or that Mahendra could become this animalistic rapist and murderer — although how much you can blame him and how much you cannot is a different question — the point is it should not strike the audience as incredible. Also in playing a 10-year-old in a 40-year-old's body, one had to guard against a hamming, over-the-top performance. I could not have done it without Anvita Dutt's direction. I am indebted to her for her astute judgment in making me hit the right notes at the right time.

Film-making is teamwork. How do you think it will be affected by fear of Covid-19 infection?
Till such time there is a vaccine, there will be many kinds of risks. There will be a financial risk for the producer who starts a project. What if the lead actress gets Covid? The project has to stop. Can you be insured? A standing set costs Rs 15 lakh a day in Bombay. If you stop for 10 days, it's Rs 1.5crore! How do you minimise the risk of someone falling ill? Even if the protocol is in place, everyone goes home at the end of the day. You don't have control over that. Nobody lives secure in a bio bubble like the England cricketers do. The actors and technicians are risking their health to be on the sets. Each person has an individual threshold of safety. They need to feel safe to do their jobs well. Finally, there is the professional risk that actors will face. When you take off your mask and so do the other actors, it becomes an open environment. When I do the film in September, I am going to take a Covid test every six days, like the cricketers.

Is that part of the safety protocol for the film?
It is a self-imposed protocol of mine. The OTT channel's protocol has not come yet. But I have decided on it. If I get Covid, it will show up in four to five days. So on Day 6, I will have another test. There will be masks, soaps and sanitisers. But when I take the mask off and get into the scene, I will forget all about Covid. There is no question of it entering my mind when I am in character. So there will be a risk to do the work I love. There will be many actors who will refuse to work with this risk. That is an individual decision.

Do you foresee Discovery producing a show on life under lockdown globally?
I foresee not one but many shows — the medical story, how the pandemic affects cultures, nations, human behaviour. It has impacted every single walk of life — cinema, sport, politics. This is perfect Discovery terrain — especially the science of it, the technology of it, the cultures across the world. I am looking forward to some sensational programming, once people can go out and shoot (laughs). There will be lots and lots to watch. When the vaccine comes out, it will be the greatest story of the century. I do not know if I will be around when Discovery turns 50, but in the years leading up to that, there will be lots to look out for.

Any projects you are in talks with in Bengal or with colleagues from Bengal?
Nothing is definite yet but Tony (Aniruddha Roy Chowdhury) and I have been talking quite regularly during the pandemic. He is writing something — of course, he is always writing five different things — though he hasn't come back to me with anything certain. But we would like to work together again (after Antaheen and Anuranan). Param (Parambrata Chattopadhyay) and I have promised that Bulbbul will not be the first and last time we worked together.