Mithila on her shooting experience
'The first day on the shoot was super scary for me! I was totally on panic mode. the next day I took it a little easier'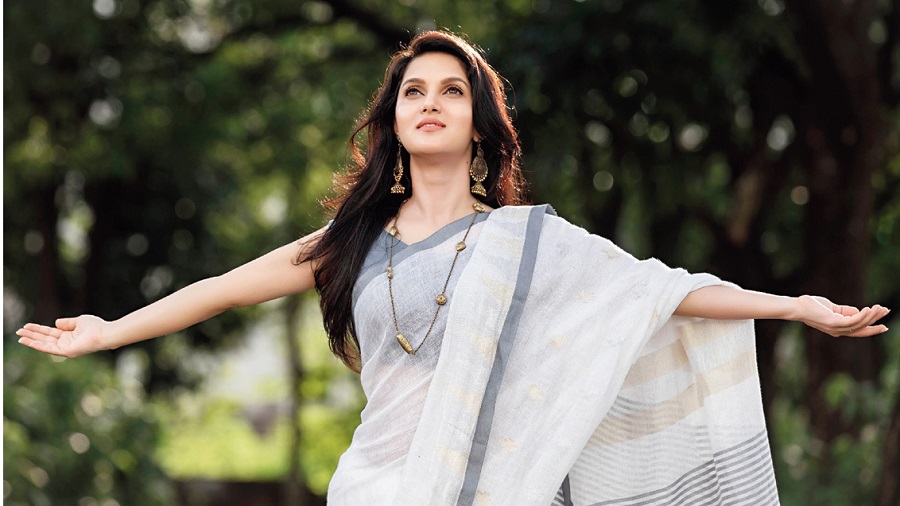 ---
Published 16.08.20, 06:00 PM
|
---
The shooting of telefilms and short films have resumed in Dhaka, and Bangladeshi actress Rafiath Rashid Mithila recently shot for two projects. She tells The Telegraph about her experience of shooting in the new normal...
 
What is the current situation in Dhaka regarding the shoot of serials, telefilms and films? Do you see a lot of shoots happening?
Although shooting has resumed in Dhaka at a small scale, projects which would require long schedules for shoots, like that of films and serials, have not started yet. The telefilms and short films have started because they don't require long shoots; shooting for these can be completed between two to five days and they also don't require many artistes mostly.

When and why did you agree to start shooting during a pandemic? What prompted the move?
To be honest, I was very nervous when I agreed to the first one as I had to step out after four-and-a-half months of being completely at home. Actually the two Ids are the time when most of the good projects are made and people eagerly wait for new telefilms, shows on TV. As I am mostly busy with my job, I always try to make some time before Id for shooting some new projects. During this pandemic when it was a complete lockdown during last Id, I worked on a couple of short films which were shot completely at home. But as life has resumed to some extent and shooting has also started for this Id, I started getting offers for Id projects. But the main thing I was concerned about were the safety precautions on set. I have talked to some of my colleagues about it who already started working before me, I have also talked to my director and made sure that proper hygiene is maintained on the set. They all assured me that they are taking all kinds of safety precautions and only after that I agreed. If you ask me what prompted the move, I would say that the passion for acting and the urge for going back to the shooting floor. However, safety was the first thing we considered this time.

What were the reactions of your family members once they got to know that you'll be stepping out to shoot?
Obviously they were very concerned. I have discussed with them about how I am going to maintain distance and hygiene during the shoot and what measures we will take at home when I'll be back from the shoot. They understood and supported me. I used to take my lunch, water, plate/glass... everything from home.

Initially, how safe were you feeling?
The first day on the shoot was super scary for me! I was literally avoiding people, kept my mask on all the time, maintaining distance, sanitising/washing hands frequently, avoiding eating/drinking anything from the production... I was totally on panic mode and acting like a person with super OCD! Haha!
But the next day I took it a little easier as I have seen that everybody on the set was maintaining hygiene and distance, and was wearing mask. They kept sufficient amount of masks, sanitiser, liquid soap on the set. They were also making sure that the toilets and make-up room were clean and sanitised. After completing the first project, I took a week's break and started the second telefilm. It was during the second project that I started feeling a little normal. However, I have kept distance from everybody at home. But thankfully nothing bad has happened and I am safe and healthy so far.

How confident were you about the safety measures?
I was confident of the safety measures which have been taken on the set because we all are aware of what precautions we should take and how we can keep ourselves safe. We all tried our best to maintain safety. Removing the mask for a shot was a little scary to be honest. Initially I was hesitant. But after shooting a couple scenes, I became comfortable.

What is your message to all those who start shoot soon?
I would just say that take safety precautions and after the shoot try to keep yourself isolated as much as you can, stay away from elderly people and children. A lot of responsibilities lie on the production team to keep the set clean and hygienic including the toilets. It's not an easy job to keep yourself safe from a virus. We all have to try as a team as much as we can. Also the shooting team has to be smaller than usual. We should adapt to working with smaller teams as well to avoid large gathering on the set.

Tell us about your characters in these two telefilms?
In the telefilm Crystal er Rajhnaash, I played the role of young, widowed girl whose husband died in an accident. Her in-laws did not let her move out because she was carrying the child of their son. It was a drama based on a complex relationship between the girl and her mother-in-law.
The other film named Tonatuni Raag Korona was about a couple whose relationship becomes complicated during the lockdown. I played the role of the wife who was a young, eccentric girl belonging to a rich family while her husband was a young, struggling actor from a humble background. Although they were madly in love with each other, but life started becoming complicated during the lockdown when both of them were stuck at home and the guy could not find any work because of the pandemic.

Forthcoming projects?
There are a few projects lined up, not only for acting, but also for singing and writing. A short web series, another telefilm... all of these are in the pipeline. I write children's  stories sometimes and I am currently working on a couple of children's stories which I had written and the illustration is being done now. I am also planning to collaborate with a musician in Dhaka for a song. Last but not the least, I am working on my PhD project as well.