Radhe: An assault on the brain
Warning: Two hours of the film is guaranteed to bring on heartburn for a lifetime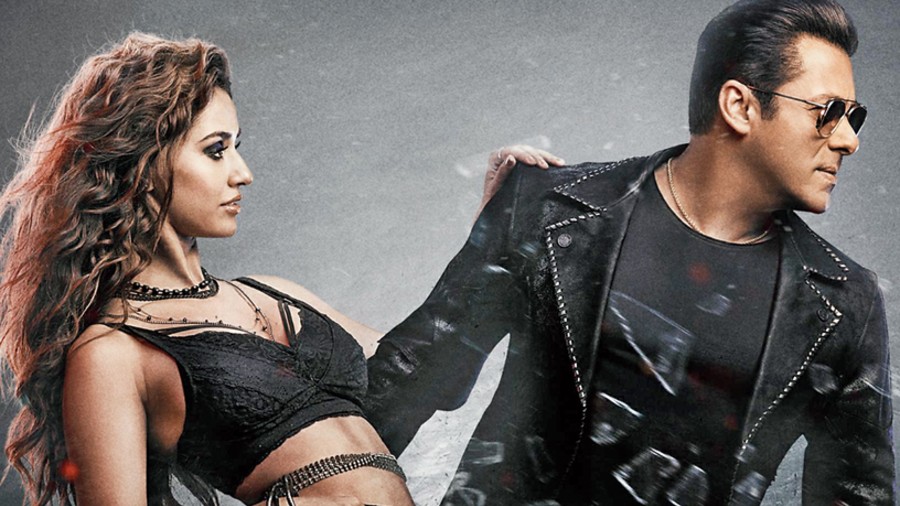 ---
Published 14.05.21, 04:11 AM
|
---
As I sat down to write this review, the loudspeakers in my para, ushering in Id festivities, blared Jaanam samjha karo, from Salman Khan's eponymously titled '90s film. Pretty portentous, considering I had barely made out unscathed (just about) of a viewing of Radhe, and also because Salman — in what is a common rider for all his films — has been making a standard 'commitment' to us for years, "Main dil mein aata hoon, samajh mein nahin". Well, one doesn't get into Radhe expecting it to be The Godfather. But the assault on the brain aside, two hours of Salman's latest film is guaranteed to bring on heartburn for a lifetime.
First, let's get the threadbare 'plot' out of the way. Radhe is supposedly based on the South Korean hit The Outlaws. Salman is Radhe, an encounter specialist, who is brought back from suspension to clean up the city. "Swachh Bharat", he screams (we kid you not) and sets out to hunt down Randeep Hooda's Rana, the most personality-less villain you would have seen in a long time. Rana saunters about in Mumbai's heat and humidity dressed in black from top to toe and always has an axe handy to butcher people at will. Rana also deals in drugs, which is director Prabhu Deva's way of adding layers to the narrative. The rest of it is the same ol', the same stale.
Our encounter specialist, however, doesn't come face-to-face with his nemesis as much as he 'bumps' into Diya (Disha Patani), the most dimwitted woman you would have seen on this side of the Equator. When Diya first meets Radhe, he pretends to be blind and makes a crass joke about how, if he had a sister, he would have named her Nadiya (or 'na diya'). She meets him again, but doesn't bother to ask him how he stopped being blind in a day.
Logic is, of course, not one of Radhe's strong points, but neither is the way it presents its women. There are a few female characters scattered here and there, but their only function in the film is to get raped or molested. In the name of inclusivity and emancipation, there's a female cop, but one who's so scared after a cops-vs-criminals shootout that she needs a 'pep talk' from our hero Radhe to continue doing her job. In the final scene, she tries taking on the villain with a stick. And promptly needs to be rescued by the men.
In the run-up to Radhe's release, an article has researched and calculated the average age of Salman's heroines through the years. The magic number: 25.493 years. At 28, Disha is half of Salman's age (he'll turn 56 in December), and twice his height. Through the film, she refers to him as "cute boy" and "chocolate boy". Salman hasn't, of course, been a boy for many decades now.
But age is just a number in Radhe. Jackie Shroff plays Disha's brother in the film, and will possibly land up as her father-in-law in real life in a couple of years. To warn you, there is a scene in which Jackie dances with Salman in a maroon negligee. Jackie — despite the fact that there is a Johny Lever lookalike in the film — functions as Radhe's comic relief, and miserably fails. Did we mention a Johny Lever lookalike? There's also a Khal Drogo knock-off in the film.
When he isn't spouting lines about punching out people's kidneys and hearts ("Jail ke andar daloonga ya zameen ke andar" is his clarion call), Radhe pretends to be a struggling model to win over our bimbette heroine. One scene has him taking off his shirt (but of course!), while his left nipple throbs, with the same level of vulgarity as Varun Dhawan's did in Main Tera Hero. She asks him, "Woh kya hain?" "Heartbeat," he replies. "Chalo, isko bandh karte hain," she smiles and promptly starts feeling him up. Well...
Radhe, in fact, is pretty meta in a way. Diya drops Radhe in front of an apartment called Galaxy (for those not aware, Salman's home in Mumbai is called Galaxy). Participants from Bigg Boss, that Salman hosts, walk in and out of the film. At one point, one of them tells Radhe, "Bigg Boss mein kyun nahin chale jaate?" While Radhe is chasing a gangster on foot, a cycle materialises out of nowhere. Jacqueline Fernandez pops in for a forgettable item number. Singer Arjun Kanungo, said to be Salman's latest protege, makes his acting debut.
We think.
Radhe has reportedly crashed the Zee5 server, on which it released, on Thursday, with about a million people tuning in. All that is fine. I am just wondering what to do with my smashed-to-pulp brain. Any Aamir film coming up?