Queen & I
Ali Fazal makes a big leap to the west — as Abdul to Judi Dench's Victoria, between tea and scones!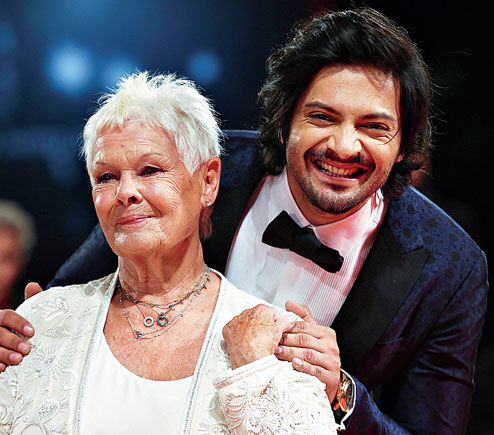 ---
Published 05.09.17, 12:00 AM
|
---
We first spotted him in a bit role that made a big impression — as Joy Lobo who strums and sings Give me some sunshine before giving up on life — in 3 Idiots. In eight years, Ali Fazal has tasted middling success in Bollywood (Fukrey to Happy Bhag Jayegi), but the bigger story has been his seamless transition to the West, first with a cameo in the blockbuster Furious 7 and now in a leading role in Victoria & Abdul — alongside Judi Dench, no less, in a Stephen Frears (The Queen, Dangerous Liaisons) directorial. Set to release on October 6, the film that premiered at the Venice Film festival on Sunday night, chronicles the oft-debated friendship between Queen Victoria (Dench) and her favourite aide and "closest confidant" Abdul Karim (Ali). A t2 chat with Ali.
Victoria & Abdul seems to be a sweet little story about friendship, despite the historical baggage attached to it. Is that what people are telling you too after watching the trailer?
I seldom say this about trailers I am in, but they've cut a good trailer (smiles). There were great reactions, not only from India but also all across. I think it's a good start. Let's hope the film is half as good as the trailer (smiles).
What worked for the trailer is the lightness of treatment and the crisp one-liners. But that's not the tone of the film, is it?
Yes, it's not… obviously, it's got history packed into it. That's also one of the main reasons why I didn't read the book (Shrabani Basu's Victoria & Abdul on which the film is based) while I was prepping. Lee Hall, the way he's written the script, is very fantastical. The script beautifully celebrates the love and the relationship between two very unlikely people, all in the middle of huge chaos and a problematic empire.
Stephen (Frears) has used humour, but we are being very true to the tone and the details of what really happened. I remember Judi saying that we all go through serious stuff and comic shit in all our lives and it's important to highlight both. That's what the film does.
Did you know of the story of Victoria and Abdul before you heard that a film like this was being made?
Honestly, I had heard about it… I knew something about an Indian who had landed up in the service of Queen Victoria and had had an interesting relationship with her. When I plunged into the film, I realised it was a relationship way more than what I had heard or read. For 15 years, this was a man who taught her Urdu, who rose up the ladder of the royal household, became one of the Queen's closest aides and was almost knighted! He became a political adviser to her, the commander of the royal forces…. But obviously his rise didn't fit well with the royal family and Abdul Karim has practically been wiped out from history.
You recorded an audition for Furious 7 on your iPhone and sent it in from the middle of nowhere and landed the role. Was bagging this film as dramatic as that?
(Laughs) I like the drama, I think! Well, for this film, too, it was interesting. I was sitting with a friend from the industry and she told me that casting was on for this film and I should check it out. I had nothing to lose, so I recorded two scenes and sent them in. I forgot about it and 25 days later, I got a call saying they loved it and they wanted to come down and meet. They were, of course, meeting other people… a lot of my colleagues from B-town were also on the radar for this role. It was a two-month ordeal... it was like a frigging video game level that I had to keep crossing! (Laughs) I even went to London to read the part without knowing whether I had landed the role. And when I was told I had got the role, there were just no rehearsals! We just went straight on set… the idea was to just trust each other and plunge right in…
Wasn't that scary, especially for a project as big as this?
It was, but by then, I was involved in the story… I had fully inhabited the character in that month-and-a-half, almost to the point of becoming delusional! (Laughs) Today, I think that if I hadn't landed the part eventually, how would I have reacted! The thought of it scares me. I am grateful it happened.
Since you didn't read the book, what did you base your understanding of Abdul on?
I ended up reading a lot … books on history, more to do with the time and the people in that era. A lot about the East India Company, the fact that Queen Victoria was the first to use the telephone… those things came to the fore through what I read. Abdul Karim has hardly been documented in history. There was one autobiography I read, that of the Queen's doctor. It had one chapter called 'The Munshi Mania' and that had a very interesting perspective on this relationship between Victoria and Abdul. But that was from the doctor's perspective… and not really a favourable one. What really helped me were two letters that more or less summed up the film for me. One was in impeccable Urdu, written by Queen Victoria, and the other in impeccable English, written by Abdul… which is kind of ironic. The letters taught me that this was a very spiritual relationship that was misinterpreted.
What was that first meeting with Judi Dench like and do you remember the day you faced the camera with her for the first time?
Day One was all about breaking the ice and I had my little fan moment there (smiles). We spoke, we had lunch and she just couldn't stop talking about India because she calls it her second home. And then came the day when we had to go on set and the first day was hilarious. Take One gets over and Judi looks at Stephen and asks, 'So how was that for you?' Stephen walks up, looks at Judi and says, 'Judi, just act better!' (Laughs out loud) Of course, it was a joke because they have known each other for donkey's years, but what do you tell Judi Dench, man?! She does a perfect take each time and there's so much to learn from her. Even though she's played Queen Victoria before (in the 1997 film Mrs Brown), she's constantly reinventing herself and that was my take-back from this entire experience… that you are alive till the time you reinvent.
You must have had a lot of interesting conversations with Judi Dench. Does anything she's said to you stay on?
Oh yeah! She said, 'Learn your lines and don't bump into furniture!' (Laughs) And it's so weird, and I'm not even making this up, this is the same thing that Naseeruddin Shah told me before I went in to shoot the film. It's a famous quote by Spencer Tracy, but to have two of the greatest actors I admire say it within the space of a few days was surreal.
Judi and I had loads of conversations. We were also the most freaked-out people on set because we would rush to make the most of the little rehearsal time we had. Just to be able to read my lines with her was such an honour. We discussed Shakespeare, literature, her life, my life. We would have high tea and scones together… she really is as British as British can be…
Well, scones is as British as British can be!
(Laughs) Exactly! There was lots and lots of tea and scones involved. And I actually have a Polaroid picture of the two of us in this beautiful Isle of Wight garden, having tea and scones. I remember I was on a diet, but she made sure I ate those scones! (Laughs) Maybe I will share that picture some day.
What was it like on set — was there an atmosphere that encouraged improvisation and inputs from actors?
Well, yes and no. Because the writing and the structure was very specific, we had to work within that. Stephen is also a very smart director… he manipulates you beautifully. He makes you think you are making the choice, but you are actually doing what he's nudged you into. That was something unique for me — in all my films before this, I have either been told or done my own thing. There were improvisations sometimes and sometimes you had to stick to what was on paper, but the character was my own… there is a lot of thinking you are doing on your feet because there's Judi Dench, Michael Gambon and Eddie Izzard on the other side. But they make you look good, so I guess my job becomes easy.
Is international cinema becoming more accepting of and less stereotypical for actors of colour?
It's definitely changing big time and the West is using actors of colour very judiciously. You won't any longer have a blonde play a Chinese woman. You call it 'blind casting' now and it's a great step forward. And actors like us have a bigger chance to be on the world stage, with avenues like Netflix and Amazon.
You have Fukrey Returns in Bollywood next. Is there a blueprint that you have in mind for your career here and there?
No blueprint, but I do have an idea in my mind… one end of which is like a waterfall, I don't know where it falls but it's going somewhere (smiles). I have the next eight-10 months in my head and I am excited about that. I'm definitely going to be juggling a lot of India and the West.
How does the industry here view your foray into the West? Are they offering you better roles given you are doing such varied work across industries or are they wary about approaching you?
I really don't know… I still haven't been able to gauge that. I don't want to seem like a traitor, you know (laughs), because the films here have given me my identity and the platform to spread my wings. Of course, I am excited about Hollywood like everyone else, but I have one foot planted firmly in India. It will be stupid of me to give up all that I have done here just because I am getting some good offers from the West (smiles).
Priyanka Roy