Quartet take audience by comedy storm at Club Boudair
Pilot tales to apple pie crumble: Aussie humour in full flow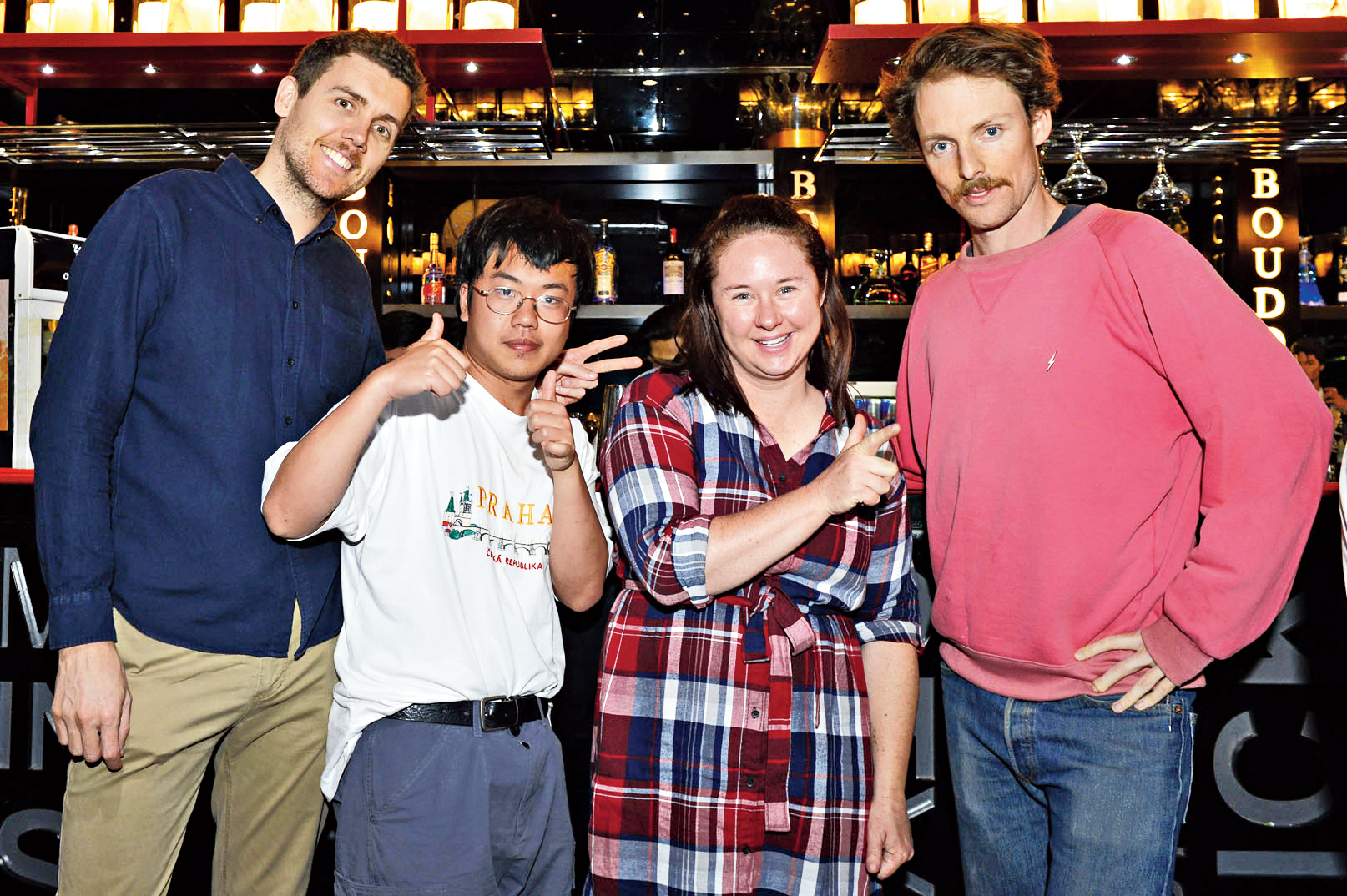 ---
Calcutta
|
Published 14.11.18, 07:45 AM
|
---
A comedy show in Boudair, with plush couches and mirrors all around. If that wasn't kinky enough, comedians from down under sure made up for it.
Handjobs, potty jokes, face twitch, spit take... they dug out every weird humour to get the nightclub-discotheque audience going at Club Boudair on Sunday night. And in case they didn't get the Aussie humour right at the Melbourne International Comedy Festival Roadshow Calcutta 2018, there was an Anirban Dasgupta doing the Cal act on mosquitoes, inheritance and Modi politics.
Arriving in the early hours on a flight from Pune, Guy Montgomery wasn't really in his best spirits. "Flight captains get back their confidence once the plane lands. They are heard once before the flight takes off and another time when the plane lands. In between, they probably freak out in the cockpit," quipped Montgomery, a lanky fellow who shifted out of New Zealand to be a stand-up comedian in New York.
That's really cool. But he lost his cool in air travel across India and took a dig at fellow travellers who fish out their phones just as soon as the plane tyres touch the ground, grab their luggage and stand at "90 degree angles waiting to get out".
And while in the city, Guy ticked off the items on his bucket list for Calcutta, touching base at Victoria Memorial, Indian Museum and the Eden Gardens, and "drinking water from the Hooghly". That last bit led to "my last shit look like my first dal". Uggh!
The stocky Mel Buttle had her potty moment with a spicy butter chicken biryani, she said. Was there even a butter chicken biryani? The redoubtable dog lover has a pathogenic hatred for cats and their owners as she mimics her former colleague's monologue on her cat antics.
"'My cat is so naughty, she comes to my room at 5am and wakes me up,"' intoned Mel with a nasal twang. "She probably does that so she can suffocate you in your sleep," she gnashes.
Aaron Chen did a spit take with a bald guy around him. He saw his spittle land on the red skin of the guy and waited for the curse coming his way. "But he didn't turn his head. So my friend asked 'how do you know your spittle landed on him?' I said I knew because I felt him wince."
Aaron had his "white people food" at pre-school where he had apple pie crumble for dessert. He came back home and told his dad about it. His dad didn't know what an apple pie crumble was and Aaron with his four-year culinary expertise described him what it was. His dad cut a green apple, put a piece of toast and cheese on it (for the crumble effect) and baked it in the oven. So, there he was having a green apple toastie pretending that it was apple pie crumble.
The final act of the evening was delivered by Daniel Connelly with a full mirror behind his back. Squinting at the spotlight, Daniel said: "Good thing about the mirror, you can check out how my butt is doing."
He got into trouble at the Melbourne airport with a fake gun. As he declared to security, the burly guy pinned him to the wall and asked: "What other things do you have in your baggage that could be dangerous?"
Daniel deadpanned: "A few killer jokes in my notepad."