'Purana Mandir': The dark side
A box-office biggie in the horror genre, the film is chilling and cheap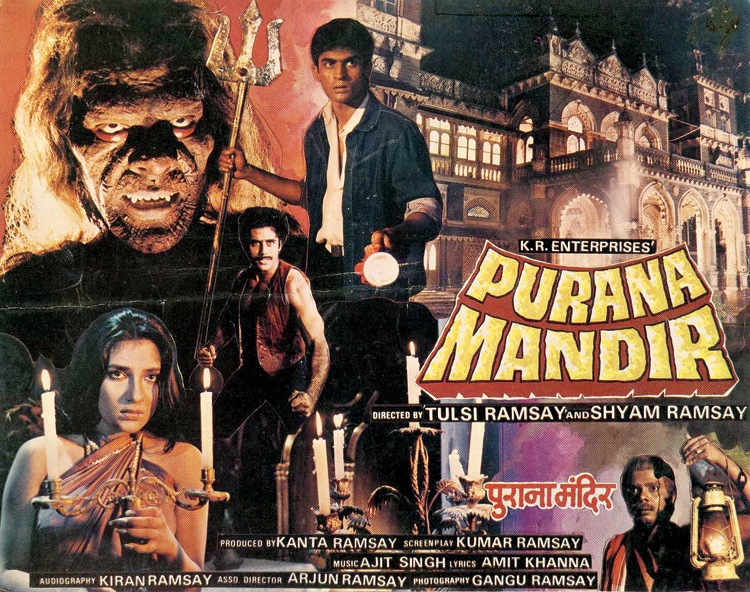 ---
---
Woh beete din yaad hai…
It's a strange song for a movie about a monster who rapes brides and chomps on children and corpses, but the Ramsay Brothers' runaway hit Purana Mandir, which released in October 1984, is no ordinary film. Directed by Tulsi and Shyam Ramsay, its creepy, macabre kitsch has attained cult status.
A box-office biggie in the horror genre, the film is chilling and cheap, doing away with the genteel, clad-in-white lady ghosts. Monster Samri (the six-and-a-half-foot-tall Aniruddh "Ajay" Agarwal), who should have been burnt when captured 200 years ago, was decapitated instead, leaving plenty of room for mischief.
Cut to the present. You have a rich-girl, poor boy love story between Suman and Sanjay (Arti Gupta shows plenty of leg and more, Mohnish Behl proves a Ramsay boy can grow up to be a Rajshri big brother). But there's a catch, Suman is cursed, Samri will get her. So Suman, Sanjay and their friends Anand (Puneet Issar is more watchable and funnier than Behl) and Sapna (Priti Sapru plays Anand's wife) decide to get to the root of the ancient curse. The powers of Samri are unleashed once more.
Plenty of horrors later, it seems the indestructible Samri has met his match in Romcom & Team.
A spooky signature tune, demoniac laughter, sinister characters in ugly wigs and make-up (try and recognise Satish Shah), creaking doors, showers of blood, horrifying deaths, portraits that move, a cat who deadpans and a snake who, well, is scary, doors and gates that creak, normal eyeballs that turn into boiled eggs, Purana Mandir has delicious dollops of dread. It also has too many sex-starved predators, from monsters to bathing girls to skimpily dressed gypsies to, well, the relentlessly voyeuristic camera.
There's a sleazy sub-plot involving senior citizens, including an armless old man (àla Sholay's Thakur), which is highly avoidable. There are cameos from a bunch of well-known actors, Pradeep Kumar, Sadashiv Amrapurkar, Jagdeep, Lalita Pawar, Rajendra Nath…And yes, there are songs, including Woh beete din… a rip-off of Ted Mulry's Memories.
But Purana Mandir shines when Samri is around. Agarwal, a civil engineer from Roorkee in real life, really owned the part of a low-brow monster in a low-budget film without looking silly. To the credit of the makers and the actor, Samri spelt terror. When he is destroyed, there's relief all around, the lovebirds are happy, but the world is a more vapid place.