Priyanka Chopra apologises for agreeing to host panned TV show
The Activist, which faced a firestorm of criticism for trying to cash in on philanthropy and 'causes', will now be re-shot into a documentary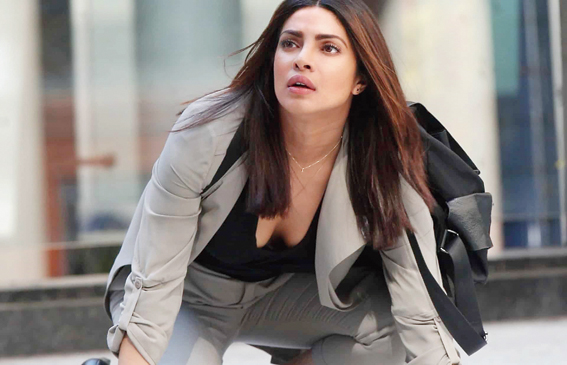 ---
New Delhi
|
Published 16.09.21, 08:30 PM
|
---
Priyanka Chopra who has built successful careers in India and the US has issued a lengthy and unqualified apology for accepting a role in a TV reality show, The Activist, which has been savaged for its tone-deaf format and which is now being turned into a documentary.
"I have been moved by the power of your voices over the past week," the actress said in her statement, adding: "The show got it wrong, and I'm sorry that my participation in it disappointed many of you."
The Activist, which was billed as a reality competition show and pitted six social activists against each other was slammed for trivialising activism. Chopra was one of three mega-star hosts. The show will now be reworked as a single-show documentary on activists and will highlight the work they do.
"I'm happy to know that in this new format, their stories will be the highlight, and I'm proud to collaborate with partners who have their ears to the ground and know when it's time to hit pause and re-evaluate," said Chopra who was the lead star in Quantico, a thriller series that ran for three seasons. She added: "At its core, Activism is fuelled by cause and effect, and when people come together to raise their voice about something, there is always an effect. You were heard."
Chopra was one of three hosts of The Activist, along with Usher and Julianne Hough. American musician Usher is a mega-celebrity who has made multiple careers as a singer, songwriter, producer and actor. He is reputed to be worth $180 million.
Hough,33, who is also a superstar singer and songwriter, actor and dancer, has quickly issued a long statement regretting her decision to take part in the show, saying: "The past few days have been a powerful demonstration of real-time activism. Thank you for using your voices, calling me in, your accountability, and your candour. I am deeply listening with an open heart and mind." She was criticised for using blackface in 2013 and apologised for that too this month, saying it was a "poor choice based on my own white privilege." 
Chopra, who features in  the upcoming Matrix sequel, The Matrix Resurrections, has always had a fine eye for career moves, She was in the Baywatch movie and also acted and produced The White Tiger. She is also scheduled to host an Amazon Prime show, Sangeet Project, alongside her husband Nick Jonas.
Global Citizen, which put together The Activist, has also issued an abject apology to the public, the activist community, and also to the three hosts, saying: "It has become apparent that the format of the show as announced, distracts from the vital work these incredible activists do in their communities every day."
"We apologise to the activists, hosts, and the larger activist community — we got it wrong," the philanthropic organisation said. "The Activist is now being configured after the firestorm of criticism and will now become a one-time documentary special instead of a five-episode competition series.
Although footage for the original incarnation of the series had already been shot, this version of "The Activist" will be entirely new, with filming expected to begin from scratch.
"We are changing the format to remove the competitive element and reimagining the concept into a primetime documentary special (air date to be announced)," the CBS/Global Citizen/Live Nation said in a joint statement. "It will showcase the tireless work of six activists and the impact they have advocating for causes they deeply believe in. Each activist will be awarded a cash grant for the organisation of their choice, as was planned for the original show."
The international education and advocacy organisation says it is working to catalyse the movement to end extreme poverty.
CBS had described the show as "ground-breaking series" combining philanthropy and entertainment and was "poised to inspire viewers."  
Under its original competitive reality format, the six activists were to be joined by Chopra, Usher and Hough, to make significant changes to environmental issues, healthcare and education. But rather than measuring what constituted meaningful change, the winner of the competition would be determined based on "online engagement, social metrics and input from the hosts.
Critics had lambasted the concept as "click-tivism."
The prize of The Activist originally had been to attend the G20 Summit in Rome, Italy. There, winners were scheduled to meet world leaders in the hope of securing funding and awareness for their causes. 
The team that received the largest commitment would have been feted as the overall winner at the finale, which will also feature musical performances by some of the world's "most passionate artists."
Live Nation Entertainment had called The Activist an attempt to spread awareness about society's most urgent issues while also giving viewer "the opportunity to be part of the solution – an unprecedented example of how entertainment can change the world."
Critics had responded by calling the show a promotion of "pseudo-activism" over "real activism."
(This report has been updated to include Priyanka Chopra's statement)