Pratik Gandhi is in the big league after the phenom called Scam 1992
'Shabana Azmi told me that she hasn't seen a performance like this in the last 30 years'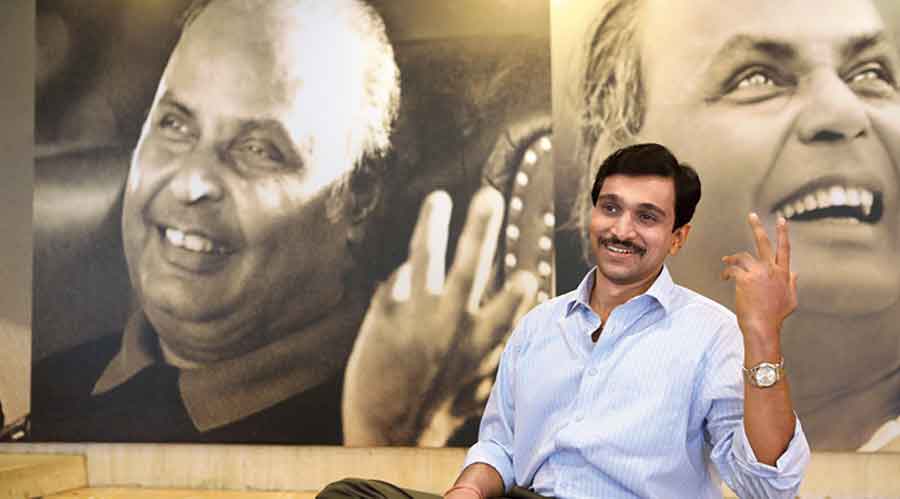 ---
Published 10.11.20, 12:12 AM
|
---
The calls just don't stop and I get more than 200 texts a day!" That's Pratik Gandhi telling us about his life less than a month after Scam 1992 dropped, and became the biggest desi web sensation in recent times. The 40-year-old Gujarati theatre and film actor brings alive Harshad Mehta — the tainted real-life scamster who scaled dizzying heights and then experienced a catastrophic downfall in Hansal Mehta's almost-epic 10-part web series — and humanises him in many ways. It's a performance that's unanimously won Pratik praise and catapulted him into the big league.
Less than four weeks after dropping on Sony LIV, Scam 1992 has an IMDb rating of 9.6/10, higher than that of iconic TV shows like Breaking Bad and Chernobyl and riding on its success, Sony LIV has seen its subscriber base shoot up by a whopping 143 per cent. Today, Pratik — who once danced at children's birthday parties to earn a quick buck — is being approached by the biggest film-makers in the business. We chatted with the man of the moment on his 'overnight success'.
It's been a phenomenal few weeks for you. What's been the most special thing you've been told about your performance in Scam 1992?
Shabanaji (Azmi) told me that she hasn't seen a performance like this in the last 30 years. That was a big, big compliment coming from a stalwart like her.
I was talking to someone the other day who said that the character has been humanised to the extent where one doesn't know whether to like him or hate him (laughs). That's the moral dilemma we all face in life regularly. Right and wrong are both very subjective, it's all grey.
Is the flood of feedback still overwhelming or have you now got used to it?
It is still very overwhelming. I am still trying to digest the fact that this has happened, that I am a part of a show that's become so huge.... The first few days and weeks were crazy but I am now learning to slowly enjoy it.
When you were making Scam 1992 or even promoting it, did you think it would become the phenomenon that it has?
I knew that it would turn out to be a very good show and while making it, Hansal sir (Mehta) had told me that it's going to change the lives of a lot of people. I always knew that this would be a show that I would be proud to be a part of, and even Sameer bhai (Sameer Nair of Applause Entertainment, the show's creators) had told me, 'We are sitting on a time bomb. Just wait and see'. They were very confident about it, but not even in my wildest dreams did I think that this will break all records.
Your portrayal of Harshad Mehta didn't have a single false note. What went into embracing a character like that?
It was tough to not be judgmental of a person like Harshad Mehta, but that's where the training of an actor comes into play. My job is to create that character and present him to the audience. If even one per cent of judgment creeps in, then the whole performance will be affected.
Emotionally, a lot of things were given to me on a plate... I just did what was written in the script and layered it with emotions. The body transformation was, of course, tough. I gained around 18kg for this part. The moment I gained that weight, my breathing pattern changed and that resulted in changing the way I cough, snort, walk... I got a double chin. That made it easier for me to get into the skin of this man, because quite literally, it was a different skin! (Laughs).
Unlike cinema that relies on box-office numbers, one can't gauge the absolute popularity and success of a web show. Scam 1992 has actually changed that, whether it's IMDb rating, the fact that it's upped Sony Liv's subscriber base by a huge margin and even Hansal Mehta has called it the 'biggest blockbuster' of his career. What does that mean for the artiste in you who has now tasted success after such a long journey?
It simply helps me in strengthening my faith in my craft. It tells me that the way I have been practising and performing all these years and translating the characters like they were written on paper into flesh-and-blood people that the audience is able to react and respond to, has been correct. That's immensely satisfying to me as an actor.
As actors, we constantly question ourselves, we are almost always in the question mark zone. With any character, there are a couple of handovers. The writer has something in his mind and he puts that on paper... that gets transmitted into the director and translated into something. Then it travels from the director to the actors. In every phase, there is a certain amount of transition loss, which is inevitable. My intention as an actor is to minimise that transition loss, and also turn out a performance that's true to the innermost feelings of the writer and director. In the case of Scam, when you see so much love and appreciation and see people connecting to your character, then it inspires that confidence in you as an artiste that kuch toh achha kiya hain maine.
Will the success of this show lessen the moments of self-doubt or is that part and parcel of being an actor?
It's part and parcel of an actor's life. Even when I look at Scam now, I think, 'Ismein aur kuch karna chahiye tha' (laughs). Whenever I see any of my work, I constantly feel that there is scope for improvement.
I was speaking to an actor a few weeks ago who said that success doesn't really happen overnight, it's the culmination of years of hard work. That holds true for you, doesn't it?
It's true that this show has made a lot of people notice me on a national level as an actor, though I have been around for the last 16 years. It's made many people in the business realise that this guy can pull off the part of the central protagonist over 10 long episodes.
Since the success of Scam, I have been tagged as an 'overnight success'. My answer is that it may seem overnight, but that night was 16 years long! I kept preparing and waiting for this for years. So, it's not overnight for me per se, but it definitely is for the people who have discovered me. No complaints about it really, because unless you watch someone, how will you know who he is and what he's capable of?
In those 16 years, you had a day job as an engineer. Did you ever come to the point where you wanted to give up acting?
No. In fact, I am a very, very optimistic guy. When things don't work out, it actually excites me even more. I always believe that something better will happen and that's why things are not working out right now. That's been my attitude towards everything that I do.
How will you leverage this success?
I am getting a lot of offers. I want to do some interesting work. There are a lot of people who have seen me for the first time in Scam... now it's up to me to prove myself in the next few projects. I am looking at consistency in my choices now and creating repeat value as far as my work is concerned. There is the excitement to explore more. I can't come across a fluke! (Laughs)
Scam 1992 is one of the best web shows of the year because... Tell t2@abp.in