Pranutan Bahl on selling condoms in 'Helmet'
Granddaughter of Nutan tells us about her second film and her family legacy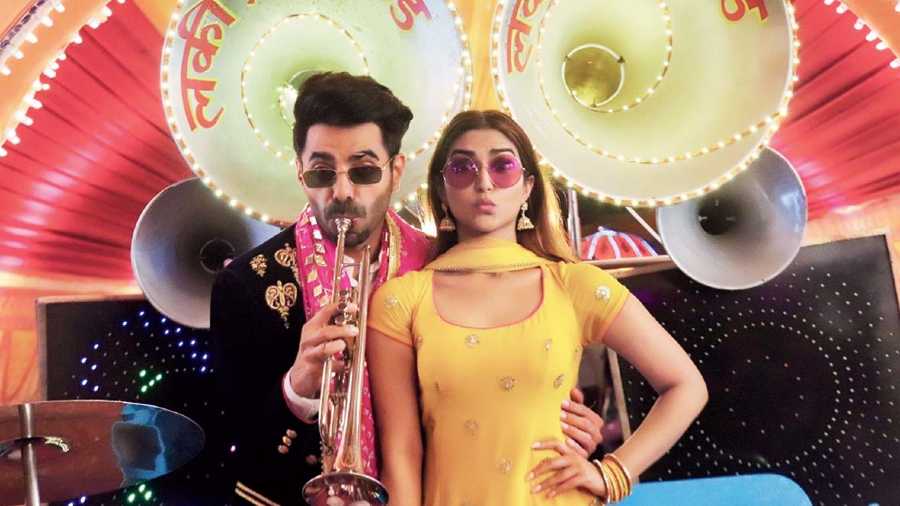 Pranutan Bahl with Aparshakti Khurana in Helmet
Sourced by the correspondent
---
Published 03.09.21, 12:10 AM
|
---
The evergreen Nutan's granddaughter Pranutan Bahl, in her second film Helmet, is essaying a character totally different from her debut role in Notebook. The comedy drops on Zee5 today.
Tell us about your film Helmet.
Helmet has a beautiful social message. The screenplay is very gripping. It's a one-hour-50 minute film. My character Rupali is fun. She is a desi pataka, a dominating girlfriend, madly in love but very straightforward. I love it that Rupali sells condoms at the end. Hope it breaks social taboos of the boy being the one to deal with condoms.
This was the first time you worked with Aparshakti Khurana.
Apar is a wonderful co-actor. We really bonded on Punjabi food and music.
When did you decide to take the plunge in films?
I always wanted to be in films but my parents and I never wanted to compromise on my education. So I got admission in law college, did my internships. I was not that much of a good student in school but in college I did well.
Your debut film Notebook was not the typical launch vehicle.
I wanted to work in films, and it did not matter which. I was lucky to have worked with a National Award-winning director (Nitin Kakkar). I passed three auditions to get the role. There were a lot of nuances in the character. I was lucky to have got such a script for my debut. Of course, it is an unconventional romance as the boy and girl never meet. But it was a beautiful role in a mature love story. I got good feedback for my role. Yes, I would have loved if the film were a box-office success. But being from a film family, I know the box office is not in your hands.
Helmet's Rupali is so different from Firdaus in Notebook. I am delighted about the contrast.
The film was made for the theatres, right?
We shot it in December 2019. It was meant to release in mid-2020. But under the circumstances, it is safer to release it on OTT. It would have been a big risk to release the film in halls when theatres in so many sectors are shut.
With your father (Mohnish Bahl) being a veteran in the industry, you must have experienced shooting early in life?
Oh yes. I was fascinated with the process. I grew up on the sets, always jumping up and down on trolleys. I have vivid memories of the shooting of Hum Saath-Saath Hai. I watched Maine Pyar Kiya when I was five or six. My father wasn't married yet when that was shot. I used to cry when my dad got beaten up. It did not matter whether he was playing a villain or not. For me, my dad was always the good guy.
Salman Khan (the hero of MPK and HSSH) went on to produce your debut film.
Yes. When someone is launching you, you have that faith in him. I know he is there to listen to me if I ever want to discuss something.
How close are you to Kajol?
She is my bua. We always talk when we meet at family gatherings. I have immense respect for the work she has done.
Is your sister Krishaa inclined towards films as well?
She is only 12. She dances very well and plays the guitar and the keyboard. It is too early to say whether she will join films.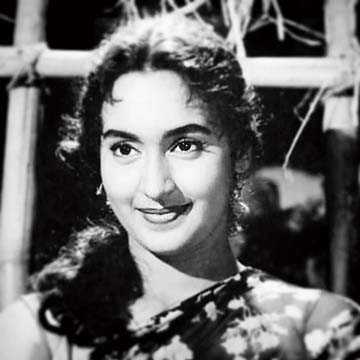 What does Pranutan mean?
It means new life, pran and nutan. It's a unique name, inspired by my grandmother's (Nutan). My grandfather had named me. I always get asked about my name, wherever I go.
Finally, Aparshakti has not heeded the message of Helmet, it seems.
Well, as far as I know, (wife) Aakriti wasn't pregnant yet when we were shooting (she gave birth to a girl last Friday). But you'll have to ask Apar for a definite answer (laughs).
More about Pranutan
Your favourite film starring your grandmother Nutan.
Bandini (with Ashok Kumar and Dharmendra). Sadly, she passed away before I was born, so I have no memories of her