Powered by Kangana, Panga is a deeply affecting, feel-good tribute to mothers
Panga is a deeply affecting tribute to the mother... yours, mine and everyone's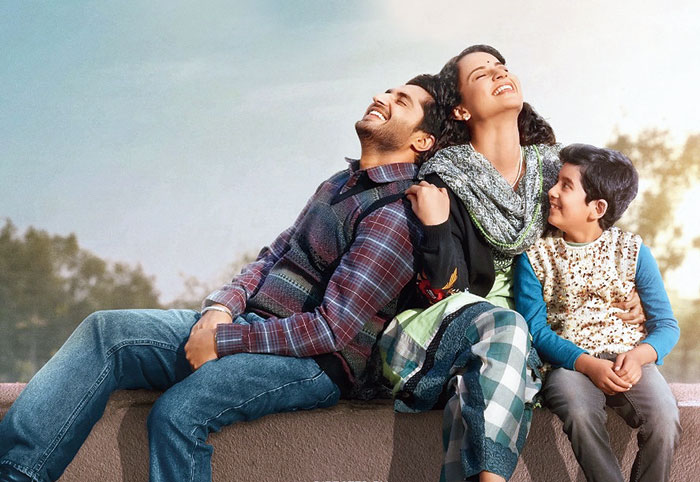 Panga, expectedly, belongs to Kangana and she pulls off her part with a potent mix of the emotionality of a mother and the steely resolve of a sportswoman
Movie poster
---
Published 24.01.20, 03:10 PM
|
---
Have you ever given a thought to the other roles your mother possibly had to give up so that she could play the part of your caregiver, the wiper of your tears, the punching bag for your angst and the cheerleader of your dreams? Did she turn her back on an important office meeting that could boost her career only so that she could be present in the front row of every school play and sports day? Did she lose sight of her own goals so that she could goad you towards yours? Did she smile through it all, never letting you be none the wiser, even as she quietly cried over every opportunity lost that could make her own life better?
A mother's job is a full-time job, always without a pay and most often without praise. It includes everything from packing that crisp paratha in your lunchbox to bandaging a scraped knee to lending you more than a shoulder to cry on, whether you are at age four or 40. But how many of us would opt to buy a T-shirt that says, "Life doesn't come with a manual, it comes with a mother" as opposed to one that says, "Bitch mode on" or "The future is female" or some such 'woke' stuff. Honestly, can a mother's contribution to a child's life even be summed up with a few words on a tee?
Panga is a deeply affecting, feel-good tribute to the mother... yours, mine and everyone's. Ashwiny Iyer Tiwari takes the thread of her debut film Nil Battey Sannata — a heartwarming tale of a mother who goes back to school simply so that she can help her daughter learn — and crafts a relatable tale of strength, will and fortitude. The story of a young woman who turns her back on her dreams willingly to prioritise home and hearth and then returns to pursue them braving all odds.
As evident in both Nil Battey Sannata and Bareilly Ki Barfi, Ashwiny excels in effectively portraying the small-town milieu. In Panga, she affords a lived-in look and feel to the unassuming Bhopal setting that sums up Jaya's (Kangana Ranaut) life. A former captain of the national women's kabaddi team, Jaya was the best raider in the game during her time, but marriage and motherhood quickly took over. When we meet her, Jaya hasn't played kabaddi in the last seven years and drudges through a railway ticket teller's job. But it's not family opposition or an insecure marriage that's made her desert her career. It's simply a choice Jaya has made, and even as she happily goes about her life with her immensely supportive husband Prashant (Jassie Gill) and son Adi (Yagya Bhasin), a regret of what could have been gnaws at Jaya's mind that even her bright smile can't camouflage. But she's aware that both her 'umar' and 'kamar' are not up for a return to kabaddi.
Till one day, when a minor altercation at home results in Adi pressurising his mom to go back to the game. Jaya initially goes through the beats of training for a comeback to please her son — as she has done for the last few years — but gradually gets back her drive and love for the game. The outcome is a film that tells us that it's never too late to go after what we want.
Panga's biggest #win lies in the fact that it's cleverly understated. There are no huge dramatic flourishes, with the film putting forth its point through its quiet moments. The first half sets up Jaya's world beautifully, with Ashwiny upping the ante in Half Two where Panga almost wholly metamorphoses into a sports drama, but doesn't let go of its emotional core. The Dangal-styled climax makes you root for the underdog, even as Jaya pulls off a 'Tiger Chan', a move she hilariously describes early on in the film as "the surrogate child of Tiger Shroff and Jackie Chan". Yes, go figure.
Operating from a script co-written with Nikhil Mehrotra and with the screenplay penned by her filmmaker husband Nitesh Tiwari, Ashwiny scores with the details, whether it's that delightful first scene of Jaya, not quite divorced from her kabaddi chops, landing a few kicks on her husband while sleeping or the camera lingering on the dollop of pickle long enough to almost make you smell its pungency.
Jay I. Patel crafts magic both in capturing the languid scenes of Jaya's early life and then her action-packed moves on the kabaddi mat, with editor Ballu Saluja's scissors keeping things crisp in a plot that (deliberately) lacks urgency.
Panga is summed up by two scenes, both involving a mother and child. One is Jaya tearing up on the phone as she thanks her mother for supporting her. The other is Jaya longingly staring at her premature son in his crib and promising him, tearfully, that she will always be his support. All mothers, across generations and in any circumstance, are essentially the same, and you will definitely find yourself tearing up during these moments.
Like Ashwiny's previous films, the heart of Panga is its strong ensemble. Jassie Gill is endearing as the Everyman, if slightly utopian, husband and Yagya Bhasin is a delight in a part that could have easily transgressed into annoying territory. Neena Gupta, as Jaya's mother, owns the few scenes she's in, while Richa Chadha plays out her off-screen badassery on screen, pulling off some winning lines.
Panga, expectedly, belongs to Kangana and she pulls off her part with a potent mix of the emotionality of a mother and the steely resolve of a sportswoman. It's a deeply felt act, with the actress getting deep into the skin of Jaya and becoming one with her.
Panga's only possible drawback could be that it lacks any real conflict and is relaxed to a fault. But in this age of aggression and apathy, did feel-good ever do anyone any harm?
I liked/ didn't like Panga because...Tell t2@abp.in