'Chup' might perhaps be R. Balki's most contentious subject till now
Powered by impactful performances, The film is ultimately an uneven film, but is definitely one that makes you think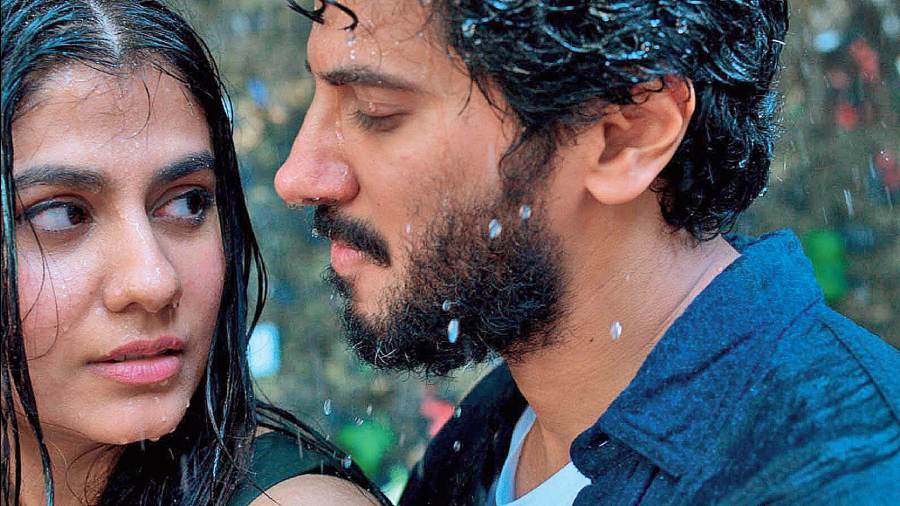 There is an uneasy, nervous energy about Chup that benefits its storytelling. The interval block is perhaps one of the best in recent times, with the writing painting the killer as more of an artist than a murderer. He is, after all, the self-appointed vigilante of quality cinema. That sets the stage for a delicious meta slasher, a genre so cheesy in itself that you organically have fun with it, but Chup is so melancholic that you are torn about how you want to feel
---
Published 24.09.22, 05:52 AM
|
---
One can accuse R. Balki of a bunch of things. Lack of ambition and novelty is not one of them. Right from his first film Cheeni Kum, the film-maker has always had the ability to think out of the box — sometimes even with the box nowhere in sight — coming up with concepts and ideas that are often not mainstream. Some have worked, some haven't... some have made us applaud, a few have invited consistent eyerolls. But Balki hasn't allowed that to deter him.
Chup, now playing in theatres, is perhaps his most contentious subject till now. Balki invokes his love for cinema, placing the legendary actor-director Guru Dutt at the front and centre of his film, which is part psycho-slasher thriller, part passionate romance, part police procedural, and which aims to be a critique, or at least a commentary, on how film critics — with their words ranging from harsh to honest — are harming cinema. Hence, the fate that Chup deems they meet? Gory deaths at the hands of a serial killer, with most of them being eviscerated in ways that often make it hard to keep your eyes on the screen.
By doing so, Balki completely ignores the impact of poor scripts, social media trolls, the so-called boycott brigade and paid publicity on the fate of a film. But even as it points a finger at critics, Chup is still not sure what it wants to say. A cameo by Balki favourite Amitabh Bachchan focuses on how "constructive criticism is essential for cinema to evolve". There is a moment which insinuates that criticism should be soft, at the cost of being honest. At another point, a critic is sent a bouquet of flowers by the killer for his "honesty". In the same breath, Chup talks about how critics decide the fate of a film, but emphasises on how what they say or write doesn't impact ticket sales. The film's viewpoint on this matter remains largely muddled and ambivalent.
Also contentious is the film's claim that poor reviews for Kaagaz Ke Phool, now considered a classic, impacted Guru Dutt's mental health to the point that he gave up on film direction and which ultimately pushed him to his untimely death. That claim is debatable, but one which Chup milks to its last drop to make its point.
The film works when it brings together the disparate threads of a serial killer on the loose and a sweet romance fledgling, with Chup functioning as a love letter to both Bombay and cinema. Rains have often been a symbol of the romance of Bombay, but here they also contribute to the film's bleak atmospherics.
With film critics being disposed off one by one, with the stars they use to rate films being tattooed mercilessly on their bodies, top cop Arvind Mathur (Sunny Deol) swings into action. At the same time, there is a romance blossoming between Nila, a young entertainment journalist played by Shreya Dhanwanthary, and a scruffy but attractive florist named Danny (Dulquer Salmaan). The two exchange smiles over bouquets of tulips, their easy chemistry giving Chup some of its best moments. But Danny is also someone who has Norman Bates-styled conversations with himself, a fact that Balki lets the audience in on the get-go, but which the other characters in the film are unaware of. Their romance builds as easily as the body count of critics, with the serial killer getting novel with every strike, using the words used by his victims in their reviews to plan his modus operandi for each killing.
There is an uneasy nervous energy about Chup that benefits its storytelling. The interval block is perhaps one of the best in recent times, with the writing — Balki teams up with Rishi Virmani and film critic Raja Sen — painting the killer as more of an artist than a murderer. He is, after all, the self-appointed vigilante of quality cinema. That sets the stage for a delicious meta slasher, a genre so cheesy in itself that you organically have fun with it, but Chup is so melancholic that you are torn about how you want to feel.
"Cinema is art, cinema is life," says Chup, a line that's paraphrased often throughout its 136-minute runtime. That is juxtaposed with dialogues — "Yahan Scorsese nahin Shetty chalta hain" — that seem straight out of a Madhur Bhandarkar film, which if left to that film-maker would have probably ended up in a film called 'Critics'.
And yet Chup's beauty arises out of the poetry it invokes when it uses Guru Dutt. Waqt ne kiya kya haseen sitam, the haunting number from Kaagaz Ke Phool, shows up at vantage points in Chup, the lines Tum rahein na tum, hum rahein na hum subtly but tellingly, mirroring the heart-wrenching degeneration of a promising mind. The click at the end of Jaane kya tu ne kahin is cleverly employed, while Sneha Khanwalkar's reworking of Yeh duniya agar mil bhi jaaye is impactful, both aurally and visually.
What gave me even bigger goosebumps was watching Chup in the same audience in Mumbai as Waheeda Rehman — the leading lady of both Pyaasa and Kaagaz Ke Phool, whose personal and professional equation with Guru Dutt is the stuff of Hindi film legend.
Balki's rather morbid ode to cinema is uneven, but almost always engaging. Nila's love for cinema sees her rent a home bordering a film studio so that she is always close to the magic of the movies. She's most excited when Danny gifts her a bouquet of 'kaagaz ke phool' that he's cut up himself. A sign in her living room screams 'Woody Allen is innocent', which may be a plea from Balki and his film to separate the art from the artist, but which I found extremely problematic and totally unnecessary. It's not the kind of lensing that one should ever be comfortable with.
Chup's politics may invite debate, but its performances are consistently praiseworthy. Sunny Deol pitches in with a remarkably restrained performance, even lending it some humour, with that famous Deol bellow only showing up once towards the end... to great effect. Nila is the idealistic pivot of the film and Shreya Dhanwanthary brings an easy vibe to the part, with the banter between Nila and her mother — played by a plucky Saranya Ponvannan, who will instantly remind you of Zohra Sehgal in Cheeni Kum — functioning as the film's beating heart.
Pooja Bhatt shows up late, her character never really fleshed out, but she does well with what she has at her disposal. But it is Dulquer Salmaan, cast against type and coming up trumps, who ultimately makes Chup what it is. Oscillating between awkward sociopath and incurable romantic, Dulquer turns in an act which could well be described as one of his best yet. It's a performance that's as unhinged as it is nuanced, a combination that's almost impossible to achieve. He aces it.
Chup has quite a bit going for it, including Vishal Sinha's extraordinary camerawork and Aman Pant's background score contributing immensely to its tone and texture. Chup is a vintage Balki film, one that may not appeal to you overall, but which always forces you to think.
In the end, the film remains unevenly balanced, with parts that could have been better fleshed out and others that are inexplicably overdone. Will these words, in true Chup serial killer-style, be used against me? Will the film extract its pound of flesh or microwave me to a crisp? Well, looking over my shoulder in 3...2...1... tick, tick, BOOM!
Chup (A)
Director: R. Balki
Cast: Sunny Deol, Dulquer Salmaan, Shreya Dhanwanthary, Pooja Bhatt, Saranya Ponvannan
Running time: 136 minutes