Pooja Batra on her upcoming thriller Squad
'There's a change in acting style, in scripts, the roles out there for women, in the mindsets of the audience'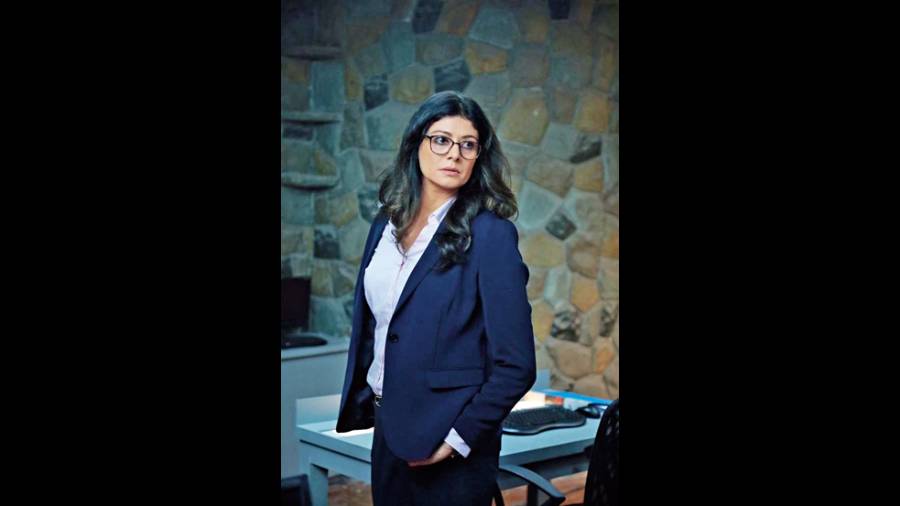 Pooja Batra in a scene from Squad, a Zee 5 film
Sourced by the correspondent
---
Published 11.11.21, 02:00 AM
|
---
Model and actress Pooja Batra is back in front of the camera on Indian soil after a break. While vacationing in Bulgaria, she speaks to t2 over a video call about her upcoming action thriller Squad, which will drop on Friday on Zee5.
Those growing up in the '90s would remember you as the Liril girl.
That was my first ad. I had just won Miss India and I got the offer. They liked my smile. One (ad) was (me having a bath) at a car wash and another at a water hydrant. (Those were the) best days of my life. You are young, you are famous, you are making money, the country loves you. Nothing more one can ask for!
Juhi Chawla shared a funny throwback picture recently that had you handing a mineral water bottle to a stunned and elated Farah Khan. What was the occasion?
We were in Bangalore for Miss World. Farah was choreographing it, Juhi and I were in it. Juhi was a former Miss India, so was I. I was doing a flamenco dance. In the picture, we were doing the crowning moment for fun.
Your film Draupadi released last year in the US.
It was the first independent film to release in the US during the pandemic last year. The movie is set in Balochistan before the (1935) earthquake happened in Quetta. I play a home-maker who is addicted to opium. Opium is a thing of daily consumption in those areas. My son, played by an Iranian actor, is not nice to the girl he marries. I am this ahead-of-time mother-in-law who helps the girl get away from the house. She provides her an escape route, telling her that "the car is outside, the driver is waiting, don't ever come back". From the trailer, Squad seems to be an out-and-out action film. Makers don't spend so much on action in an OTT film!
It was not meant to release on OTT. You get the fun of action on the big screen — cars flying and choppers whirring in the sky…. In the US, the theatres have long reopened and I saw No Time to Die in a theatre. I refused to see it on TV or on the mobile.
The tagline of the film (Yeh ladai Hindusthan ke liye nahin, Hindusthan ke beti ke liye) is in your voice. What's the film about?
An Indian girl is kidnapped and vital information is stolen, which, if it reaches the wrong hands, would spell global disaster. It is kind of a Mission Impossible premise. The film is basically a rescue mission. I play a squadron leader who picks an elite team which will go and get our beti and the information back.
When did the shoot take place?
The shoot got staggered a bit. I had shot my part in December 2019. Then Covid started and the world got locked down. For six months nothing could happen. As soon as the flights resumed they went back to Belarus where the first schedule had been shot.
You have Danny Denzongpa's son, a hunk called Rinzing Denzongpa, debuting in the film.
Yes. He is pretty big, very suave, very charismatic, charming and a humble soul. He has no (sense of) entitlement. (He is) also a good actor. I used to tell everyone that he is top-shelf material. It is nice to see him as an option for an action hero. The best of the action folk from across the world have been hired for the film. Nilesh (Sahay, the director) is an action fanatic. When he is narrating scenes, he is doing it with all the action happening, he is so much into it. He has grown up in a film background. His mother Zaheeda was an actress and Nargis's cousin. He is an encyclopaedia of action films.
You starred opposite Nargis's son Sanjay Dutt in Haseena Maan Jaayegi. Did you know Nilesh then?
No, I did not. But we did discuss Sanjay when we met.
You did not have to do much action yourself, right?
No, I did not. However, in real life, I am a brown belt in mixed martial arts and have trained for six years. Aajkal itne saare black belt bhi hai — one, two, three dan — achchha nahin lagta brown belt bolna. So I am thinking of resuming my training. But yes, I am a brown belt with two stripes.
You are working in India after quite a few years. Do you see any changes in the industry?
Yes. There's a change in acting style, in scripts, the roles out there for women, in the mindsets of the audience. They don't want run-of-the-mill characters or dialogues. You have to excite them with something new.
What took you to the US?
My (first) husband stayed there. I was in LA (Los Angeles) and being an actress, it would have been stupid of me not to explore the Mecca of film-making. So I made a foray into acting there. I did TV shows in the US — Lethal Weapon, S.W.A.T, Timeless, The Rookie… I also did a film called One Under the Sun, where I played an astronaut. It was a small-budget film but it went to Cannes and toured the festival route. Maine kaafi kaam kiya par India mein kaam nahin kiya. Main wait kar rahi hoon ki Squad ke baad mujhe yahan kaam miley. Now that I am married to Nawab (Shah), he lives in India so I will be living here too. I have a house in Mumbai. My parents are here. And frankly, I am no fan of lugging my luggage and auditioning in Hollywood.
Looking back at your acting career, which films of yours would you show to your friends in the US?
I could show them (Malayalam comedy) Chandralekha, with Mohanlal, and Haseena Maan Jaayegi. I also did a period film, Taj Mahal. That was interesting and challenging. The shoot got prolonged. Making a film requires an alignment of God! On top of that if you are doing a period film, it is even harder and more expensive.
What's coming next?
I have to return to the US to shoot the pilot of the series Recast. There I play a chef named Gina Chatterjee.