Pet on the move
Read more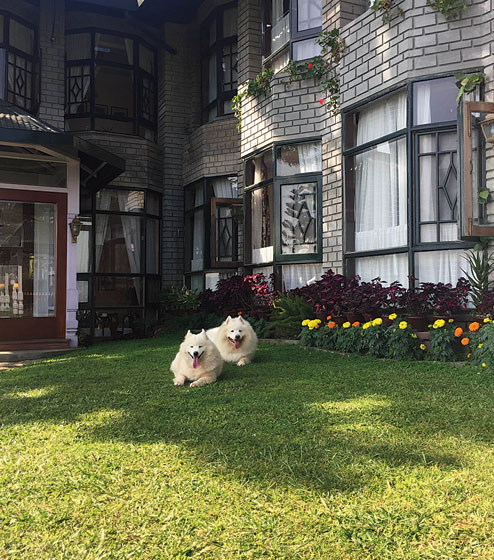 ---
Published 15.07.16, 12:00 AM
|
---
ALERT: PET ON BOARD! It's hard prepping your pets for a holiday you're about to embark on. Your cat might pretend she doesn't care, but she'll look at you accusingly when you roll your suitcase out through the front door. Your dog will howl as soon as you begin to pack and upset the neat stacks of clothes on your bed. You feel terrible about leaving them behind and spend the length of your holiday trying to talk to them over the phone — "Mommy will be back soon" — to which they whine mournfully.
Take them with you, we say! t2 helps you plan a trip for you and your forever companion...
Things to pack when you have a pet on board
An ID tag with your name and contact number.

Certification from your vet that your pet is healthy and that the vaccinations are current.

Seat covers for your car, because they will be a mess!

A first-aid kit with some gauze and antiseptic ointments.

A poop scooper, in case your dog decides to relieve himself in inconvenient places. Portable litter boxes if you're travelling with cats.

A handy blanket.

A towel to keep him clean.

A couple of his favourite toys.

Enough water to go around, especially if it's warm.

A sturdier leash than the one ordinarily used to take him for a walk, because he's bound to be more excited.
Mars India, which owns the dog food label Royal Canin, has a to-do list
Check to see if there are vets around the place you'll be staying in.

Complete all vaccinations before the journey.

Feed them at least a few hours earlier as some pets get carsick on long trips.

Take frequent short breaks during the journey.

Leave the window down in unpolluted areas. The fresh air is good for him.
CHECK IN WITH A WAG
If you're planning a road trip from Calcutta, these hotels will welcome your pets. They've been tried and tested...
Arpita Beach Resort in Chandipur. Visit arpitabeachresort.in to inform them before landing up with your pets.

Marino Beach Resort in Mandarmani. Visit marinobeachresorts.in.

The Elgin, Darjeeling, and The Elgin Silver Oaks, Kalimpong. These luxury hotels house dogs of their own — the Siberian Samoyed. "As long as the animals are well-behaved and have been vaccinated, we welcome dogs and cats in our hotel. There are gazebos on the hotel premises where people can sit and share a meal with their pets. Our own dogs are very friendly," said Viraj Oberoi, director, Elgin Hotels.
A t2 girl ponders the pros and cons of letting her four-legged bestie tag along on a trip
Travelling with your four-legged friend is something you should not undertake without putting in some serious thought. It is a lot of responsibility. Here's what I learnt when I went on a six-hour drive to my aunt's house in Asansol with my dog.
Forget travelling light. That ain't gonna happen. Your dog needs his comfort, especially on a long road journey and in an unfamiliar place, and you have to deliver. So, there will be a bagful of his favourite toys. There will be one with his food and bowls. Litres of water. A blanket. Yep. All you need will probably fit into a backpack. What he needs will take up most of the space in the boot of the car.
Forget the comforts of air-conditioning. Your dog might like small spells in the AC but he'll definitely be happier, and more comfortable, with the windows rolled down and the fresh air on his face. Just make sure he is properly secured and half of him is not hanging out.
Consider yourself lucky if your dog is not a bheto Bangali like you and is used to doggy food like Pedigree. Otherwise be ready for the on-the-bonnet bhaat and mangsho mixing.
But your dog is not used to a long journey in a car, so keep the meal lighter than usual. You can give him some treats in-between .
It will be difficult to find lay-bys or places off the highway for your doggy to stretch his legs, so keep a keen eye out.
If you don't take those breaks, get ready to be embarrassed by your dog peeing in the middle of the walkway to the restaurant or the coffee shop.
Carry plastic bags to scoop up the poop, they are easier to dispose off in the nearest garbage bin. The poop scoopers can be a little unwieldy.
At the end of the journey, be prepared to have either an overexcited dog or a cranky dog. Being cooped up in a car can do that to them.
But every trouble is worth it because you don't have to feel bad about leaving him behind. No constant worrying about whether he has eaten, whether he is comfortable, whether he is well. And no returning home to finding your shoes peed on and cushions decimated.
MIND THAT DOGGONE LANGUAGE!
The t2 dog-lovers gang has been rifling through some idioms and are up in arms about how their favourite species have been maligned. We demand some changes be made!
Gone to the dogs. It's true when things go to the dogs, they're often ruined. Like, your laces are chewed up and socks are shredded. But that's not the worst that can happen because things are far worse when they go to the humans. Think deforestation, bad roads, clogged sewage and waterlogging. We like what happens when things go to our pets better than when they go to humans.
In the doghouse. You mean that perfectly good spot under the blanket and the largest couch in the living room? Yeah, we all want to be banished to the dog house with a good book, a toy or two and some cookies please.
It's a dog-eat-dog world. Or is it really? Sure, dogs can be fairly unfriendly with each other, especially if there are two unacquainted alphas involved, but to suggest that they eat each other is just wrong. It would be more apt to suggest that it's a bear-eat-bear world, because that's exactly what polar bears do!
Work like a dog. Really?! You mean how hard they have to work to widen those brown eyes and be given anything they want that very instant? Or how they break into a sweat at just the idea of a walk? Or how they snooze all day and wake up just in time to eat? Pshaw, we'd love to work like dogs, if the boss lets us! #WorkGoals
A dog's life. And a mighty good life it is too. Because who doesn't want to snooze, nibble, be massaged and given treats just for looking heart-meltingly cute? The meaning of this idiom needs to be reversed, now!
WE DO LIKE
Let sleeping dogs lie. If you've ever crept around your snoring dog and tried to steal a snack from the kitchen, trying not to make too many incriminating sounds, you know what we mean.
Can't teach an old dog new tricks! Damn right you can't. And why would you want to? You've just settled comfortably into each other's habits — he knows to not wake you up at the crack of dawn and you know he'll never forgive you if you don't share the lemon tarts with him. #PerfectCohabitation
Text: RS