Pernia pops up in Bolly
Pernia Qureshi of Pernia's pop-up shop is all set for her bolly debut!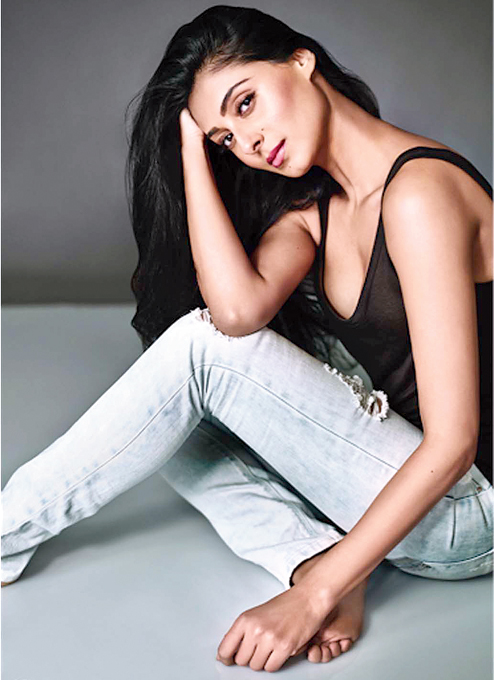 ---
Published 07.04.15, 12:00 AM
|
---
She's the brain — and name — behind Pernia's Pop-Up Shop, one of the must-check-out online store for desi fashionistas. But the "highlight" in Pernia Qureshi's life right now is her Bollywood debut as an actress with Muzaffar Ali's Jaanisaar. A t2 chat...
Congratulations for Jaanisaar! Tell us about your big Bolly debut...
Jaanisaar is a political drama political with a love story set in the late 1870s. There is some beautiful music.... it's got a very old world charm to it. I feel privileged that Muzaffar Ali believed in me and thought that I had the potential (to play Noor). It gives me a lot of confidence and makes me feel that I can do anything. (Smiles) We are finishing it up now... it will release at the end of the year.
Have you always wanted to do a film?
It happened quite suddenly. Of course, somewhere inside I always did want to give acting a shot. I never had the confidence to admit it. Although I am a very confident girl otherwise... (laughs). I feel everyone has an opinion if you say that you want to be an actor. I have been a dancer my whole life. When you are dancing, you are acting anyway... because he showed interest in me, it gave me the confidence to admit that yeah I want to be an actor.
The comparison with Rekha, given that there are similarities between Umrao Jaan (1981 classic by Muzaffar Ali) and Jaanisaar, must be flattering...
The only similarity between Rekha's character in Umrao Jaan and my character in Jaanisaar is the fact that they both are courtesans. She did a mujra and I will do one too. Actually, they are worlds apart... the kind of girl Umrao was and how Noor (Pernia's character) is.... Noor is kind of an extrovert. She is lively, ahead of her times, a thinking girl, vivacious. Umrao was a little troubled and she would keep to herself. Different things inspire them and even their aspirations are different.
You are trained in Kuchipudi...
When I was three or four, I started with Kathak. In my late teens, I started Kuchipudi. Last year, I had to leave Kuchipudi and start training in Kathak again because in this movie, I play a Kathak dancer. My body was confused in the beginning! Pandit Birju Maharaj had to break the Kuchipudi out of me first.
It's a win-win for you — Muzaffar Ali is a fab filmmaker and a designer and you love fashion and acting!
I have been in my own mini heaven because everything I could possibly love doing, I am doing. (Laughs) I am dressed up in the most beautiful outfits. I get to dance with world renowned gurus, I get to act in the discipleship of Muzaffar Ali... I told myself, 'Listen, just do this project....'
Will you give acting a serious thought?
I would love to see how this goes. I really enjoyed acting... being in front of the camera. But I don't want to act for the sake of it.
Your dream hero?
Salman (Khan). If you want to do an out-and-out Bollywood film, he is the epitome of Bollywood for me. Other than that, I would love to work with everyone. I have a lot of respect for actors because I know what it takes to be an actor.

What did your friends from Bollywood say after they came to know about Jaanisaar?
I think they all were a little surprised... but they were all supportive.
Acting vs designing... which one was more enjoyable?
I only do things which I enjoy, but because acting is my newest venture, I am most excited about it right now. I am enjoying this newness. It's bringing out a whole new side to me and making me grow in so many ways.
How are you juggling?
All thanks to data services wherever I go... Wi-fi. I do most of my work from my phone to be honest as far Pernia's Pop-Up Shop goes, nothing is shot or nothing goes up without my approval. I am really hands-on with that because that literally has my name on it. If something goes wrong, everyone blames me directly. By everyone, I mean my customers. They are girls like me. I am a master-juggler right now.
PERNIA'S FAVES
Favourite period look: I love Asoka... Kareena (Kapoor), really cool, dhotis with these little tops, simple yet sexy, just a little kajal. Beautiful. Of course, I love Pakeezah! I love Meena Kumari... I love her face... so expressive.
My look this season: I have been wearing a lot of longer dresses because I have been going for a lot of formal events. What I really wear during daytime are sweatpants because I go for dance classes and what I wear has to be comfortable. I love including a bright lip, but this season what I have loved at the Oscars was everybody was doing these beautiful pink faces... pink lips, cheeks. A lot of actresses like Jennifer Lopez and Scarlett Johansson were doing these soft pretty faces... so nice and fresh for the summer.