Patralekhaa on balancing her career and relationship
I know that I am going to work in this industry for another 40 years: Patralekhaa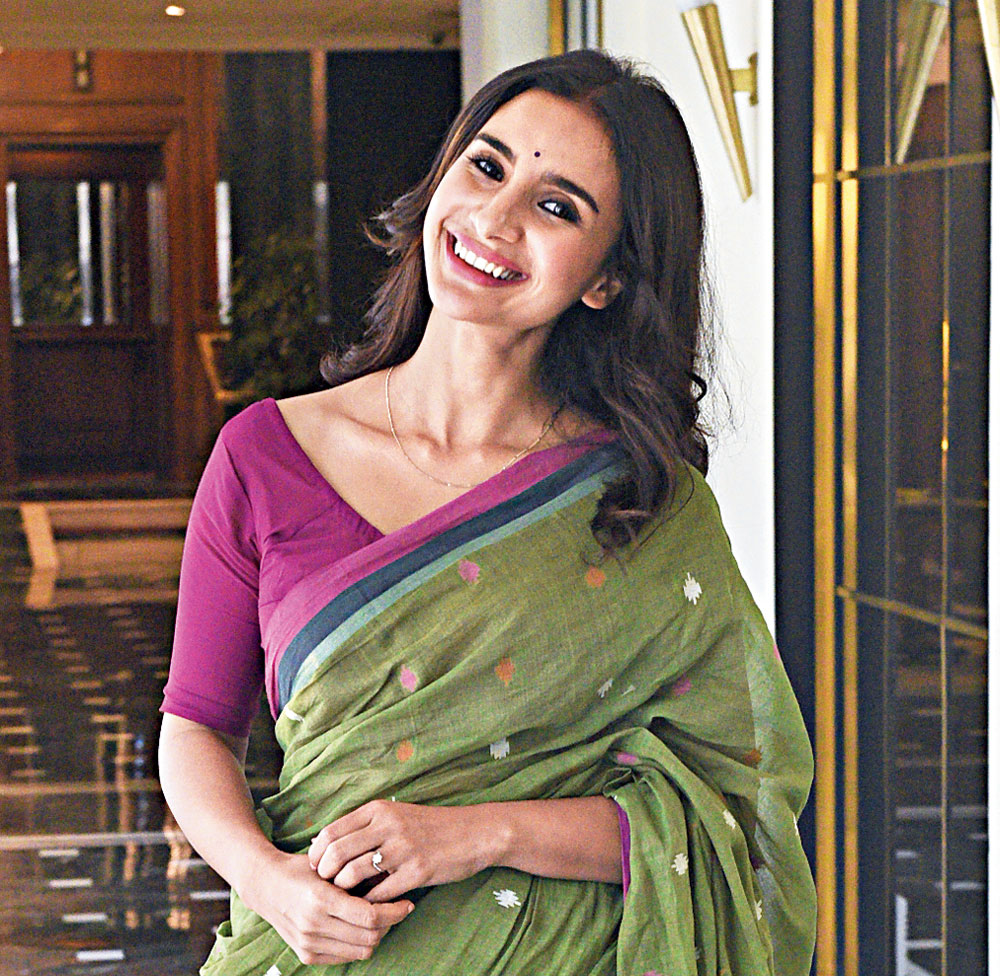 Patralekhaa at The Oberoi Grand, Calcutta
Picture: Rashbehari Das
---
Published 05.12.18, 04:57 PM
|
---
Patralekhaa, who has films like City Lights and Nanu Ki Jaanu to her credit, was in Calcutta recently to shoot a project called Arranged Marriage for director Pradeep Sarkar that will release on a digital platform. We caught up with the Shillong girl on her career choices, why she doesn't approach filmmakers for work and her relationship with Rajkummar Rao.
How did Arranged Marriage happen?

When you think of Pradeep (Sarkar) Dada, you invariably think of Parineeta and Laaga Chunari Mein Daag, but this is a modern take on love. It's about three characters and their journey. It will release on a digital platform. Calcutta is the fourth character in the film. It's a story about the youth of the city. We couldn't have shot it anywhere else.
Dada is very progressive and bold in his thoughts. He moves with the times. At 69, the kind of energy that man has, it's unbelievable. Yesterday, he left the hotel at 6am, we shot till 10pm and then he went to see a location and he was again out at 6am the next morning. It's just passion, you know. Our DoP Aseem Sir (Bajaj) doesn't rest even a moment, he carries heavy equipment around the whole day and when I asked him how he manages it all, he simply said, 'Arre, I love my work, ya'. I have realised that we actors are actually the most pampered on set.
How are you picking and choosing your roles?
Till a year ago, I didn't feel like this but now I feel I am my own authority; I will do the work that I want to do and the people I want to work with. When Dada narrated the story to me, we didn't talk about money or anything else because I have wanted to work with him ever since I wanted to become an actor. Anurag Kashyap's Dev.D is one film that changed how I viewed Hindi cinema, and Parineeta was also one of them. I want to work with the people I want to work with and at least the script has to be relevant. It has to intrigue me in a way that if I am the audience, I will want to watch it.
In the last four years, so much has changed. If City Lights had released today instead of four years ago, the impact would have been much more. That's because the audience is accepting anything that's being thrown at them. But acting is so tough, ya. It's so much hard work. It just looks glamorous, but you have to wear all these clothes, be aware of camera angles, keep your emotions in mind and also look into technicalities like blocking and so on.
You did a TV interview earlier this year where your frankness and honesty about how you were not getting enough work was appreciated. Did that translate in a difference in the kind and volume of work you have been getting since?
Volume of work didn't increase; kind of work had started changing even before the interview. But people finding me relatable increased a lot, as did the film fraternity reaching out to me. Honestly, I didn't feel a part of the fraternity earlier because even people didn't know ki main kaun hoon aur kahaan se aayi hoon. Now, a lot more people in the fraternity know me and associate with me.
Do you actively approach filmmakers for work?
No, ya (smiles). I wish I was like that. A co-actor I was talking to just sometime ago told me, 'You should go out there. It's part of your job'. But I am someone who can't. That's my drawback, honestly. Not that I haven't tried, but I feel very uncomfortable. I feel like they must have seen my work and if they think something fits, they will call me. I am out there, I am really out there. But I don't know what projects they are making.
Honestly, I don't regret anything. I have seen a lot of high and happiness in this profession.
I started shooting City Lights when I was 24, and since then I may have done less work, but I have got a lot of appreciation and love. And everyone has bad days, it's a part of life.
Yes, my career had slowed down because of one choice (Love Games); people got a little jumbled, but it's fine now. I know that choice went wrong and it set me back by a year, but I also know that I am going to work in this industry for another 40 years.
I am getting a lot of great offers now, especially from the digital platform. There's a lot more work for us actors. Nowadays, people are consuming content at home, they go to theatres only for a big-screen experience like Bahubali or Tumbbad. I was in the US recently and I came across so many people who have watched City Lights now on Amazon, and not four years back. I am shooting for a film soon and then another project for a digital platform. That may bring me back to Calcutta next year.
Are there any periods of insecurity?
I feel insecure when I see others doing good work. I watched Manmarziyaan and I messaged Taapsee (Pannu) saying, 'Taapsee yaar, kaise kiya tu ne?' She was wild, she was bold, she was like a lioness… and yet she was Taapsee. She didn't need to copy anybody. Yes, when I see really good performances — it could even be Raj's (boyfriend Rajkummar Rao) — I keep wondering, 'Kaise kar lete hai yeh log? Why am I not being able to do what they are doing?' That's what makes me insecure. Otherwise, these girls are my friends and I also feel happy for them. Like when I see Bhumi (Pednekar), she's doing so well and I feel so happy. Or even Richa (Chadha)… Richa has the softest smile and yet she's Bholi Punjaban (in the Fukrey films). It's amazing! But yes, I try and not let insecurity get to me because the mind is a crazy place.
How do people back home in Shillong react to you being a famous face?
Everyone treats me the same. My siblings and I fight a lot and sometimes I tell them jokingly, 'Ei, jaanish naa aami ke?' And they will be like, "Dude, drop the arrogance' (laughs). I was on a holiday in Scotland with mom and dad and my dad was scolding me like he would scold me like a kid. Nothing changes yaar, everything is the same when it comes to friends and family. All the actors I have met — and I am talking about superstars — are all so humble and grounded. If you remain grounded, I feel it helps you grow as an actor.
How do you and Rajkummar maintain a relationship that's so public?
We are two people who've known each other too long to allow any external factors to bother us. Plus, he's constantly shooting. I haven't been with him at a stretch for two-three days for the longest time… he's always shooting. I know he's genuinely busy. And when he went back to Mumbai, I had to come to Calcutta. These are very trivial things to fight over. We are very thick and don't allow such things to come between us.