'Pati Patni Aur Woh' review: Celebrating the woman of today
Men will be men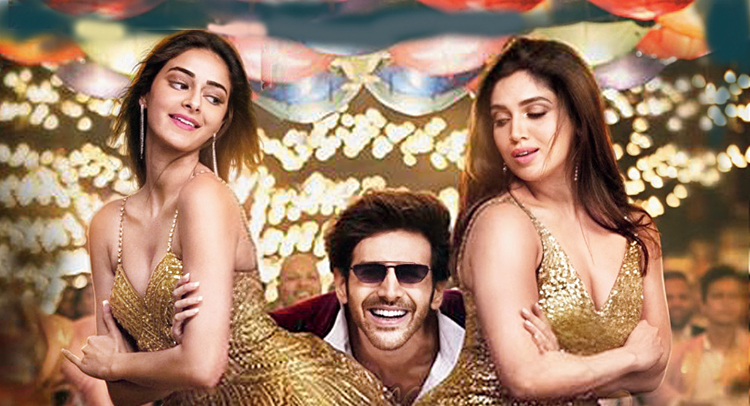 ---
---
Men will be men. In 1978. In 2019. In B.R. Chopra's Pati Patni Aur Woh. In Mudassar Aziz's Pati Patni Aur Woh.
The women, however, have leapt out of helpless and hapless brackets to take charge as financially independent decision-makers, for whom 'husband' is no longer a refuge. His infidelity is not the mark of a man to be flaunted as conquests, that a woman has to bear with for the rest of her life. 'To be, or not to be' the prototype of a good wife is no longer a valid question. If 'fun' is what men are salivating for all the time, women can lap it up in equal measure. Or, more.
Mudassar Aziz's Pati Patni Aur Woh celebrates the woman of today, who doesn't shy away from her sensuality and sexuality, dreams big, has a firm spine and champions the bonding of sisterhood. No sautan. Only saheli for the women of the 21st century!
Aziz's hero is Kanpur boy Chintu Tyagi, played by Kartik Aaryan, who works with the PWD and is married to Bhumi Pednekar's Vedika Tripathi, a teacher. Vedika dreams of shifting to Delhi for a slice of a better life. Chintu is settled cosy in his comfortably predictable world of a nine-to-five job and smoke breaks with friends. His idea of breaking free from the wee bit boredom in his three-year-old marriage? A fling, designed on a lie. The object of affection? Ananya Panday's Tapasya Singh who arrives in Kanpur on work and sets foot into Chintu's heart. The lie: Vedika's affair. After all, as Bhumi's Vedika says later that the age of pativratas are long past… this is the age of "kultas". Read: Badass!
"I am an unhappy man," says Chintu. This dialogue is perhaps the only common thing between the 1978 film starring Sanjeev Kumar and Vidya Sinha and this one. Oh, and barring a few strains of the classic Thandey thandey paani that Chintu hums.
Of course, Vedika finds out about Chintu's good times. She leaves. Only to come back. This time with a friendly caution. Does she forgive and forget? Knowing Vedika, no chance! But, she does leave and that is worth ceeti-taali. She doesn't lament. She doesn't create a scene. She is no rona-dhona. Yes, she is intelligent and all brawny in her head. She acts to salvage her self-respect, a battle no less than the Mahabharata. Bravo!
Bhumi is top-notch as the feisty Vedika. Saand Ki Aankh, Bala and now Pati Patni Aur Woh, Bhumi seems to have mastered the strong-willed woman and her desires to be acknowledged. Her effortless flair makes her a delight to watch. Kartik Aaryan is cute as Chintu, but has a long way to go when it comes to expressing and emoting. His hair looks good and he looks convincing as the woebegone husband though, the kyabla vibes a perfect fit for the forlornness. Ananya Panday looks sparkling fresh, but when pitted against Bhumi, looks listless. You leave the theatre trying to recollect her lovely lip gloss shade.
Pati Patni Aur Woh gets it funniest moments from the film's character actors. Be it Aparshakti Khurana who plays Chintu's friend Fahim Rizvi or the family members in Rajesh Sharma or Navni Parihar or K.K. Raina or Geeta Agrawal Sharma or Neeraj Sood or a police inspector in Lucknow. Their comic timing spot on!
Pati Patni Aur Woh is entertaining which leaves you with the message… men will be men.